 The worst-kept secret in MLS in the last week or so was made official today, when Diego Valeri was named the 2017 Landon Donovan Most Valuable Player this morning, in a ceremony at adidas' Portland headquarters.
Valeri had a record-breaking season this year, becoming only the second player in MLS history to record more than 20 goals and more than 10 assists in a season (Sebastian Giovinco's 2015 season of 22 goals and 16 assists being the other) and scoring a goal in nine consecutive games from late July until late September. He's also the Portland Timbers' all-time leading scorer, with 58 career goals, and has scored at least one goal a month since early 2014.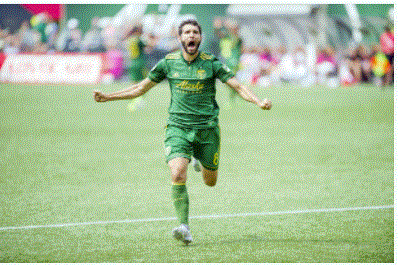 Diego Valeri, doin' what he does
Image: Diego Diaz/Icon Sportswire via Getty
In addition to all that, he's also madly in love with the city of Portland - he does a ton of work in the community, and he and his wife bought a house here and intend to raise their daughter here. In short, Valeri is a national treasure, and the Timbers are a better team for having him, both on and off the pitch.
While I would much rather the Timbers still be playing games - as, I'm sure, would Valeri - this is a nice way to break up the offseason and it honestly couldn't have happened to a nicer or more deserving person.