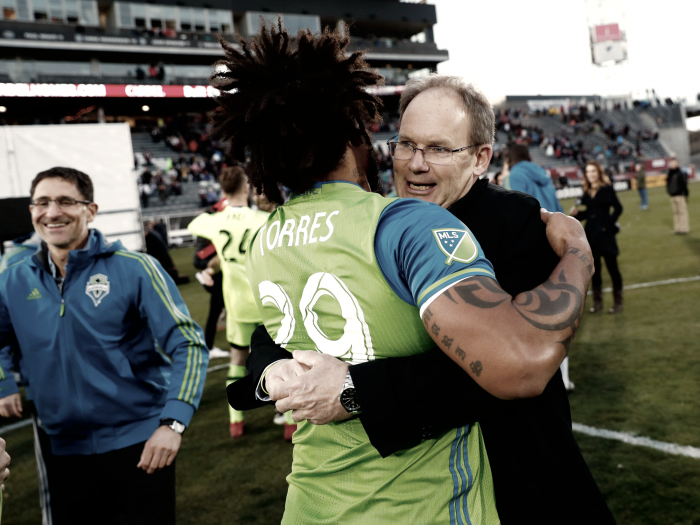 A rematch is fast approaching for the 2017 MLS Cup Final between the Seattle Sounders and Toronto FC. Seattle come into this game after seeing off the Houston Dynamo 5-0 on aggregate with an excellent 3-0 second leg in Seattle. They managed to keep a clean sheet without star defender Roman Torres and scored five times throughout the series without help from young American forward, Jordan Morris. Both players will be back for the final on Saturday. With that VAVEL USA was able to ask some questions to Seattle head coach, Brian Schmetzer, and Seattle goalkeeper, Stefan Frei.
VAVEL USA: This is obviously your second final in Toronto in two seasons. What are your thoughts on playing these games in home stadiums considering how beneficial they are over the course of the season?
Brian Schmetzer: I can answer that a couple different ways. So, A, number one, you are correct, the home team does have an advantage according to the statistics. But when you get to a final I would have to ask my stats guys exactly what the MLS Cup history is of home and away, I know there were some neutral sites early on. But during the course of the regular season for sure you know you have a distinct advantage playing at home. The Interesting thing about us going back to Toronto is we look back on all the logistical support that was needed to go back to Toronto last year and that made things a little bit easier for planning purposes. How we did things, why we did things, so the preparation for this final has actually gone a little bit smoother just as far as the logistical training you know the charters and all that sort of stuff it has actually been a little bit easier for us rather than having to fly to Columbus, if Columbus would have gone through instead of Toronto. So in that sense it actually makes it a little easier but your point is well taken. Toronto is the home team, they are the favorites, they are the ones playing in front of their fans. We will just do the best we can and try and match up and give everybody a good final.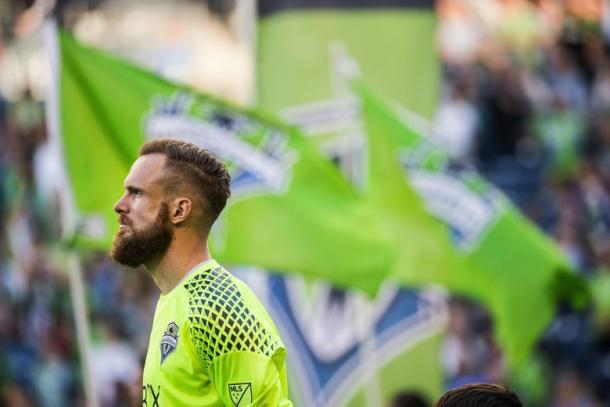 VAVEL USA: Your defense hasn't conceded a goal in the entirety of the MLS Playoff run as well as the two games leading up to it. What do you see is the leading factor in keeping this clean sheet streak?
Stefan Frei: I think we have done very well in high pressure situations. Defensively the last time we were in Toronto looking at those game before looking at the Montreal to Montreal series. Teams open themselves up and it led to a frenzy, a back and forth and that was something we did not want to get into you know. I think that was chaotic, those games are a nightmare for a defense because it becomes so unpredictable. I think since that point we have tried to make it a point to be in control defensively. Making things more predictable, organizing rather than shouting when things have not gone our way. Being a bit more proactive when it comes to those things. So I think organization and just tactical awareness as a squad and the way our coaches have prepared us has helped us. It has given us not just a bit of a streak now defensively but we also had that quite extensive streak in the middle part of our season where we had a shutout for quite a while. I keep bringing this back and it may sound silly but sometimes teams focus on a defensive effort being a back four or five job but I disagree I think when we instill a sense of pride of all eleven guys that are on the pitch. Even when we get a shutout the strikers should take tremendous pride in that fact because he is part of a defensive unit, he's our first defender and I really mean that. When we have our players buy into that kind of philosophy it helps us, it helps us tremendously so that is what we are going to try and do again, be safe, sound defensively, organized well and it starts with our strikers up top.
Seattle is looking to be the first back-to-back champions since the LA Galaxy did it in 2011-12 this Saturday. The return of some key players and their current form will certainly play a factor in this great matchup.