 Hope Solo officially announced her intentions to become the next president of the United States Soccer Federation on Thursday night. Solo is the seventh individual to officially declare as candidates for the position. The incumbent, Sunil Gulati, has decided not to run for reelection after the US Men's National Team failed to qualify for the 2018 World Cup by losing to Trinidad and Tobago.
Solo announced her candidacy on Twitter and FaceBook with a message about her family's struggles with the money required for young people in the United States to participate in top-level youth soccer programs and questions about the financial dealings of USSF. She outlined four main goals of her presidency, paraphrased as "creating a winning culture," equal pay for men and women, greater "socio-economic diversity," and financial transparency. Currently, the only information about her campaign comes from these posts, but they focus more on monetary challenges for youth soccer players than other candidates have. Multiple other candidates have mentioned equal pay, and every candidate is seeking to improve the fortunes of the USMNT.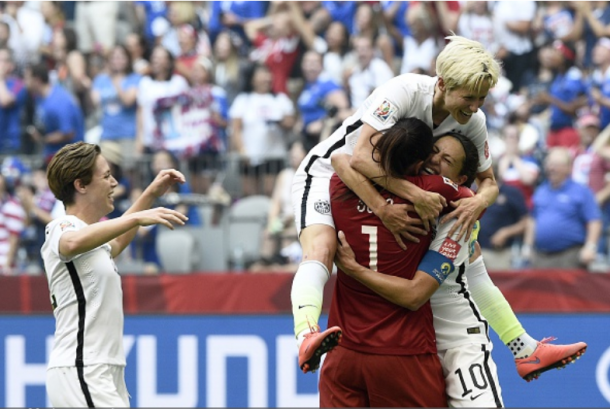 Hope Solo was suspended by the USSF after her comments following the USWNT's defeat in the 2016 Summer Olympics in Rio. Solo made negative comments about the Swedish team. She had also been involved in a case of domestic violence that a judge dismissed and she was previously suspended after her husband was arrested for driving under the influence while driving a USSF van while Solo was present.
Hope Solo played in 202 games for the USWNT. Her accomplishments include two Olympic gold medals (2008 and 2012) as well as a World Cup championship in 2015. Her most recent club appearances were with the Seattle Reign in the National Women's Soccer League. She helped the team reach the championship game in 2014 and 2015, but they were defeated by FC Kansas City both times. Solo ended her career with the most appearances (202), wins (153), and shutouts (102) for a goalkeeper in USWNT history.
The elections will be held in February of 2018.
This is an ongoing story. Check back for updates as they become available.