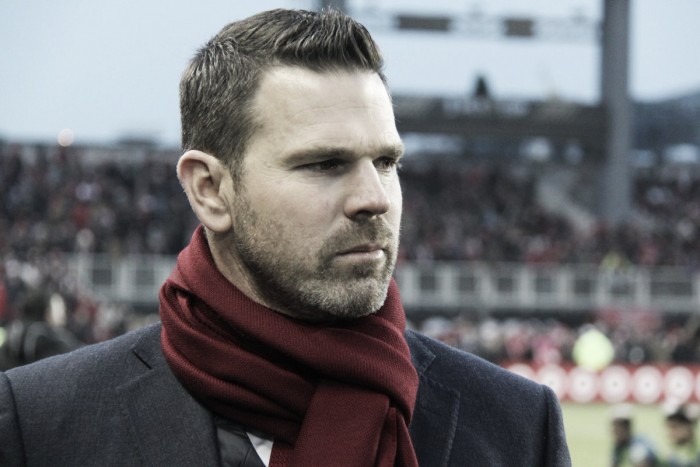 After celebrating their capture of the MLS Cup, Toronto FC's Greg Vanney and later on, Michael Bradley and Jozy Altidore met with the press. A two-nil scoreline against Seattle Sounders FC was more than enough to lift the trophy and the three men offered their thoughts on a great evening for their team/
'Be Bold' was the theme of the week for Toronto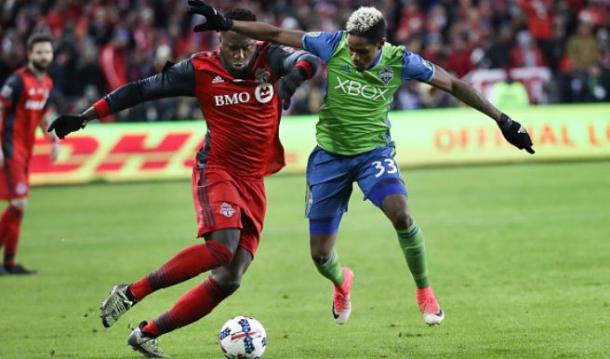 Greg Vanney has played in four MLS Cup finals and lost three of them before until tonight. Tonight's game started off differently right from the beginning as the Toronto FC man decided to line up in a 4-4-2 diamond instead of the usual 3-5-2 formation that Toronto had used to great effect all season long. In response to the question of why he changed formations, Vanney stated that he wanted to "counter Seattle's numbers in the midfield and their possession" which would lead to "isolating their outside backs". The formation also allowed his own players to find the spaces they operate best in and find each other in good positions going forward. It clearly worked as Toronto had Seattle camped in their own half for most of the game.
The overall performance from his team tonight echoed the theme he had given them at the start of the week. Vanney told the media that their mantra had been "Be Bold" and that when they entered half-time still at 0-0, he told them to "stay positive and not get frustrated" as he knew that if they continued on to play without fear in the second half, they would receive their reward. Vanney admitted to releasing his emotions a little when the second goal went in. "Stefan Frei was having a blinder and I was still on edge after the first goal" was Vanney's answer as to how he reacted to the first goal. He then went on to say that when Víctor Vázquez scored the second, he looked to the sky in remembrance of his late mother who had witnessed three MLS Cup final losses but now, he knew she would be "proud" of the win tonight.
Bradley and Altidore dedicate the win to the Toronto FC faithful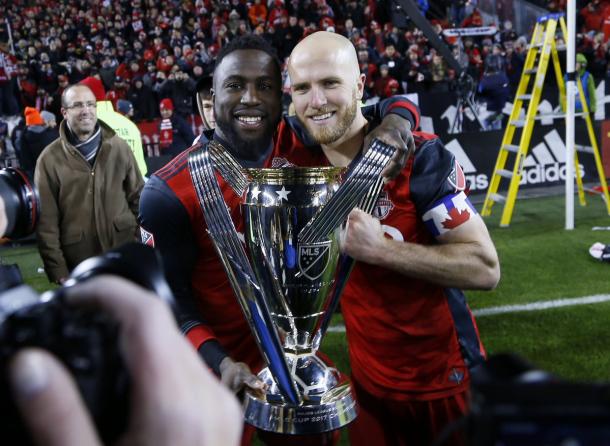 Michael Bradley told the media that "lifting the trophy had been an obsession for the last 365 days" for everyone involved with Toronto FC. That obsession revealed itself throughout this season as Bradley stated that he never saw any of teammates lose focus at any point during the regular season or the playoffs and their determination was rewarded tonight, even with all the pressure they had to deal with. Bradley went on to add that the Toronto fans could have easily turned on them after losing at home last year but their response was "unique and different". Instead of blaming the team, fans were proud of them and excited for not only what they had done but they felt they could do in the future. Bradley thanked the fans for their support and dedicated the win to them.
Jozy Altidore echoed the same sentiments, stating that although his job as a striker is to "create and score goals", the team effort and the "mentality of a culture of work and training" was capped off by their performance in the final. Altidore admitted to feeling disappointed after last year's loss but he knew that it was worse for the fans. He went on to say that "nights like this is what it's all about", repaying the faith that the fans had in them. Altidore also added that tonight was about winning for Michael Bradley as well. The US international stated that his teammate was scrutinized more heavily than most due to his role on the national team and at Toronto and when he first came to the club, Altidore wanted to win the MLS Cup for Bradley and the club.
When asked if their national team failures had affected their club performances, both Altidore and Bradley pointed out that there was no need to compartmentalize their emotions. They both knew to place focus on whatever team they were playing for at that time and do justice to that team. Bradley added that "it wouldn't have been fair" to anyone in the Toronto organization to "bring over the heartbreak" the United States Men's National Team had suffered in Trinidad & Tobago.
Michael Bradley ended the press conference by saying that he felt everything had come "full circle" tonight. When he first arrived in Toronto, he took a particular route to the stadium that he did not take again afterward. Yesterday, while in an Uber, his driver took him that exact route to the stadium and after tonight's win, Bradley felt that everything had fallen into place the right way for him.