 The offseason has started off with a rather major bang for the Timbers. First came the news of Caleb Porter leaving the team, a vacancy that as of now has yet to be filled, at least that we know of. Merritt Paulson tweeted the other day that the Timbers have a coach but haven't announced him yet, but that's all we have to go on.
And now, today comes the biggest bombshell of this terrifyingly-still-young offseason. Darlington Nagbe, USMNT stalwart and longtime key to the Timbers' offense, is rumored to be on his way to Atlanta United, in what would be the most expensive trade in MLS history. The value of the trade - potentially about $750,000 in general allocation money, $300K in targeted allocation money, and $500-600K in performance-related bonuses, and additionally, a percentage of any future Nagbe sale - would eclipse the Dom Dwyer trade from Sporting KC to Orlando City earlier this season as the most lucrative in MLS history.
While it would undoubtedly hurt the Timbers to see Nagbe go - he didn't produce a lot of goals himself, but he made a whole lot of other good things happen - this is, with very little exaggeration, a potentially foundational, franchise-altering trade for the Timbers.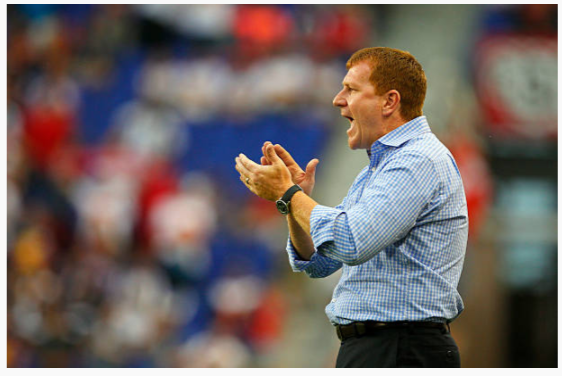 GM Gavin Wilkinson has a huge opportunity in front of him
Image: Rich Schultz/Getty Images
If those trade numbers are correct, the Timbers are now looking at having at their disposal this winter:
$750K of General Allocation Money, which by itself would go a long way towards replacing Nagbe with an elite player;
Over $5 million in Targeted Allocation Money for next season - the anticipated $1.2 million for 2018, the $1.2 million scheduled for 2019 that can be spent in 2018 as well, and an infusion of a new $2.8 million in each of the next two years.
It's hard to overstate how huge this is. With just that TAM alone, the Timbers could bring in six or seven players at the level of Romell Quioto, Roman Torres, or Armando Cooper - guys that won't make a ton of headlines, guys who won't bolt for Europe in a season, but guys that undoubtedly make your team a whole lot deeper and a whole lot better.
If the Timbers get this offseason right, it could put them, talent-wise, at the level of the Torontos, Seattles, and Atlantas of the league - the work they do this winter could vault them into the upper echelon of talented, deep, built-for-success teams, a team that becomes a magnet for other talented players and becomes a self-sustaining center of excellence in the league.
If they go cheap and/or get their player acquisition wrong, though? This winter will then go down as the year that the haves pull further away from the have-nots, and it will see Portland in the latter group for the foreseeable future. Here's hoping that the Timbers see the opportunity that's in front of them, grab it with both hands, and end up on the right side of this winter's historic roster transformation.