 Sam Kerr has been honored at the AIS Sport Performance Awards in Sydney, adding to her extensive list of performance recognitions after an incredible 2017 campaign for club and country. The ABC Sports Personality of the Year award is determined by an online vote of fans that attracted over 19,000 votes. The Australian Women's National Team (Westfield Matildas) were also voted the Public Choice Team of the Year, which fellow striker Lisa De Vanna accepted for the team.
Sam Kerr, only 24 years old, hit her stride in 2017 scoring 10 goals for her country, 17 goals for Sky Blue FC in the National Women's Soccer League, and 16 goals in 20 games for the Perth Glory in the Westfield W-League during the 2016-17 season and the beginning of the 2017-18 season. Her 10 goals for Australia were the most of any player on the team in 2017. She won the Golden Boot award in the NWSL, as her 17 goals led the league. Kerr's 10 goals in the 2016-17 W-League season was second best after Ashleigh Sykes, and she has scored six goals so far in the 2017-18 season, which is also second best to Rachel Hill.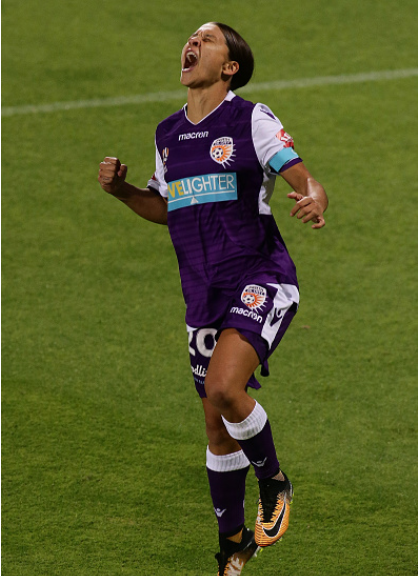 Kerr rode her ascension to super-stardom to a litany of awards, including AFC Women's Player of the Year, 2018 Young Australian of the Year, and 2017 NWSL MVP. The Australian Broadcasting Company award was just one of the awards won by the Matildas at the AIS Awards. Head Coach Alen Stajcic was recognized as the Coach of the Year by the AIS panel of experts.
When talking about the team after earning his award, Stajcic said, "to know that our team has had this kind of cut-through in the Australian sporting landscape is just mind-boggling. To think that we have had 50,000 people come and watch us in Australia over the last few months shows that we have made great steps."
The Matildas ended 2017 with eight straight victories, including a 1-0 victory over the United States in the Tournament of Nations. Australia would win all three matches and be crowned champions of the four-nation tournament. The first currently scheduled matches for Australia in 2018 are at the Algarve Cup in March against Portugal, South Korea, and Norway. Australia finished fourth in the 2017 Algarve Cup.