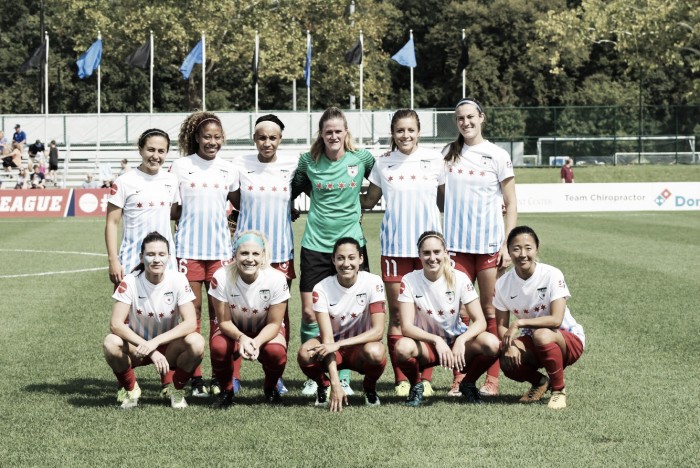 The Chicago Red Stars finished the 2017 NWSL season with an 11-7-6 record, placing fourth and reaching the postseason for the third consecutive year. The Red Stars headed to Cary, North Carolina to play the NWSL Shield winners, the North Carolina Courage, where they fell 1-0 in the 90th minute. It was the third consecutive year the Red Stars did not reach the NWSL Championship after making it to the semi-finals.
Even going into the 2017 season, Chicago had one of the most rounded rosters in the league and were heavy favorites to win the NWSL Championship. Unfortunately, a roster with Alyssa Naeher, Casey Short, Sofia Huerta, Danielle Colaprico, Christen Press, Arin Gilliland, and Julie Ertz was not enough for the Red Stars to finish at the top.
Going into 2018, even with the departure of Morgan Brian to Lyon who was traded to the Red Stars mid-season in 2017 and only played two matches for Chicago, the Red Stars will undoubtedly be favorites to contend for the NWSL Championship again, barring any significant trades.
So what significant draft choices could head coach Rory Dames make at the 2018 NWSL College Draft that will take place on Thursday, January 18, at 10 a.m. ET at the United Soccer Coaches Convention in Philadelphia, Pennsylvania?
More Goalscorers Needed
For some reason, much of the pressure to score goals falls on forward Christen Press, and this is despite other offensive threats like Huerta, Colaprico, Jen Hoy, and Japanese international Yuki Nagasato.
The offensive struggles haunted the Red Stars later in the season and cost them a trip to the NWSL Championship. Overall, in terms of goals scored in 2017, Chicago finished 6th for 2017 with 33 goals, so I can venture a guess that Dames is looking to add strikers who can partner with Press and help the Red Stars score more goals in 2018.
If the Red Stars are going to be contenders again, they need to boost their offense to pressure opponents each game. The offense cannot solely rely on Press' scoring abilities.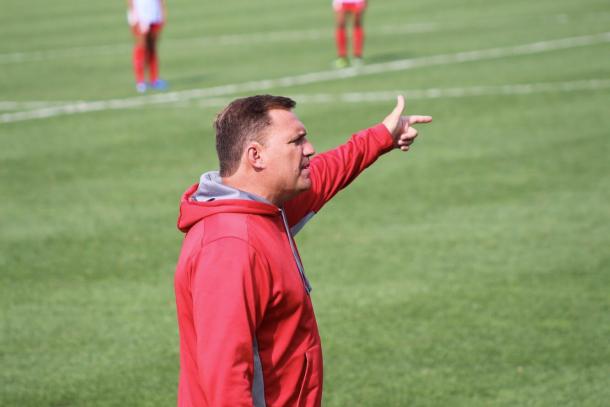 Potential Draft Picks
Chicago has the following draft order in each round:
Round 1: 7th
Round 2: 13th, 18th, 19th
Round 3: 27th & 29th
Round 4: 37th
Though Dames probably will not focus on just offensive players, these are the players Chicago could target (note: these are educated guesses at best):
Kayla Adamek (University of Central Florida) - Forward, Midfielder
Michaela Abam, (West Virginia) - Forward, Midfielder
Alex Anthony (USC, Maryland) - Forward, Midfielder
Imani Dorsey (Duke) - Forward
Morgan Ferrara (University of Central Florida) - Forward, Midfielder
Veronica Latsko (Virginia) - Forward
Savannah McCaskill (South Carolina) - Forward, Midfielder
Amandine Pierre-Louis (West Virginia) - Forward
Gabby Seiler (Florida) - Forward, Midfielder
Madison Williams (Purdue) - Forward
Chicago's History in the Draft
Chicago fans can rest assured that Dames knows how to draft the best players. Jen Hoy (2013), Julie Ertz (2014), Vanessa DiBenardo (2014), Sofia Huerta (2015), Danielle Colaprico (2015), Arian Gilliland (2015), Sarah Gorden (2016) and Katie Naughton (2016) are vital members of the Red Stars squad.
Ertz and Huerta continue to receive USWNT callups and DiBenardo, Colaprico, and Gilliland have their supporters to be USWNT regulars as well.