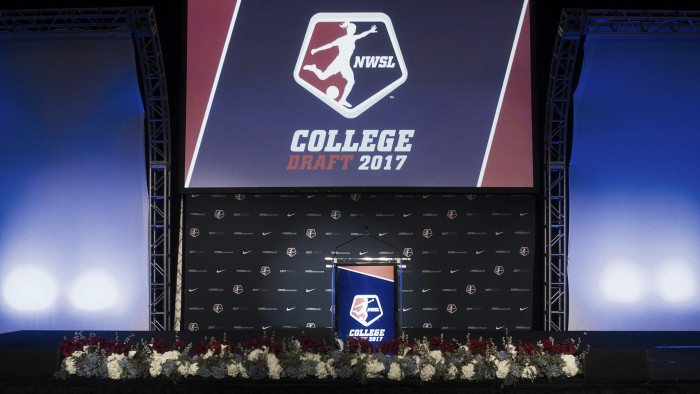 The National Women's Soccer League this morning updated the preliminary list of all registered players for the 2018 NWSL College Draft. The draft itself is scheduled for Thursday, January 18, 2017 in Philadelphia and will contain notable college players such as Savannah McCaskill, Indigo Gibson and Gabby Seiler.
However, two of the highest ranked eligible players have not registered for the draft and their futures remain a mystery to most.
Quinn, Sullivan most notably not on the list
As many have gathered by now, Rebecca Quinn and the 2017 MAC Hermann Trophy winner, Andi Sullivan, are not on the preliminary list released today with less than two weeks to go until the draft. Rumours have been abound that both players may look to go to Europe for their professional careers instead of playing in the NWSL but nothing concrete has come out yet.
If both players do decide to move abroad, it could be a blow to the league as it continues to try and define itself in the US sporting landscape. Both Quinn and Sullivan are notable players and have featured for their countries at the international level as well. Big things are expected of both players and though a move to Europe may be the right choice for their development, it would mean that future stars in women's soccer do not see the NWSL as the biggest league for their futures right now. It remains to be seen what both players decide to do once they are officially finished with their college careers and as of right now, it looks like they are considering all of their options before making a final decision.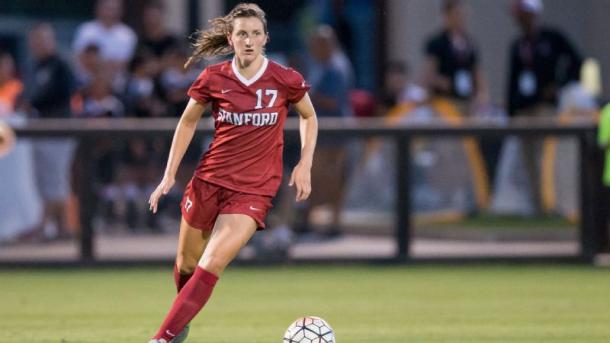 Full preliminary list
Name | College/University, Position(s) Played | Hometown | Youth Club.
Michaela Abam | West Virginia University | Forward, Midfielder, Defender | Houston, Texas | United States Texas Rush
Jade Abarca | Lipscomb University | Forward, Midfielder | Dallas, Texas | United States | Sting 96 ECNL
Kayla Adamek | University of Central Florida | Forward, Midfielder, Defender | Ottawa, Ontario | Canadian | Ottawa Fury
Alex Anthony | University of Southern California, University of Maryland | Forward, Midfielder | Denver, Colorado United States Real Colorado
Tara Austin | Belmont University | Forward, Midfielder, Defender | Beaumont, Texas | United States | Houston Express
Caroline Bado | Auburn | Midfielder, Defender | Tampa, Florida | United States | Tampa Bay United
Noel Baham | UC Irvine | Forward, Midfielder | Redlands, California | United States | Arsenal and Fram
Elizabeth Ball | Pennsylvania State University | Forward, Defender | Richmond | United States | Richmond Strikers ECNL
Hanna Barker | Stephen F. Austin State University | Forward, Midfielder | Plano, Texas | United States Dfeeter's ECNL
Brittany Basinger | Penn State University | Defender | Purcellville, Virginia | United States | FC Virginia
Morgan Bertsch | California State University Fullerton | Goalkeeper | Simi Valley, California | United States | Valley United Soccer Club
Rachel Blankenship | The University of Tulsa | Forward, Midfielder | Oklahoma City, Oklahoma | United States | Oklahoma Futbol Club 96
Rachel Bloznalis | Boston University | Defender | Worcester, Massachusetts | United States | New England Football Club
Alyssa Bolger | Susquehanna University | Forward, Midfielder, Defender | Denville, New Jersey | United States | Dynamo FC
Dominique Bond-Flasza | University of Washington | Defender | New Rochelle, New York | United States/Jamaica | So Cal Blues
Emily Boyd | University of California Berkeley | Goalkeeper | Seattle, Washington | United States | Crossfire Premier ECNL
Joanna Boyles | University of North Carolina at Chapel Hill | Midfielder | Raleigh, North Carolina | United States | '94 CASL Chelsea Ladies
Gabriela Braga | Franklin Pierce University | Forward, Midfielder, Defender | New York | Brazil | Gremio Futebol Porto Alegrense
Amy Brewer | University of Alabama at Birmingham | Midfielder, Defender | Lawrenceville, Georgia | United States | Concorde Fire
Megan Buckingham | University of North Carolina at Chapel Hill | Midfielder, Defender | Dearborn, Michigan | United States | Michigan Hawks
Bridget Callahan | University of Central Florida | Midfielder, Defender | Hollywood, Florida | United States | Weston FC
Kristen Cardano | University of Florida | Defender | Tampa, Florida | United States | TSC Hurricane
Mackenzie Cerda | University of California | Los Angeles | Forward, Defender | Long Beach, California | United States | Slammers FC
Simone Charley | Vanderbilt University | Forward, Midfielder | Boston, Massachusetts | United States of America | Birmingham Legends '95
Jamie Cheslik | Michigan State University | Forward, Midfielder | Southfield, Michigan | United States | Michigan Hawks
Caitlyn Clem | University of Wisconsin | Goalkeeper | Lansing, MI USA | United States | Michigan Hawks Black
Lauren Clem | Northwestern University | Goalkeeper | St. Joseph, Michigan | United States | Kalamazoo Kingdom
Anna Conklin | University of South Carolina | Forward, Midfielder, Defender | Denville, New Jersey | United States | PDA Slammers
Sophia Cortes | University of Nevada, Las Vegas | Midfielder | Newhall, California | United States | Select Cities Soccer Club
Katy Couperus | University of Cincinnati | Midfielder, Defender | Fort Collins, Colorado | United States | Arsenal Colorado
Christine Creighton | University of Central Florida | Forward, Midfielder | Palm Beach Gardens, Florida | United States | FC Florida, MagicJack
Frannie Crouse | Penn State University | Forward, Midfielder | Jeannette, Pennsylvania | United States | Beadling Soccer Club
Jennifer Cudjoe | University of Maine at Fort Kent | Midfielder | Ghana | Ghana | Hassaca ladies FC
Aline De Lima | Baylor University | Midfielder | Belo Horizonte, Minas Gerais, Brazil | Brazil | Atlético Mineiro
Cristina De Zeeuw | Vanderbilt University | Defender | Kansas City, Missouri | United States/Colombia | Sporting Blue Valley ECNL
Schuyler DeBree | Duke University | Forward, Midfielder, Defender | Charlotte, North Carolina | United States | PDA Slammers
Myra Delgadillo | California State University Fresno | Forward, Midfielder | Redwood City, California | United States | Mountain View Los Altos (Lightening)
Chatham DeProspo | University of Alabama | Midfielder, Defender | Warwick, New York | United States | IMG Academy & World Class ECNL
Kristin Desmond | Hofstra University | Forward, Midfielder, Defender | Huntington, New York | United States | Northport High School Varsity Soccer, SUSA HBC Stars United
Hannah Diaz | Saint Mary's College of California | Forward, Midfielder, Defender | Hidden Valley Lake, California | United States | Santa Rosa United
Elizabeth Donovan | Simmons College | Midfielder, Defender | Manchester, New Hampshire | United States | Nashua World Cup
Imani Dorsey | Duke University | Forward, Midfielder | Elkridge, Maryland | United States | Maryland United FC
Abby Elinsky | University of North Carolina | Forward, Midfielder, Defender | West Chester, Pennsylvania | United States | Penn Fusion/Cleveland United
Katarina Elliott | University of South Florida | Goalkeeper | Bradenton, Florida | United States | Clearwater Chargers
Mallory Eubanks | Mississippi State University | Forward, Midfielder, Defender | Greenville, Mississippi | United States | Lexington FC
Kathellen Feitoza | University of Central Florida | Forward, Midfielder, Defender | Santos, Brazil | Brazil Sao Vicente- Futsal
Morgan Ferrara | University of Central Florida | Forward, Midfielder | Tampa, Florida | United States | West Florida Flames
Kelly Fitzgerald | University of California Berkeley | Midfielder | Mission Viejo, California | United States | Southern California Blues
Monica Flores | University of Notre Dame | Midfielder, Defender | Livingston, New Jersey | United States/ Mexico | PDA Slammers
Sonest Furtado | University of Hawaii at Manoa | Forward, Midfielder | Honolulu, Hawaii | United States | Leahi 96 Premier
Annabella Geist | Oregon State University | Goalkeeper | Milwaukie | United States | OSSA Crossfire/LOSC
Indigo Gibson | University of California, Berkeley | Defender | Mission Viejo, California | United States | Slammers FC
Vanessa Gilles | University of Cincinnati | Defender | Montreal, Quebec | Canada | Capital United Soccer Club
Sonja Giraud | University of San Francisco | Forward | Muehlacker, Germany | Germany | SC Freiburg
Nadia Gomes | Brigham Young University | Forward | Viseu, Portugal | United States | Murray Sc
Zoey Goralski | University of California | Los Angeles | Forward, Midfielder, Defender | Naperville, Illinois | United States | Team Chicago
Isabella Habuda | Liberty University | Forward, Midfielder | Windsor, Ontario | Canada | Michigan Vardar
Madison Hall | Stephen F. Austin State University | Forward, Midfielder | Dallas, Texas | United States | Dfeeters
Kendall Ham | Bucknell University | Forward | Portsmouth, New Hampshire | United States | Seacoast United Soccer Club
Devyn Hannis | Old Dominion University | Forward, Midfielder, Defender | Macungie, Pennsylvania | United States | Continental FC ( FC Delco)
Haley Hanson | University of Nebraska-Lincoln | Forward, Midfielder, Defender | Shawnee, Kansas | United States | Sporting Blue Valley
Allyson Haran | Wake Forest University | Defender | Stratford, Ontario, Canada | United States | Michigan Hawks
Meagan Harbison | Pepperdine University | Midfielder, Defender | San Diego, California | United States | San Diego Surf
Rio Hardy | University of South Alabama | Forward, Midfielder | Workington, England | United Kingdom | Blackburn Rovers
Steffi Hardy | University of South Alabama | Defender | England, Workington |United Kingdom | Blackburn Rovers
Kristin Haugstad | La Salle University | Forward, Midfielder | Oslo, Norway | Norway | Vålerenga (Oslo, Norway)
Caitlin Hayes | Mississippi College | Defender | Warrington, England | United Kingdom | Manchester United
Kristin Hayman | Providence College | Forward, Midfielder | Bellevue, Washington | United States | Eastside FC
Paige Hayward | Texas Southern University | Forward, Midfielder | Sydney, Australia | Australia | Apia Leichhardt Tigers FC
Emma Heckendorn | Texas Christian University | Forward, Midfielder | Arlington, Texas | United States | Dallas Sting Soccer Club
Annabelle Hegeman | University of Akron | Goalkeeper | Cumberland, Maryland | United States | F.C. Frederick
Megan Hinz | University of Michigan | Goalkeeper | Baltimore, Maryland | United States | Maryland United
Dörthe Hoppius | San José State University | Forward, Midfielder | Dorsten, North Rhine-Westphalia | Germany | Bochum Side
Shannon Horgan | Clemson University | Forward, Defender | Long Beach, NY | United States | Albertson Soccer Club
Kassi Hormuth | Texas State University | Forward, Midfielder | Atin, Texas | United States | Lonestar Soccer Club
Carlin Hudson | Yale University | Defender | Berkley, California | United States | Bay Oaks
Maddie Huster | Wake Forest University | Midfielder, Defender | Cincinnati, Ohio | United States | Ohio Elite Soccer Academy
Taylor Isom | Brigham Young University | Defender | Logan, Utah | United States | Utah Avalanche
Celia Jiménez Delgado | University of Alabama | Forward, Midfielder, Defender | Alcaudete, Jaén | Spain | Sevilla FC
Kimberly Keever | University of Washington | Forward, Midfielder | Santa Monica, California | United States | Beach FC
Alexis Kiehl | University of Dayton | Forward, Midfielder | Cincinnati, Ohio | United States | Kings Hammer Academy
Emily Kuefler | Villanova University | Forward, Midfielder, Defender | Stow, Massachusetts | United States | FC Stars of MA
Alexandria Lamontagne | Syracuse University | Forward, Defender | Richmondhill, Ontario | Canada | Ajax FC
Lindsey Lane | University of South Carolina | Midfielder | Californiamp Lejeune, North Carolina | United States | Maryland United ECNL
Savannah LaRicci | McNeese State University | Forward, Midfielder | Sugar Land, Texas | United States | Space City Futbol Club
Veronica Latsko | University of Virginia | Forward, Midfielder | Pittsburgh, Pennsylvania | United States | Beadling Soccer Club
Ariela Lewis | Alabama State University | Forward, Midfielder | Anchorage, Alaska | United States | Cook Inlet Soccr Club
Haley Lukas | University of California, Berkeley Midfielder, Defender Pleasanton, California United States Mustang Fury
Emily (Emmy) Manset | Willamette University | Forward, Midfielder | Ventura, California | United States | Eagles Soccer Club
Anita Maryskova | Northwest Nazarene University | Forward, Midfielder | Liberec, Czech Republic | Czech FFC Dresden
Gabrielle Matulich | University California, Los Angeles | Forward, Midfielder, Defender | Los Gatos, California | United States | Mountain View Los Altos (MVLA)
Savannah McCaskill | University of South Carolina | Forward, Midfielder | Sumter, South Carolina | United States | Carolina Elite Soccer Academy
Rachel McCloskey | Menlo College, University of Minesota | Midfielder, Defender | Altoona, Iowa | United States | Iowa Rush
Tara Meier | University of San Diego | Midfielder, Defender | Clovis, California | United States | San Diego Surf Soccer
Gabriella Mencotti | Grand Valley State University | Forward | Novi, Michigan | United States | Michigan Rush
Andrea Mensen | UC Irvine | Midfielder, Defender | Rancho Cucamonga, CA | United States | Fram FC
Katlyn Merino | Molloy College | Midfielder | Queens, New York | United States | Manhattan Kickers SC
Ashton Miller | Duke University | Midfielder | Silver Spring, Maryland | United States | Michigan Hawks and Wolves
Nicole Molen | University of Southern California | Midfielder, Defender | Thousand Oaks, California | United States | Real So Cal
Julia Moore | University of Central Florida | Forward, Midfielder, Defender | Fort Lauderdale, Florida | United States | Orlando City ECNL 94/95 (2013), Coral Springs Renegades 93/94 (2009-2012)
Brooke Murphy | University of New Hampshire | Forward, Midfielder | Worcester, Massachusetts | United States | FC Stars of Massachusetts
Casey Murphy | Rutgers University | Goalkeeper | Bridgewater, New Jersey | United States | Players Development Academy
Claire Oates | Southern Methodist University | Midfielder | Long Beach, California | United States | Slammers FC
Rebekah O'Brien | Texas Tech University | Midfielder, Defender | Houston, TX | United States | Albion Hurricanes FC
Jocelyn Orejel | Colorado University | Defender | FountainValley, California | United States | So Cal Blues
Kiana Palacios | UC Irvine | Forward, Midfielder | Mission Viejo, California | United States | Slammers FC
Aaran Parry | University of Tennessee | Forward, Midfielder | Frederick, Maryland | United States | Bethesda Soccer Club, F.C.Frederick
Kellie Peay | Santa Clara University | Midfielder, Defender | Phoenix, Arizona | United States | Sereno Soccer Club
Selena Peters | University of Houston | Forward, Midfielder | Houston, Texas | United States | Albion Hurricanes FC
Amandine Pierre-Louis | West Virginia University | Forward, Midfielder | Montreal, Quebec | Canada | St-léonard soccer club
Carla Portillo | West Virginia University | Midfielder | Mississauga, Ontario | Canada | Burlington Bayhawks
Darian Powell | Marquette University | Forward, Midfielder | Waterloo, Iowa | United States | Shattuck St. Mary's
Kendra Prince | University of New Hampshire | Forward, Defender | Ajax, Ontario | United States/Canada | Toronto Lynx
EJ (Emma Jane) Proctor | Duke University | Goalkeeper | Greenville, North Carolina | United States | CASL '95 ECNL
Kimberly Quiles | Springfield College | Forward | Poughkeepsie, New York | United States | Ketcham Indians
Dominique Randle | University of Southern | California | Defender | Seattle, Washington | United States | Eastside FC '93
Morgan Reid | Duke University | Defender | Cleveland, Ohio | United States | CASL Chelsea '94
Jessica Reinhardt | Farileigh Dickinson University | Forward, Midfielder, Defender | Bad Nauheim, Hesse | German | FFC Frankfurt
Haley Roberson | Troy University | Midfielder, Defender | Okinawa, Japan | United States | VSA Heat Blue 94
Amanda Rooney | University of Southern California | Forward, Midfielder | New Hyde Park, New York | United States | Albertson Soccer Club
Ani Sarkisian | Univeristy of Michigan | Forward, Midfielder, Defender | Teaneck, New Jersey | United States | PDA
Helen Seed | Carson Newman University | Defender | Preston, England | United Kingdom | Blackburn Rovers Girls Center of Excellence
Gabby Seiler | University of Florida | Forward, Midfielder, Defender | Fort Hood, Texas | United States | Concorde Fire South
Jermaine Seoposenwe | Samford University | Forward, Midfielder | Cape Town, South Africa | South Africa | Santos Ladies Soccer Club
Sarah Shimer | University of Washington | Goalkeeper | Seattle, Washington | United States | Washington Premier FC
Sierra Shugarts | Western Washington University | Defender | Federal Way, Washington | United States | Washington Premier Futbol Club ECNL
Lydia Simmons | Vanderbilt University | Midfielder | Memphis, Tennessee | United States | Seacoast United (NH) / FC Stars of Mass (MA)
Sydney Sladek | University of Southern California | Midfielder, Defender | Chandler, Arizona | United States | Players Soccer Club
Sherifatu Sumaila | University of Maine at Fort Kent | Forward | Ghana | Ghana | Lepo Ladies, Ghana
Martha Thomas | Charlotte | Forward, Midfielder | Malmesbury, England | United Kingdom | Weston FC
Madison Vasquez | Siena College | Midfielder, Defender | New Hyde Park, New York | United States | Massapequa Stars
Ariel Viera | University of Portland | Midfielder, Defender | Hillsboro, Oregon | United States | F.C. Portland Academy
Brianna Visalli | Pepperdine University | Forward, Midfielder | San Jose, California | United States | De Anza Force
Lauren Wade | Carson Newman University | Forward, Midfielder | Ballymoney, Northern Ireland | Great Britain | Glentoran Woman
Madison Williams | Purdue University | Forward | Oklahoma City, Oklahoma | United States | Greater Toledo Futbol Club
Chloe Williams | Eastern Washington University | Forward, Midfielder | Spokane, Washington | United States | Spokane Shadow
Ryan Williams | Texas Christian University | Defender | Hoton, Texas | United States | Colorado Rush
Claire Winter | University of Califoria, Los Angeles | Midfielder | Lafayette, California | United States | Lamorinda Soccer Club/ Mustang ECNL
Harriet Withers | Murray State University | Forward, Midfielder | Brisbane, Queensland, Australia | Australia | Palm Beach Soccer Club, Australia
Savanna Wojtanowski | Michigan State University | Goalkeeper | Wayne, Michigan | United States | North Storm
Loran Wyrough | Wilmington University | Forward | Hamilton, New Jersey | United States | Hibernian Xcel
Sandra Yu | University of Notre Dame | Forward, Midfielder | Middleburg Heights, Ohio | United States | Internationals Soccer Club