 Hope Solo will make her return to the international stage when she is honored for reaching 200 caps with the US Women's National Team. The ceremony will take place before the USWNT's match against Denmark on Sunday January 21 at SDCCU stadium in San Diego, Calif.
Solo made her international debut against Iceland in an 8-0 route in April 2000. She was an alternate for the 2004 Olympic team that won silver and became the primary keeper starting in 2005.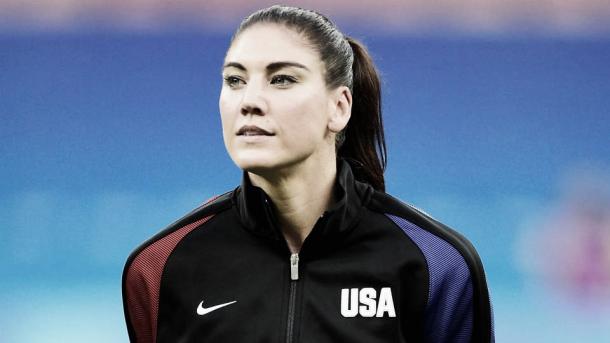 One of the Best
As one of the best goalkeepers in women's soccer history, she collected 202 caps, 195 starts and 102 total shut outs. She averaged a 0.54 goals against average and played more than 17,500 minutes in goal.
Solo played in three world cups and three Olympics, amassing two gold medals and a world cup trophy. She was the first international keeper to reach 100 shutouts when she kept South Africa scoreless in a friendly in July of 2016.
The 200th cap came in a 1-0 win over France in the group stage of the 2016 Rio Olympics. The US made it out of the group stage with two wins and one draw.
Though Solo's off-the-field actions have garnered controversy, her on-the-field play has proven to be one of the greatest in the game. Solo was named the US Soccer Female Athlete of the Year in 2009 and won the golden glove award at both the 2011 and 2015 World Cups. In 2015, she was named the CONCACAF goalkeeper of the year and was named to the FIFA World XI in 2015 and 2016.
Off-The-Field Actions
Due to fallout from her post-Olympic defeat comments and other mitigating factors, Solo was dropped by US Soccer in August 2016 and has not played a match since the Sweden loss in penalty kicks.
Solo was also suspended in January of 2015 for 30 days after her husband, Jerramy Stevens, was arrested for driving under the influence in what turned out to be the team van during January camp.
Solo is one of eight candidates running to replace Sunil Gulati as US Soccer president. The election is slated for February 10.