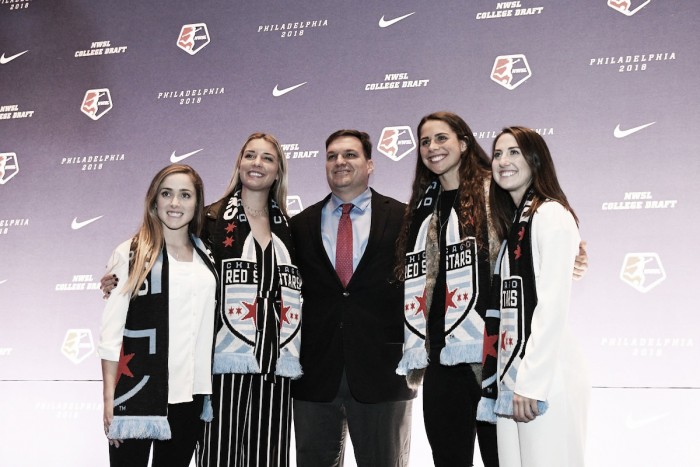 The Chicago Red Stars came to Philadelphia with seven picks. And then, the clock expired on the 6th pick, the NWSL had called a timeout. There had been a trade, and the league needed time to sort it out. Thus began a shift in trade order that affected Chicago's picks.
The Three-Way Trade
Involved in that trade were Chicago, the Houston Dash, and Sky Blue FC. Suddenly, this monumental trade created an intriguing atmosphere as those outside of those three teams inquired about the players involved in the trade.
Word soon leaked that Chicago's Christen Press would go to Houston, Carli Lloyd would go to New Jersey from Houston, and Sam Kerr from Sky Blue was now headed to Chicago. But besides those three major names, three other players were also part of the trade.
As the air of confusion cleared, we learned that Chicago first traded Press, the seventh pick in this year's draft, and a 2018 international roster spot to Houston for Lloyd, Janine Beckie, the sixth and 24th picks in this year's draft. Chicago then traded Lloyd, Beckie, Jen Hoy, and the sixth and 13th picks in this year's draft to Sky Blue for Kerr, Nikki Stanton, and the 15th pick in this year's draft.
The trade caused dissatisfaction with fans and theories, but there were reasons behind the move. Press and head coach Rory Dames had reached a mutual decision that Press' time in Chicago had come to an end. Lloyd will return to her home state where she still maintains a home with her husband. As for Chicago and Kerr, well, this could very well be the year that the Red Stars break the three-year semi-finals losing streak, and the year where Kerr shines again with a stronger team.
And Then The Draft Picks
Meanwhile, the Red Stars still had to make a draft pick since they traded away their 7th one to Houston. Nevertheless, after the dust from the trades settled, Dames was finally able to focus on drafting collegiate players.
After losing a pick due to the trade, the Red Stars still ended up with six draftees, including two players local to the Chicago area.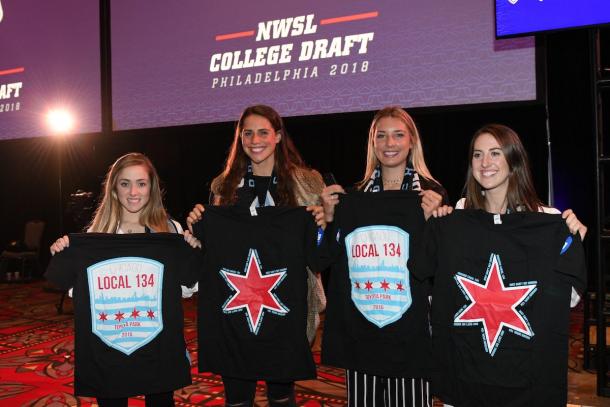 Here's the Red Stars' list of players drafted for 2018:
Rd 2, Pick 15 - Emily Boyd (GK) (University of California, Berkeley)
Rd 2, Pick 18 - Indigo Gibson (Defender) (University of California, Berkeley)
Rd 2, Pick 19 - Brianna Visalli (Midfielder) (Pepperdine)
Rd 3, Pick 24 - Megan Buckingham (Midfielder) (North Carolina)
Rd 3, Pick 27 - Zoey Goralski (Defender/Forward) (UCLA)
Rd 4, Pick 37 - Alexa Ben (Midfielder) (DePaul)
Both Goralski and Ben are Illinois natives.
Trade Overshadows Draft Picks
Chicago is known for using the draft to make the most of it, and they certainly did again. Much of the focus on the past was on the draft picks themselves. Past draft picks include Jen Hoy (2013), Julie Ertz (2014), Vanessa DiBenardo (2014), Sofia Huerta (2015), Danielle Colaprico (2015), Arian Gilliland (2015), Sarah Gorden (2016) and Katie Naughton (2016), all players who are current players in the league and notable ones at that.
However, this year's draft was highly overshadowed by the three-team trade that shuffled well-known international players to new locations. For the most part, this year's draft was mostly about this trade than the draftees themselves.
Time will only tell where this Chicago Red Stars Draft Class of 2018 measures to previous Chicago draftees.