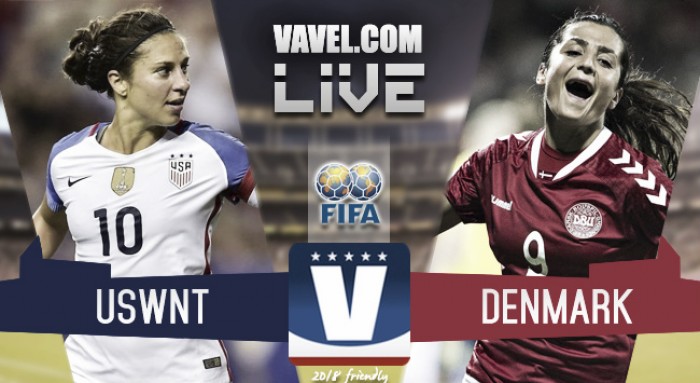 That's all from tonight's USWNT! This has been Bianca Verar for VAVEL USA. Check back in March for the USWNT's next match.
FULL TIME: USWNT 5-1 Denmark
90+2' - US just holding on to the ball for the dying seconds of the match
90' - 2 minutes of stoppage
88' - Press beats her defender off the foot race and plays the ball quickly to Williams, who tries for a cross and earns a corner instead
87' - Press plays a ball over the top for Williams, but it's too much
85' - Harder tries a left-footed shot from distance, but it's high
84' - DENMARK SUBSTITUTION: Leth Jans enters for Frederikke Thøgersen
81' - USA GOAL! Williams finds Press who's shot is saved by Lykke, but Dunn is there to get the rebound!
80' - ALMOST! MAYBE! Lloyd heads it in, but it bounces out and refs call no goal
80' - Left-footed cross from O'Hara but Press' header is wide
79' - Corner for the US
78' - Foul called on Nadim for US free kick
76' - Dunn gets a cross off, but it's out for a goal kick
75' - Sorrensen in for Pederseon
75' - Harder almost gets one back for Denmark, but the crossbar thinks otherwise
73' - Ertz earns a yellow card for clipping Troelgaard from behind
72' - Denmark earns a free kick and Harder is set to take it
69' - USA SUBSTITUTION: Christen Press in for Alex Morgan, Crystal Dunn in for Megan Rapinoe, Lynn Williams for Mallory Pugh and Savannah McCaskill for Andi Sullivan
69' - Troelgaard charging towards the US goal quickly, but Ertz is quickly there to clear
67' - Thøgersen gets dangerously close to making a cross, but O'Hara is sliding in to give Denmark a corner
66' - Rapinoe plays a ball for Morgan and she's off, but her touch is just wide
65' - USA GOAL! Lykke plays it out, but it lands right at Pugh's feet and she dribbles forward and beats Lykke near post
64' - Danger for the US in the box with Nadim all over, but Naeher is quick to collect the ball
62' - Sonnett is fouled by the sideline and the US earns a free kick
58' - Ball's played through for Rapinoe, but she's offside
56' - Play stops as Sullivan is down with a knock to her shoulder
54' - USA SUBSTITUTION: Dahlkemper exits for Lloyd, Taylor Smith off for Emily Sonnett
53' - Carli Lloyd looks ready to get subbed in
49' - Ertz almost gets a second after some chaos in the box, but Lykke is there for a save
47' - USA GOAL! Pugh finds a gap and slots it past Lykke!
46' - Christensen replaces Nielson for Denmark
HALF TIME: USWNT 2-1 Denmark
45' - Rapinoe gets played through for a 1-v-1 with Lykke, but she trips and defenders are there to collect and play out
45' - One minute of stoppage
42' - The US builds a rhythm in their attack, but Rapinoe runs out of room and it goes out for a goal kick
40' - Rapinoe is all over the place tonight! She picks the ball up on the right side of the field now and tries to play it into the box, but it's cleared
37' - Morgan does well to lay the ball off for Sullivan despite pressure, but Sullivan's shot goes a little high of the net
36' - Pugh races towards goal, dribbling into the box. She gets a shot off, but it's just high
35' - Rapinoe's taken down from behind at the halfway line and US earns free kick
33' - Morgan collects the ball in the box and turns with a shot, but she only earns a corner
32' - Nadim is called for a foul and the US are off to goal
32' - Ball pings around the box before Lykke is able to collect
31' - Horan goes end line and is able to win a corner
30' - Horan tries to slip a ball in for Pugh, but Stine Larson is there to clear it
28' - Nadim sneaks past Taylor Smith on the left, but Smith is quick to play it out, and it goes out for a goal kick after going off of Nadim last
26' - Lindsay Horan a little hard on a foul on Troelgaard and Denmark earns a free kick
25' - Morgan almost gets one, but she just mistimes her jump and it bounces off the post and into Lykke's arms
24' - Nadim goes up for another header, but her shot is just wide
24' - Denmark looking dangerous on the right flank, but Kelley O'Hara is there to track back and clear it for a corner
21' - Pernille Harder earns a yellow card for a hard foul
19' - USA GOAL! Abby Dahlkemper plays the corner back into the box, Davidson flicks it on and Julie Ertz is there to head it home!
19' - Eager for another the US earns another corner
17' - USA GOAL! They equalize quickly, with Pugh dribbling the ball in the box and playing it to Morgan who taps in past a defender and the keeper
14' - DENMARK GOAL! It's no other than Nadia Nadim who heads the corner home
14' - Denmark plays around in US territory and eventually earns a corner
10' - Foul against Denmark deep in the US half. Free kick for US
8' - Mallory Pugh slips a ball through the defense for Alex Morgan, but Stina Lykke is there to collect
7' - The US strings a few passes along to create an attack; Rapinoe is able to get end line and crosses, going out for another corner
5' - Lots of air time for the ball, it's knocked back outside to Sullivan, who tries to play it back in and Denmark clears it out for the throw in
4' - The US is quick to counter and Rapinoe gets a cross off, earning her team a corner
4' - Denmark gets a cross off, but it bounces and is no problem for Alyssa Naeher
3' - Megan Rapinoe comes in hot to steal the ball away, but Denmark is quick to keep it away from their box
1' - And we're off and running for the first USWNT match of 2018!
Kickoff shortly!!
Things will be getting started soon in San Diego! Get ready!
Denmark Starting XI: Stina Lykke; Theresa Nielson, Stine Larson, Janni Arnth, Katrine Veje; Frederikke Thøgersen, Maja Kildemoes, Sofie Junge, Sanne Troelgaard; Nadia Nadim, Pernille Harder
Stanford defender Tierna Davidson earns her first senior national team cap and start today, joining the ranks of Kelley O'Hara in today's backline.
USWNT Starting XI: Alyssa Naeher; Taylor Smith, Tierna Davidson, Abby Dahlkemper, Kelley O'Hara; Julie Ertz, Lindsey Horan, Andi Sullivan; Mallory Pugh, Alex Morgan, Megan Rapinoe
Solo recently announced her plan to run for US Soccer Federation President, and is one of eight candidates in the running.
This ceremony comes at an interesting time, seeing as Solo reached 200 caps back in 2016, but was quickly suspended from the national team after her comments during the 2016 Rio Olympics where the USWNT had their worst finish in Olympic history.
Prior to the match, US Soccer will be honoring former goalkeeper Hope Solo for 200 caps with the USWNT.
Hello! Welcome to VAVEL USA's LIVE for the USWNT vs Denmark match. We are a little over an hour away from kick off.
That's all pre-game analysis for now. Check back on match day for more information!
If there's one name NWSL fans will recognize on Denmark's team on Sunday, it'll be the one and only Nadia Nadim. Nadim's spent the past four season in the league, two seasons with Sky Blue FC and two with the Portland Thorns. She was an integral part of the Thorns squad that brought a second championship to Portland this past season in 2017. After tearing up the NWSL, Nadim is now playing in Europe with Manchester City.
Denmark, currently sitting at 12th in FIFA Rankings, enters 2018 after having one of its most successful seasons in their program history last year. They finished as runners-up in the 2017 UEFA Women's Euros.
This is the USWNT's first meeting with Denmark since the USA lost in a 5-3 match in the 2014 Algarve Cup. This set the record for most goals allowed by the USWNT in a single match.
The USWNT enters 2018 with a record of 27-4-2 all-time in their opening match of the year. They have played Denmark twice before to open a year, both of which resulted in 2-0 wins. The USWNT played Denmark in the second match in team history on August 21, 1985. It resulted in a 2-2 tie in Jesolo, Italy. It was the program's first tie in history. It also featured the first two goals in program history; they were scored by Michelle Akers and Emily Pickering. The USWNT's all-time record against Denmark is 16-5-3.
USWNT vs Denmark Live Stream
The roster also features Stanford defender Tierna Davidson, who will join the U-20 USWNT after today's friendly. She will head to Trinidad and Tobago for the rest of the U-20 Women's World Cup Qualifying Tournament.
There are many younger faces this time around. This includes no. 1 overall draft pick from yesterday's 2018 NWSL College Draft, Andi Sullivan and no. 2 overall pick Savannah McCaskill.
Head coach Jill Ellis originally named 26 players to this camp's roster, but injuries have seen players miss out on this camp. Midfielder Tobin Heath is out after having ankle surgery to start off 2018. Later, it was announced defender Becky Sauerbrunn and midfielder Morgan Brian would no longer be available for January camp. Brian also recently made the move to play for French club Olympique Lyonnais. She has signed a contract with the club through 2020.
The USWNT is back in action after finishing off their 2017 with a 3-1 win against the Canada Women's National Team. They start off 2018 with a friendly on home turf against Denmark. 2018 is a World Cup Qualifying year, and the USWNT are heading into the year with final preparations.
USWNT vs Denmark Live Stream Commentary
Welcome to VAVEL USA's LIVE coverage of the first friendly match of between the US Women's National Team and the Denmark Women's National Team. My name is Bianca Verar and I'll be your host for this game. We will provide you with pre-game analysis, roster updates, and news as it happens here on VAVEL. The game will be aired on ESPN.