 Utah Royals FC continued to build their roster today as they signed two more players from FC Kansas City. Midfielders Mandy Laddish and Erika Tymrak have committed to play for the Royals for the upcoming season.
Both Laddish and Tymrak were on the roster for Kansas City when the team ceased operations in November. Their rights, along with all others on the roster, were attained by the Royals. Both have been intregal parts of the teams back-to-back NWSL champions in 2014 and 2015.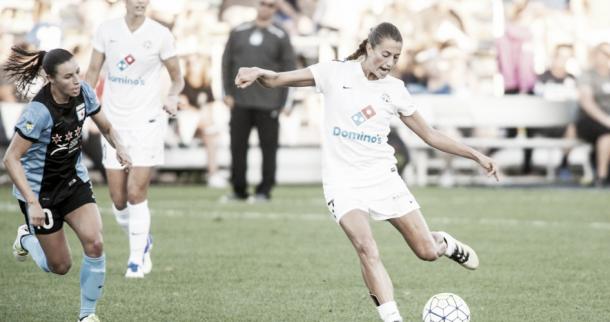 Laddish hoping to bounce back
Laddish, a 2014 draft pick out of Notre Dame, did not play during the 2017 season due to a season-long injury. She is a two-time NWSL champion and a U-20 World Cup winner as well as a Kansas City, Missouri native.
With FC Kansas City, Laddish has 39 NWSL appearances and a goal in her first three seasons. During her time in college, she accumulated 85 appearances and six goals.
The quest for 100
Tymrak was drafted but Kansas City in 2013 and earned the title of NWSL rookie of the year. She played all four years at the University of Florida where she had 95 appearances and 32 goals. Tymrak, a Florida native, is five NWSL appearances away from the century-mark and has amassed 18 career goals.
Tymrak also brings international experience, having spent time with Bayern Munich women and Melbourne City Women in the German Frauen-Bundesliga and the Australian W-league, respectively. She also has three caps with the US women's national team.
The Royals add these two to their recent signings of former FCKC players including Becky Sauerbrunn and Desiree Scott.