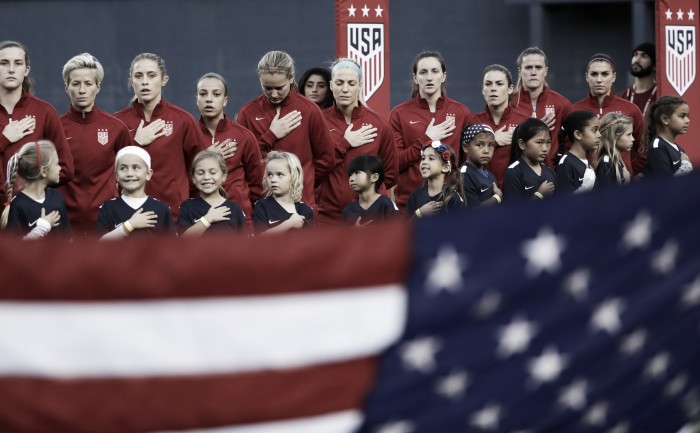 January Camp provided an opportunity for the US women's national team players to come together and prep for the upcoming year. This years' friendly against Denmark provided an opportunity for some players on the fringe to warrant another call-up.
The US beat Denmark 5-1 after scoring five straight goals after giving up one. Julie Ertz, Mal Pugh, Crystal Dunn, and Alex Morgan scored for the US, but the goal scorers weren't the only ones who made an impression. Four players deserve either another call-up or a second chance to show they can achieve on the international level.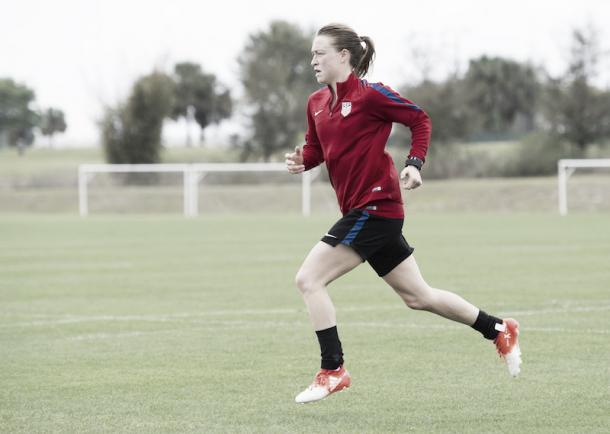 Emily Sonnett
It's crazy to think that Sonnett's last international cap was in 2016, but the Portland Thorn player never made an appearance in 2017, despite having a noteworthy NWSL season and being called into several camps.
The 23-year-old subbed in the second half and immediately made a difference, providing a calm presence at her unnatural position of outside back that Taylor Smith couldn't provide. Sonnett may have fallen out of favor with head coach Jill Ellis, but this game showed that Sonnett has the talent to make an impact on the team- when given the chance.
Tierna Davidson
The Stanford sophomore earned her first start and cap on Sunday at center back in place of the injured Becky Sauerbrunn. Davidson had large shoes to fill but took the opportunity to prove that she has the talent to perform on the world stage.
After getting over some early nerves, Davidson transformed into a calm presence on a backline that only allowed Denmark one shot on goal, which they converted. It's too early to tell if Davidson is the heir apparent to Sauerbrunn, but she deserves the chance to prove if she is.
Andi Sullivan
It's crazy to think that the NCAA champion, MAC Hermann trophy winner and first-round draft pick is on the fringe, but Sullivan came back surprisingly quick from her ACL tear back in December 2016. The new Washington Spirit player, however, didn't squander the opportunity to show how much talent she truly had.
Sullivan's holding midfield abilities are something the US hasn't seen since Shannon Boxx, and Sullivan is more technical and athletic. Her calm presence and ability to break pressure allowed Pugh and Morgan to focus on getting forward to create goal scoring opportunities. Sullivan not have had an assist, but her impact will not show up on the score sheet.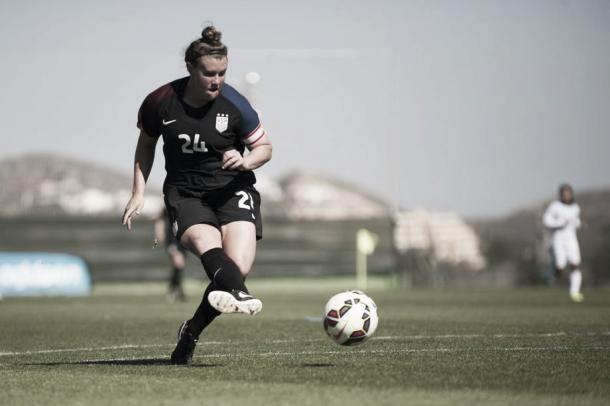 Savannah McCaskill
There isn't much on McCaskill's highlight real from the game but that's exactly why she deserves another call-up. McCaskill, who provided some powerful corner kicks that the US has been missing since Lauren Holiday retired, only played for 20 minutes which is why she needs more playtime.
McCaskill had a stellar career with South Carolina and was named a finalist for the MAC Hermann Trophy. Her pro career, however, might be different. She was drafted second overall by the Boston Breakers, but with the news that they have ceased operations, her current home is unknown. Wherever she ends up, though, she will make an immediate impact. Her attacking prowess and ability to solve pressure could prove useful once 2019 comes around, but she has a stiff midfield competition to make the roster.
The US will take on France, Germany and England in the third annual SheBelieves Cup tournament starting March 1.