 The North Carolina Courage have traded their natural first-round selection in the 2019 NWSL College Draft for Seattle Reign FC defender/midfielder Merritt Mathias and the Reign's natural 2019 second-round pick. The trade comes just one day after the Courage picked up two defenders in the Dispersal Draft to apportion the players under contract with the Boston Breakers, who have officially folded. The Courage front office is looking for a suitable replacement for the playmaking ability that was lost on defense when defender Taylor Smith and forward Ashley Hatch were traded to the Washington Spirit for the rights to Crystal Dunn.
Mathias, who has played a variety of positions in her professional career, was transitioned to the right back position by Laura Harvey during the 2017 season. She had moments of brilliance and blunder as a defender, but Courage head coach Paul Riley feels that she is a good fit for the physical style of play that the team is known for.
Speaking to these qualities, Paul Riley said of Mathias, "she is powerful, quick and will provide a fantastic attacking spark out of the back. I drafted her in WPS, so I know her qualities. Love her mindset, final third prowess, and desire to push the envelope. The fans will embrace her attitude, bite and tenacity."
While those qualities are admirable in moderation, Mathias has a history of going overboard with her physicality. She was suspended for three games during the 2017 season after pulling down Portland Thorns defender Emily Sonnett and was suspended one game for similarly aggressive tactics against Shea Groom in 2016. Riley, who drafted Mathias in the Women's Professional Soccer league, is hoping to get the same ferocity without the aggression in 2018.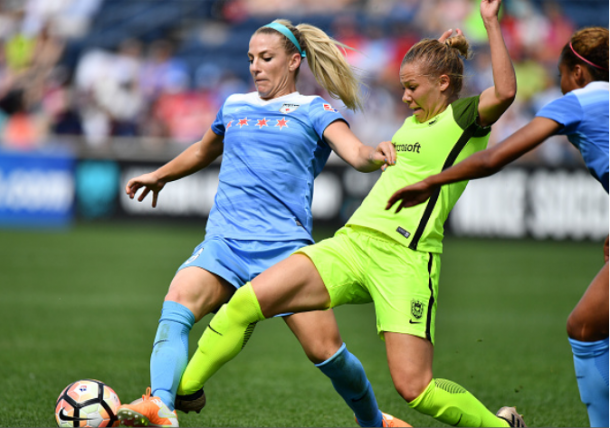 The Courage, after some question marks on defense bloomed over the offseason, are suddenly overflowing with players. They added three defenders with the 38th, 39th and 40th selections in the 2018 NWSL College Draft, added defenders Julie King and Allysha Chapman in the Boston Breakers Dispersal Draft, and have now added Mathias as a sixth option. With Abbys Erceg and Dahlkemper locked in at center back, Jaelene Hinkle experienced on the left flank, and Yuri Kawasumi returning for 2018 after missing most of 2017 with an ACL injury, the new players will have to show something special to break the starting XI.
The Seattle Reign have been completely revamping their roster under new head coach Vlatko Andonovski. The team traded away midfielder Christine Nairn, goalkeeper Haley Kopmeyer and defender Carson Pickett to the Orlando Pride for forward Jasmyne Spencer and Australian defender Steph Catley. The Reign then traded their 2019 first-round selection for the 8th and 11th selections from the Pride in the dispersal draft. They would end up taking four players in that draft.