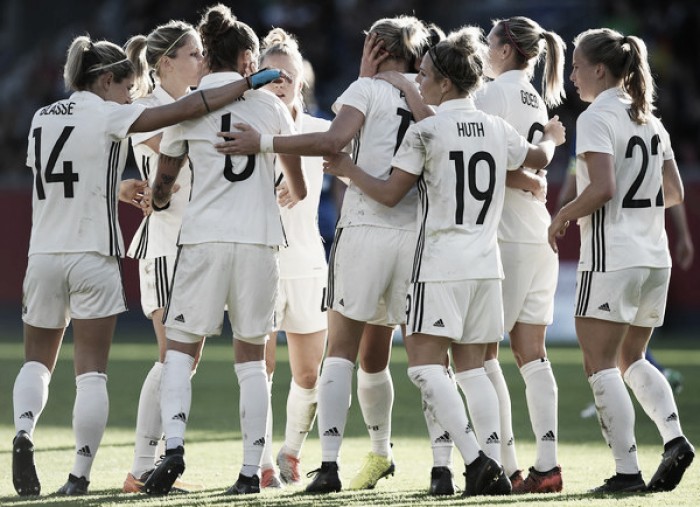 As we look towards the 2018 SheBelieves Cup, VAVEL USA will be previewing each team involved in the competition once again. Ont his occasion, the focus will be on current Olympic Gold medalists, Germany, who are led by head coach Steffi Jones.
After a disappointing UEFA Women's Euro 2017 campaign, the Germans will be looking to not only improve their overall form but also show that they can still match the best teams in the world.
Goeßling returns to the national team fold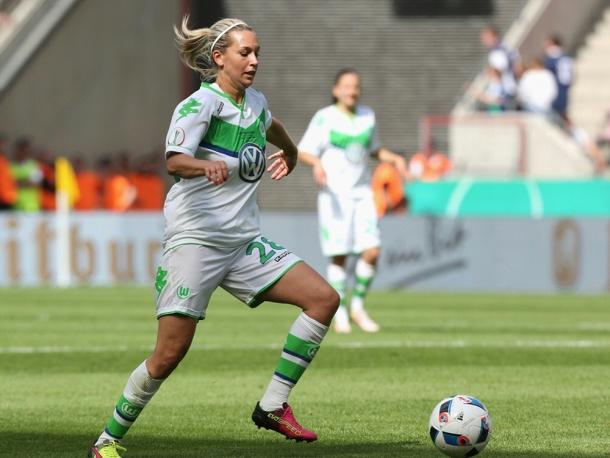 One of the biggest names back on the roster is that of Lena Goeßling. Goeßling had been ruled out of the 2017 SheBelieves Cup through injury and did not seem to be part of Jones' plans throughout all of 2017, much to Goeßling's and the fans' consternation. It seems as though the two have now patched things up and the VfL Wolfsburg​'s player will be set to play in the 2018 SheBelieves Cup. Jones stated on the DFB official website that she and Goeßling had "spoken openly about things on numerous occasions" and the midfield herself stated that she was happy that the issue had been put to bed.
Goeßling's talent is well-known and having her on the roster can only be a positive for Germany. The 31-year old has seemingly recovered fully from her serious injury last year and is part of a Wolfsburg that not only leads the Frauen Bundesliga in goals but also in the least amount of goals conceded. Her experience will prove vital against the likes of England, France and the United States of America.
Leupolz is on the outside looking in while Laudehr will miss out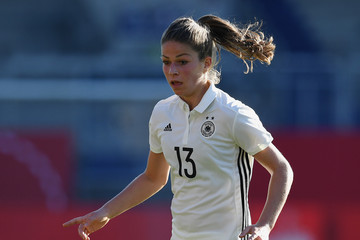 As Goeßling returns, another key member of previous German teams, Melanie Leupolz, has been left off the roster and has been placed on the auxiliary list.​ Jones explained this decision as well, stating that after all of Leupolz' recent injuries, the FC Bayern Munich midfielder needed to play regularly again and "get into the rhythm of regular football".
Simone Laudehr, another veteran on the team will miss the competition entirely as she continues her recovery from injury. In her place, Jones has decided to call up Sharon Beck who has been performing well for her club, TSG 1899 Hoffenheim, this season. The coaching staff had been monitoring Beck for some time now and her consistency for Hoffenheim showed that she had earned a place on the roster. Jones felt that now was the time to see how Beck "performs on an international stage" after demonstrating great ability in the domestic league.
Full 23-player roster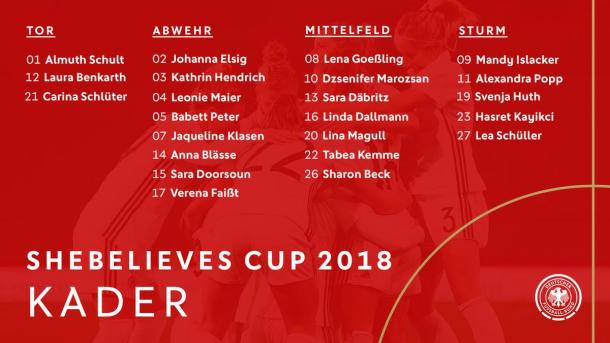 Goalkeepers: Laura Benkarth (SC Freiburg), Carina Schlüter (SC Sand), Almuth Schult (VfL Wolfsburg).
Defenders: Anna Blässe (VfL Wolfsburg), Sara Doorsoun (SGS Essen), Johanna Elsig (1. FFC Turbine Potsdam), Verena Faißt (FC Bayern Munich), Kathrin Hendrich (1. FFC Frankfurt), Jacqueline Klasen (SGS Essen), Leonie Maier (FC Bayern Munich), Babett Peter (VfL Wolfsburg).
Midfielders: Sharon Beck (TSG 1899 Hoffenheim), Sara Däbritz (Bayern Munich), Linda Dallmann (SGS Essen), Lena Goeßling (VfL Wolfsburg), Tabea Kemme (1. FFC Turbine Potsdam), Lina Magull (SC Freiburg), Dzsenifer Marozsán (Olympique Lyonnais).

Attackers: Svenja Huth (1.FFC Turbine Potsdam), Mandy Islacker (1. FFC Frankfurt), Hasret Kayikçi (SC Freiburg), Alexandra Popp (VfL Wolfsburg), Lea Schüller (SGS Essen).
Quotes via Dfb.de