 The floodgates between the Westfield W-League in Australia and the National Women's Soccer League have broken wide open over the last few weeks. The latest addition from the land down under is midfielder Emily van Egmond, who joins the Orlando Pride after spending three seasons away from the NWSL. The Orlando Pride will be van Egmond's tenth different team in her ten of playing professional soccer, despite being only 24 years old. She spent time with the Western New York Flash, Seattle Reign FC, and Chicago Red Stars before going to play with FFC Frankfurt and VfL Wolfsburg in the German women's professional league, Frauen-Bundesliga.
Emily van Egmond has been an integral part of the Australian Women's National Team, known as the Matildas, since she started playing with the team in 2010. She has played in 68 games for her country, scoring 15 goals. She played with the team in the 2011 and 2015 Women's World Cups as well as the 2012 and 2016 Olympics. Van Egmonds presence in the midfield will be a big boost for the Pride, who are stacked at forward and defense, but are lacking exceptional talent in the midfield.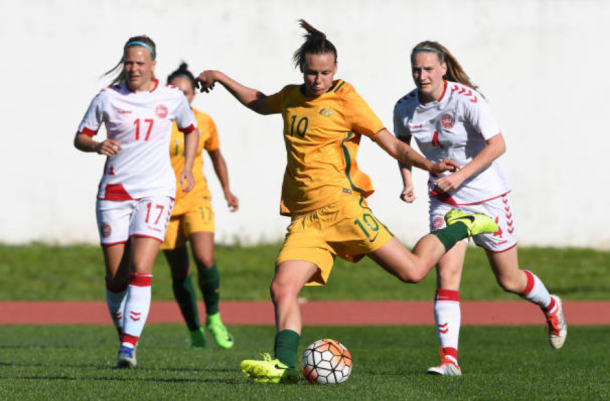 The addition of van Egmond creates an interesting problem for the Orlando Pride. The NWSL roster rules limit the number of international players on any one team to four, although the slots can be traded amongst teams. The Pride are over the limit with four Brazilian players (Marta, Camila, Monica, and Poliana), two Australians (Alanna Kennedy and van Egmond), and 2018 second-round draft pick Nadia Gomes of Portugal. Defender Shelina Zadorsky is Canadian, but she is an allocated player who does not count against the international player cap.
Van Egmond is a part of a recent influx of W-League players joining the NWSL. Australian Katrina Gorry and Norwegian Elise Thorsnes joined the Utah Royals FC organization on Wednesday, while Australian Ellie Carpenter joined the Portland Thorns on Tuesday. Earlier in the off-season, Australian Caitlin Foord committed to joining the Portland Thorns, but she suffered an injury and will not be available for the 2018 NWSL season. One other Australian player, Kyah Simon, may be in talks to join the Houston Dash after her rights were acquired by the team in the first round of the 2018 Dispersal Draft.