 US Soccer announced today that the US Women's National Team will host the Mexico Women's National Team on Thursday, April 5, at EverBank Field in Jacksonville, Florida. The game will kick off at 7 pm Eastern Time on Fox Sports 1.
This meeting will be the first of two for these teams. It was announced a few weeks ago that the USWNT will meet Mexico in Houston, Texas on April 8.
This willl be the team's third visit to Jacksonville since 1996, when they lost 2-1 to Norway in the stadium which at the time was called Jacksonville Municipal Stadium. Their most recent visit to Jacksonville was in February of 2013 to EverBank Stadium. They earned themselves a 4-1 victory over Scotland. This stadium is home to the NFL's Jacksonville Jaguars, whose owner Shahid Khan also owns Fulham Football Club in London.
This will be the first time the USWNT has faced off against Mexico since 2016, where they battled to a tough 1-0 victory for the USWNT in CONCACAF Olympic Qualifying thanks to a Carli Lloyd goal. Their last friendly happened back in May 2015, in a Women's World Cup send off match where the USWNT was victorious 5-1.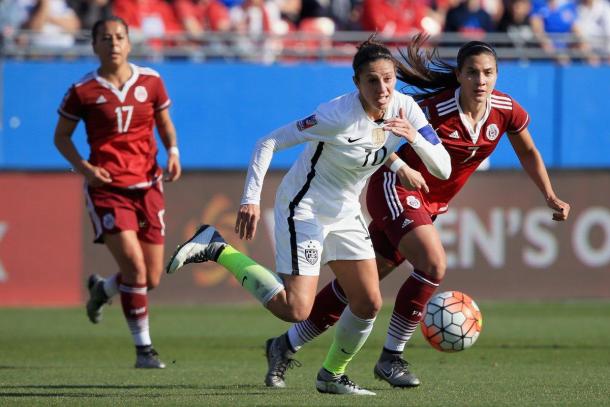 In all 34 meetings between the teams, Mexico has only ever defeated the US once. That defeat occured in 2010 in the semifinal match of the CONCACAF 2011 Women's World Cup Qualifying, by a 2-1 victory for Mexico. This result led to the US to play in the third-place match, follwed by a two-leg playoff against Italy to qualify for the 2011 Women's World Cup.
Mexico is also coming in with a relatively new head coach. Leonardo Cuellar stepped stepped down in April 5, 2016, after 18 years of leading the women's team. He was replaced by Robert Medina in 2017. Medina previously coached Mexico's U-20 team to the quarterfinals of the 2016 FIFA U-20 Women's World Cup.
Tickets for the game in Jacksonville go on sale to the public Friday, Feb. 23, at 10 a.m. ET on US Soccer's website.