 Houston Dash forward Rachel Daly will replace forward Karen Carney on the England 2018 SheBelieves Cup roster. New Head Coach, Phil Neville called up Daly last weekend and she will meet the team in Columbus, Ohio. This will mark the second time Daly will be on the England roster for the SheBelieves Cup Tournament. Daly was called up earlier this January to prepare for the SheBelieves Cup and European World Cup Qualifiers. England will face France in the opening match on Thursday March 1.
Last season with the Dash, Daly finished with five goals and two assists. Her and the Dash will look to improve on a disappointing eighth place finish in last year's NWSL season. During the offseason Daly signed a new contract with the Dash. She will return to the Dash for her third season. The Dash began their pre-season this past Saturday against the U-15 Houston Dynamo Academy. Houston's season opener and home opener will be against the Chicago Red Stars on March 25.
Karen Carney, who Daly will replace, will miss the SheBelieves tournament due to an ankle injury. To avoid any further injury, Carney will stay with her club team Chelsea to continue treatment in London, England. Along with Daly, Coach Neville called-up Abbie McManus and Georgia Stanway. McManus and Stanway will replace defender Steph Houghton and midfielder Jordan Nobbs who are dealing with their own injuries.
Coach Neville told the FA website "When I named the squad I mentioned there were some exciting players pushing hard for inclusion. While we are sorry to loss three experienced names, this is a brilliant opportunity for Rachel, Abbie and Georgia. It also means I get to see at first had some of those who will be pushing the more established players for a place in our World Cup plan."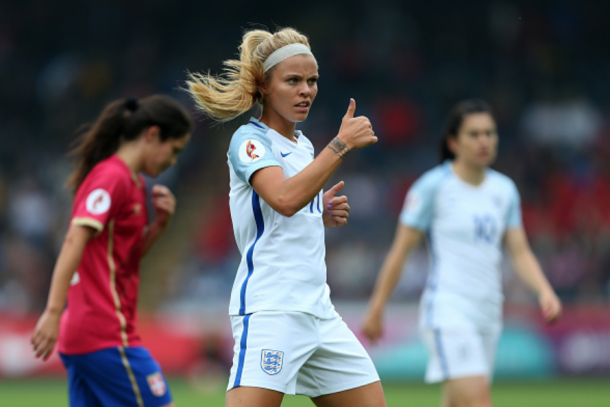 England SheBelieves Cup Schedule:
England vs. France, March 1 Columbus, Ohio
England vs. Germany, March 4 Harrison, New Jersey
England vs. United States, March 7 Orlando, Florida
Quote via: TheFA.com