 The US Women's National Team is set to honor the Olympic gold medal-winning US Women's Hockey team during their match against France on March 4 at the SheBelieves Cup at Red Bull Arena in Harrison, NJ.
Olympic Gold
The US women's hockey team won gold on February 22nd in a shootout against Canada. The US scored in the first period, but Canada tied it up and took the lead in the second period. The US tied it up 2-2 with less than 10 minutes to play in the game. After a 4v4 overtime period failed to determine a winner, the reigning world champs US and the four-time Olympic gold medalists Canada went into a shootout. Goalie Maddie Rooney made the winning stop after Jocelyn Lamoureux-Davidson made a move to get past Canada's goalie.
The gold for the US marks the first one since the team won the inaugural women's tournament in 1998. Since then, Canada has taken gold every Olympics- four straight. The US bronze in 2006 and silver in 2002, 2010 and 2014. The previous Olympics in 2014 saw the US relinquish a 2-0 to lose to Canada in overtime. This Olympics was the United States' chance for revenge.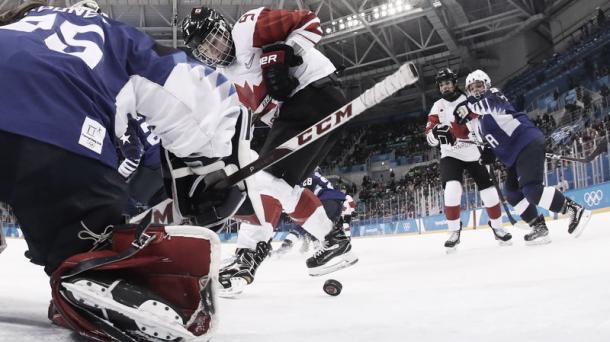 Fight for Equality
The women who represent the US in soccer and hockey both experienced fights for equal and equitable pay for their play. The hockey players announced March 15, 2017 that they would boycott the IIHF Women's Championship if their pay was not increased. Before, the players were paid $1,000 in a six-month period leading up to the Olympics but receive no compensation in non-Olympic years.
US hockey tried to assemble a team to play to avoid paying the women but after receiving support from NHL, NFL, NBA, MLB, and 16 U.S. Senators, the women were given a new deal that could garner a pay of $70,000 annually and almost $130,000 since they won gold.
The USWNT's match against the reigning SBC winners kicks off at 12 p.m. ET on ESPN2.