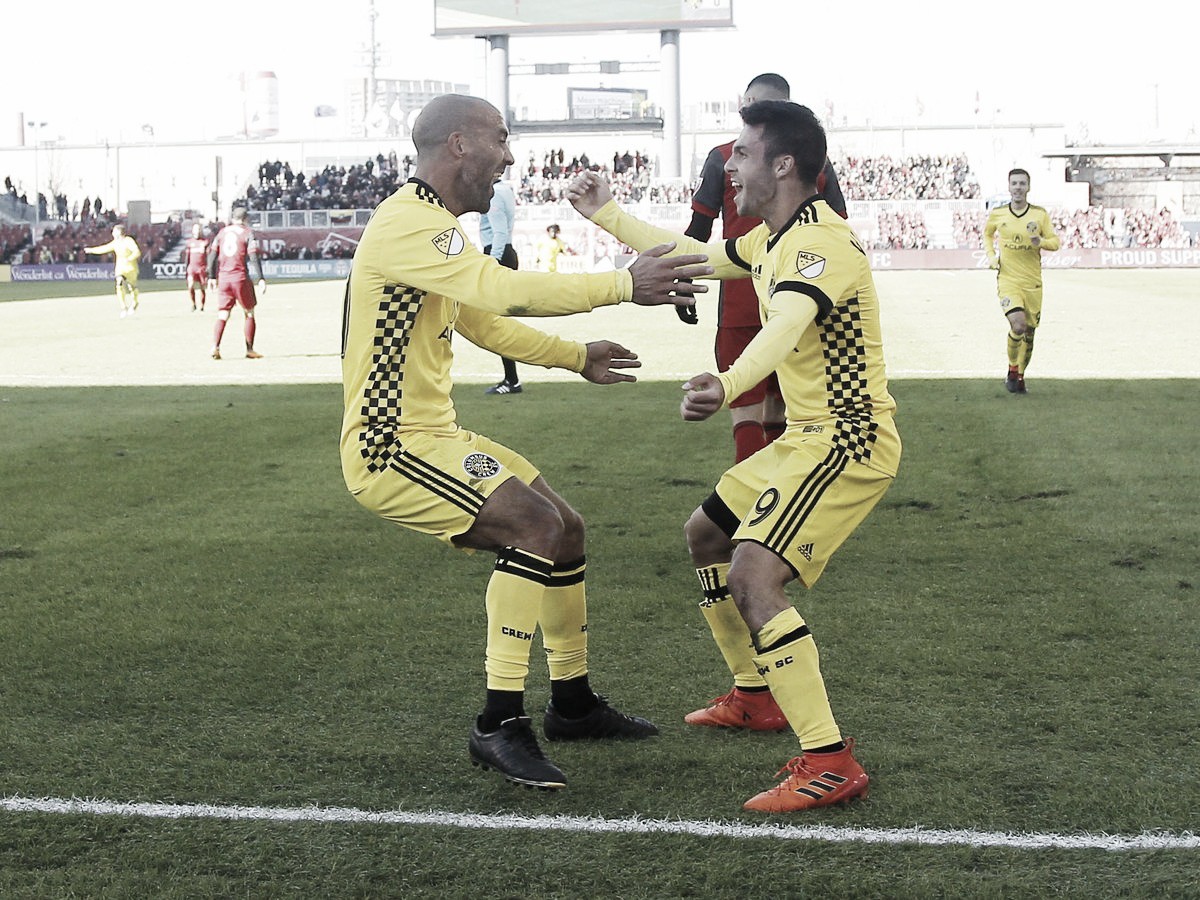 Major League Soccer is back and it came back with a bang as the underdogs proceeded to defy opening day expectations and produce some outstanding performances to topple the so-called "top" teams in the MLS.
You can't expect a bigger upset than Columbus Crew SC coming into Toronto and beating the hosts, Toronto FC, by two goals to nil. Deservedly so too. Both sides had chances in the first half but it was the Crew that made the most of their chances by exploiting gaps in Toronto's midfield time and time again. Federico Higuaín opened the scoring in the 44th minute after getting onto the end of a great cut back by Milton Valenzuela. Gyasi Zardes then made it two just after the break when he was found clean through from a pass by Pedro Santos and had no problems sliding the ball past Alex Bono to put Columbus up by two.
This result is by no means an indication of how Toronto's season will go but it does show that Columbus will look to make the playoffs again and what better way to make a statement of intent then by beating the current MLS Cup champions on their home ground. Toronto will know that they will have to put this performance behind them quickly as they have a CONCACAF Champions League match on Wednesday against Tigres UANL and that will be without the services of Víctor Vázquez who picked up an injury against Columbus. Nonetheless, Toronto have enough talent to not only pick up the win against Tigres abut also rectify their MLS loss the following matchday.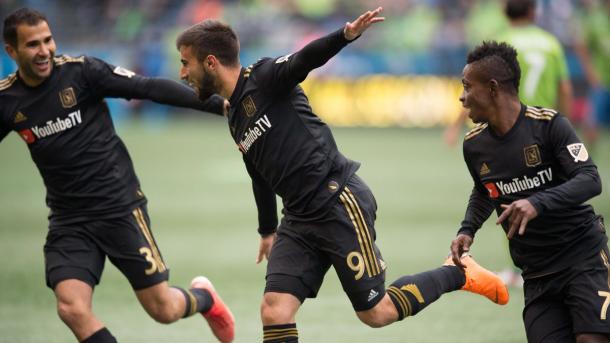 Seemingly following in Atlanta United FC's footsteps, newcomers Los Angeles Football Club decided to start of their season with a big win against Seattle Sounders FC, two time MLS Cup finalists. LAFC had Diego Rossi to thank for an improbable away win at CenturyLink Field when he put his team ahead in the 11th minute thanks to a clever pass by Carlos Vela to put him through on goal. Seattle pushed for an equalizer but a combination of Tyler Miller, the post and the offside flag kept LAFC in front and gave the expansion team a massive first day win when the final whistle blew.
Just like Toronto, this is not a signal of how Seattle's season will go as they had rested many key players for their Champions League clash on Wednesday but head coach Brian Schmetzer will not be pleased with how his squad players could not pick up the required opening day win he and the fans would have wanted. LAFC will take huge encouragement from this win, knowing that they still have a lot to do if they want to avoid becoming a regular expansion side story. A win against the Sounders in Seattle will give any team a big confidence boost, no matter what part of the season they are in. The same should probably apply for LAFC after this weekend.
Another result that many did not see coming as the Houston Dynamo romped to a 4-0 win against last season's 'Cinderella story', Atlanta United. In a horrendous first half for the Atlanta defense, and in particular Leandro González Pírez, Houston scored four goals and could have easily scored more if Brad Guzan had not made some big saves to stop the scoreline from becoming ridiculous. González Pírez ended up exiting the game in the 39th minute but by then the damage had already been done and there was no way back for Atlanta. Andrew Wenger started the scoring in the fifth minute when he got onto the end of Alberth Elis' cross and Philippe Senderos made it two in the 23rd minute when he nodded home from a corner kick. Mauro Manotas was the next on the scoresheet in the 27th minute when he was found in the box by Boniek García and Darwin Ceren scored in stoppage time just before the end of the half when he was first to react to a loose ball in the box.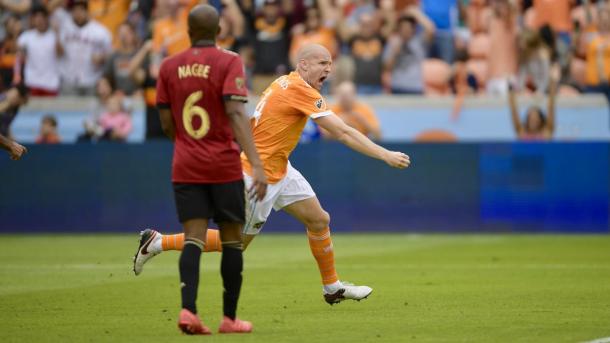 Atlanta have fantastic offensive talent and they showed that when they won a penalty in the second half but Miguel Almirón​'s effort ended up ricocheting off the post in the second half. On another day, that offense will click into gear and cause their opponent all sorts of issues but the biggest worry for them is how easily their defense was opened up. The first 45 minutes was a class in shambolic defending from open play and from set pieces and if Atlanta want to go deep into the playoffs this time around, that has to be addressed quickly. This by no means is a way of discrediting the Dynamo who were fantastic from the first whistle onward. Elis, in particular, may not have gotten a goal but he was instrumental in everything that Houston did going forward. If he can maintain the kind of form he showed against Atlanta, the Dynamo will be a force in the MLS this season.
A new season means a fresh start for every team and not many other teams would have looked forward to a new season more than the LA Galaxy after a poor 2017 by their lofty standards. The home side started off their season right with a big 2-1 win over Portland Timbers FC although they were made to work right until the final whistle to keep all three points. Ola Kamara kicked things off in the 32nd minute by staying alert in the penalty area and nodding home from close range as Portland failed to clear their lines. The Galaxy's best player last season, Romain Alessandrini, made it two in two minutes when he latched onto his own rebound and finished neatly much to the delight of the LA faithful. The second half was a different story as Portland found some rhythm and got one back through Sebastián Blanco in the 66th minute. The Timbers pushed for an equalizer but ultimately could not find one, succumbing to an opening day loss at the hands of the Galaxy.
Ola Kamara proved that big off-season signing mostly always turn out right as his performance in front of goal brought some much-needed sharpness for the Galaxy. Kamara threatened the Portland backline throughout the game and will be happy with his contribution for his new team. For Portland, new head coach Giovanni Savarese, will have picked up some information on how his team fares away from home and will look to change that in the coming weeks. It may not have been the start Savarese would have wanted but he will be content with how his team fought back in the second half to try and salvage something from the game.
Quick Hits
Philadelphia 2 - 0 New England: Two red cards for thew New England Revolution made it an easy day out for the Philadelphia Union and they went on to win thanks to goals by Anthony Fontana (43rd minute) and CJ Sapong (69th minute). Sapong had a steady showing throughout the game and will look to continue that form next time out while the Revolution will now go into their next game with both their starting center backs suspended.
Orlando 1 - 1 DC United: The Orlando City SC fans had to wait until deep into stoppage time for their side to score but it was a welcome goal all the same as the home side snatched an unlikely draw against DC United. Yamil Asad had put the visitors ahead in the 32nd minute and Orlando had gone down to 10 men just before half-time when Victor Giro was sent off. Substitute Stefano Pinho then became the hero for Orlando when he found some space in the penalty area to put away Jonathan Spector's pass and give Orlando a point.
FCD 1 - 1 RSL: A late own goal by Marcelo Silva prevented Real Salt Lake from picking up an important away win at FC Dallas after Joao Plata had put them ahead in the 25th minute. Nick Rimando had kept RSL ahead for most of the match with some brilliant saves but eventually, the pressure told and FC Dallas profited from it thanks to Silva's error.
San Jose 3 - 2 Minnesota: There was goals aplenty as the San Jose Earthquakes were forced to work hard for their opening day win against Minnesota United FC. Danny Hoesen scored a brace with goals in the 27th minute and 59th minute with a 28th minute goal by Vako sandwiched in between that brace to put the Earthquakes up by three going into the latter stages of the second half. The home side's concentration slipped and it allowed Kevin Molino to pull Minnesota back within one with goals in the 81st and 85th minutes of the match. The hosts hang on, just, but they will not want a repeat of that sort of defensive collapse again.
Vancouver 2 - 1 Montreal: The first all-Canadian clash of the season saw Vancouver Whitecaps FC pick up a good home win against the Montreal Impact, thanks to goals by Kei Kamara and Alphonso Davies. Matteo Mancosu picked up a consolation goal for the Impact in the 81st minute but the story of the day will most certainly belong to Davies. The 17-year old has had a lot of hype surrounding him and he justified that hype with his goal. If he can maintain his steady development, he could become a force for both the Whitecaps and Canada in the future.
Sporting KC 0 - 2 NYCFC: New York City FC started off their season brightly thanks to goals by Maxi Moralez and Jesús Medina. Moralez put the visitors ahead in the 32nd minute when he finished off a pass from David Villa and Medina made it two in the 53rd minute to score his first MLS goal on his debut. NYCFC, unlike their contenders in the Eastern conference, did not stumble in their first game and will look to keep the good form going next week.