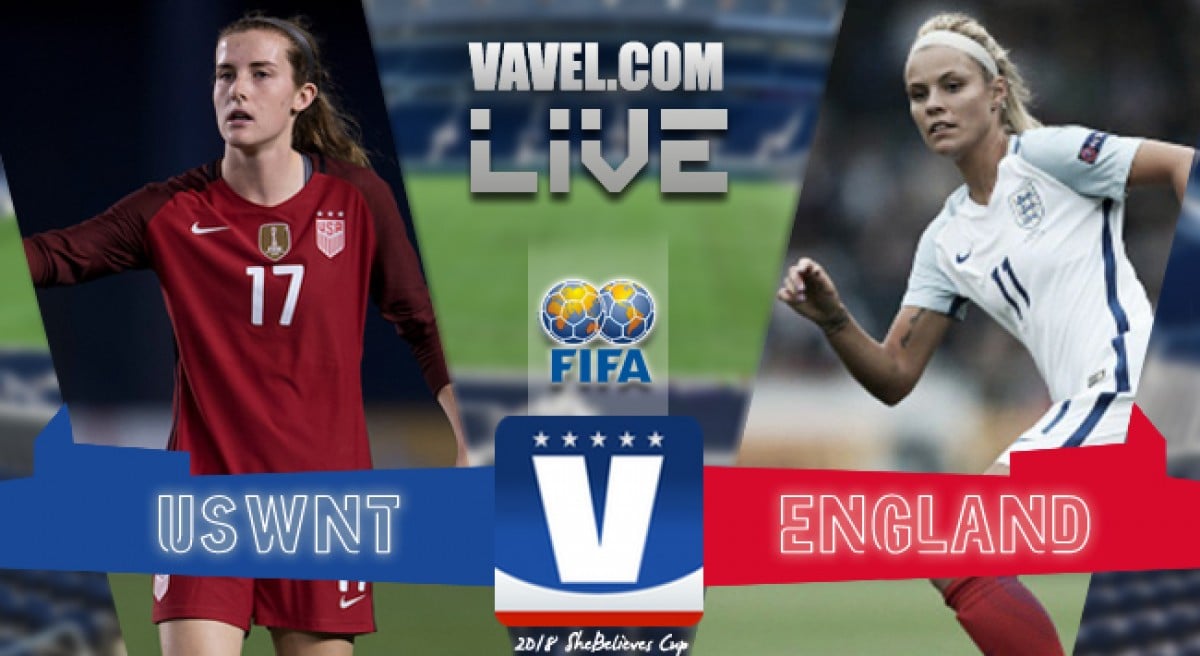 Thanks for joining me tonight everyone! Enjoy the rest of your evening. This is Kudzi Musarurwa signing off.
USA 1 - 0 England
Full-time: That's the final whistle! Bardsley's own goal downs England and makes the USWNT the 2018 SheBelieves Cup champions!
90+2' SUBSTITUTION: Lynn Williams replaces in for Mallory Pugh.
The US have three minutes left to hang on become this year's SheBelieves Cup champions. England have the same time to find an equalizer.
87' CHANCE! And what a chance it was! England play the free kick short and Christiansen finds White completely unmarked. The forward gets her head to the ball but nods it right off the crossbar form about six yards out!
86' SUBSTITUTION: Jill Scott comes in for Keira Walsh and Hannah Blundell comes in for Stokes.
85' Lloyd brings down Christansen right on the edge of the box and England have a great set piece opportunity here.
84' Again, England play it short and nothing comes for it.
84' Dunn has been fantastic all night in the full back role and stops another cross from coming in.
83' CHANCE! Dahlkemper swings in a great ball which Lloyd gets to and it goes just over the crossbar!
80' SUBSTITUTION: Savanna McCaskill comes in for Rapinoe.
80' The corner takes too long to develop before Duggan swings the ball in. Bright gets to it but the US recover and clear the ball away.
79' England win a corner and send a lot of players forward for it.
77' Duggan steals the ball in midfield and waits for support before passing the ball onto the onrushing Christiansen. Unfortunately for England, the midfielder's shot is well off target.
76' The US have shifted into a 3-back system here with Dunn and Huerta as the wing backs.
74' SUBSTITUTION: Rachel Daly comes in for Kirby.
74' SUBSTITUTION: Long and Horan's nights are done. They're being replaced by Sofia Huerta and Morgan Brian.
73' Rapinoe fells Christansen in midfield and England have a free kick.
70' The US win a free kick and Rapinoe walks up to put the ball in. The free kick is takes quickly and Dunn finds Horan at the far post but she can't make it count.
Correction: The goal has been attributed to Karen Bardsley as it came off the goalkeeper last.
67' The US break but Morgan can't pick out Rapinoe and the attack dies quickly.
66' Isobel Christiansen picks out White unmarked in the box but the forward can't enough of a touch to beat Naeher.
65' England come forward. Parris loses out to Dunn again.
65' Pugh has had the measure of Stokes all game long but her final product has been disappointing.
63' Parris is in and heads straight into Naeher's hands. The offside flag is up so the play doesn't count.
60' England now push forward with Parris but Dunn stands strong and wins the goal kick for her team.
USA 1 - 0 England
Calamitous defending by England gives the US the lead. Rapinoe in space again tried to pick out Morgan and her pass took a deflection before Bright put the ball into her own net with Bardsley right there to collect it. That makes it two own goals in a row for Bright now who really should've left the ball for her goalkeeper.
58' GOAL! The US takes the lead!
57' England break with Kirby who finds Duggan. The FC Barcelona striker cuts inside before firing at goal and it goes just wide of Naeher's far post.
56' CHANCE! Bronze loses the ball right at the top of her own area. Lloyd and Horan work the ball to put Rapinoe through and Bardsley makes another huge save ta her near post! Heart-in-mouth stuff by Bronze there.
54' Rapinoe swings the ball in and it takes alert defending by Bright to knock the ball away before either Morgan or Pugh could get to.
51' SUBSTITUTION: Lawley and Taylor step off and the field and are replaced by Toni Duggan and Nikita Parris.
47' CHANCE! A ball over the top is latched onto by Pugh and it takes a big save by Bardsley to stop the Washington Spirit forward from opening the scoring!
46' The second half has begun.
USA 0 - 0 England
Half-time: The half started slowly but ended at a frenetic pace. Both teams go into the break scoreless.
45' CHANCE! What a run by Mallory Pugh! She takes on Stokes, cuts inside and keeps going before ripping a shot off her left foot that just misses the goal! That would have been sensational if it had gone in!
44' The US keep possession and Bright is caught on the ball in her own area by Morgan who goes to ground, but again, the referee waves play on.
43' CHANCE! The ball comes right back and Rapinoe puts in a lovely cut back which Bardsley gets a hand to but no US player can react quickly enough to get to the rebound. The resulting corner is knocked away.
42' Horan gets in behind the England backline but Bright is on hand to knock the ball away before anything could happen.
41' A long ball into the box finds Lindsey Horan who beats Bronze in the air but her header goes wide of the goal.
41' England use some pressure of their own and almost get the run of the ball but a touch off of Davidson allows Naeher to gather the ball before White can get to it.
40' Taylor and Davidson engage in another foot race but this time, the pass is a little too long for Taylor and Naeher easily clears the ball away.
39' White tries to spring Jodie Taylor but Alyssa Naeher comes off her line quickly and Davidson slows Taylor down enough so that Naeher can kick the ball away.
37' Another cross comes in and both sides are looking towards the referee. It looks like Emily Sonnett may have tripped Ellen White and White clearly handled the ball but the referee waves play on.
36' Melissa Lawley has been found out wide quite regularly but so far, the US have kept the crosses away from their goal.
36' The US continue to try and use the high pressure to create opportunities for themselves but so far, the ball just hasn't broken kindly for them.
34' England are taking up good positions in midfield but their attacks continue to break down because their forwards aren't timing their runs correctly, thus being caught offside more often than not.
31' The US use some high pressure and it almost pays off but Rapinoe's pass towards Morgan is cut out by Bronze. Bronze then tricks her way past Rapinoe on her own byline, showing off her confidence at the moment.
29' A collision between Stokes and Abbie McManus allows the ball to fall loose with Morgan racing towards it. Bardsley reads the situation well and cooly slides the ball past the US forward.
27' Pugh has Stokes beat for pace but her cross goes over both Morgan and Rapinoe who had been making runs towards goal.
26' Morgan and Rapinoe combine well before Morgan swings in a dangerous cross. Demi Stokes makes a vital clearance with Mallory Pugh lurking at the far post.
25' The US counter quickly and Allie Longbrings the ball up before passing it off to Rapinoe. Rapinoe goes for it but it curls wide of the goal.
25' Dahlkemper gives the ball away near her own box but immediately makes up for it with a good cut out.
24' Lucy Bronze bombs forward with her usual aplomb but Tierna Davidson does well to hold her up before Crystal Dunn comes back and helps the young defender to mop things up at the back.
23' Now it's England's turn to not use the short corner to their advantage. The cross in is easily blocked and the US regain possession.
22' Fran Kirby sneaks into the box and tries to find a teammate but Abby Dahlkemper is there to put in an important block.
21' The home side work it short and Rapinoe has time and space to put in the cross but she tries to be too clever and England strip the ball away from her.
20' The USWNT earn their first corner kick of the match after an awkward clearance by Millie Bright.
11' Morgan finds space to run into but her first touch lets her down and the England goalkeeper, Karen Bardsley, has no issues picking it up.
6' Megan Rapinoe tries to pick out Alex Morgan but her cross is cleared before Morgan can reach it.
1' Here we go!
A minute's silence was impeccably held for the victims of the Stoneman Douglas High School shooting.
England Starting XI: Bardsley; Bronze, Bright, McManus, Stokes; Walsh, Kirby, Christiansen; Lawley, Taylor, White.
USWNT Starting XI: Naeher; Sonnett, Dahlkemper, Davidson, Dunn; Long, Horan, Lloyd; Pugh, Morgan, Rapinoe.
In a few moments, we will share the initial lineups of USA vs England live score, in addition to the latest information that surges from the 2018 SheBelieves Cup. Do not miss a detail of the match with the live updates and commentaries of VAVEL.
USWNT 1 - 2 England
Prediction: Although they have had the upper hand in this match up in previous years, the USWNT are coming off an unremarkable year while England have seemingly gone from strength to strength. England's performances against France and Germany show just how far they have improved and have started Phil Neville's reign in a positive fashion. When you consider the above and how unsettled the USWNT have been throughout the tournament, England could do the improbable here and pick up a big win, thus finishing as this year's champions.
The USWNT are lead by head coach Jill Ellis while England are led by new head coach, Phil Neville.
Projected Lineup for England (4-3-3): Bardsley; Bronze, Asante, Bright, Stokes; Scott, Walsh, Kirby; Parris, Taylor, Duggan.
Projected Lineup for USWNT (4-2-3-1): Naeher; Smith, Dahlkemper, Davies, O'Hara; Horan, Ertz; Pugh, Lloyd, Rapinoe; Morgan.
The match will be played at the Orlando City Stadium on March 7, 2018. The game will kick off at 7:00PM EST and will be broadcast on ESPNews in the United States, and on BBC Two in the United Kingdom.
The English team will be a little concerned with the goals they gave up to Germany in the previous game as those are goals that can be prevented with enough concentration. The team will obviously work on that before their match up against the USWNT but if it's not fixed by the time the first whistle blows tomorrow, they will give the USWNT too many opportunities in front of their goal and there's only so many chances that the USWNT will fail to put away before they get the job done. Karen Bardsley in goal will have to lead those in front of her and make sure they maintain their concentration for the full 90 minutes if they want to come away with the win.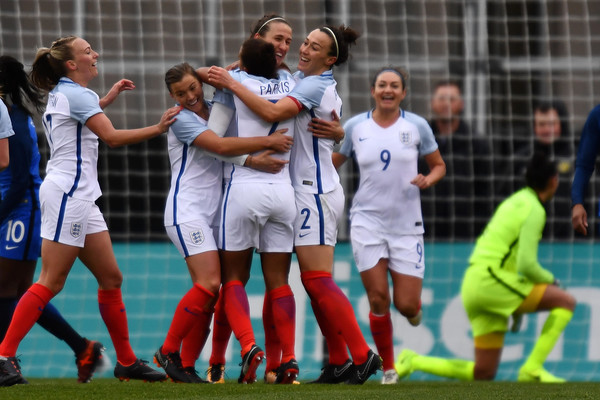 England come into this match in high spirits. So far, Phil Neville's reign has started better than he could have expected. A 4-1 thumping of France and almost beating Germany in the last two matches England have played show that England are gearing up to be a force in next year's FIFA Women's World Cup. At the heart of those performances has been the fire power that Jodi Taylor and Fran Kirby bring to the table. If those two continue to click as well as they have throughout the tournament so far, and the likes of Toni Duggan or Ellen White chip in as well, England will be on course to finish as the winners of this year's edition of the SheBelieves Cup.
The one positive to come out of the tournament so far for the USWNT has been their backline. Without the leadership of Becky Sauerbrunn, who missed the tournament due to injury, Abby Dahlkemper and youngster Tierna Davidson have done well, all things considered. Alyssa Naeher has also gone a long way into reassuring fans of her status as the starting goalkeeper for the national team after a strong showing against France. This backline will be tested against England though, who have enough quality in their forward line to cause any team in the world problems. If they can get through this test with a strong effort, many will feel as though the USWNT are finally regaining their footing on the world's stage again.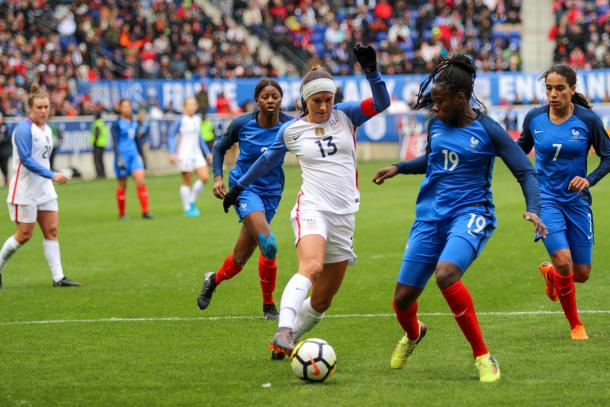 The USWNT have always had tremendous firepower and the likes of Alex Morgan, Christen Press, Megan Rapinoe, Crystal Dunn and more, many would expect for scoring goals to not be a problem for the hosts. However, so far in the tournament, the USWNT have only managed to score two goals in total, with only one of those goals coming from a regular goal-scorer on the team. This lack of cutting edge could be attributed to many things but what seems to be happening is not only are the USWNT not creating as many chances as they used to but they cannot seem to find the back of the net regularly when they do get opportunities. With this being the last game of the tournament, the USWNT will want to finish on a high and topple England to win the 2018 SheBelieves Cup. They will need to find their efficiency in front of goal in order to do that, and it remains to be seen if that can be done.
The USWNT and England have met in the SheBelieves Cup before and on both occasions, the USWNT came out victorious. In their shared history, the USWNT has always been the superior team and managed to find the goal or goals that would give them a victory over England whether they were home or away. Both teams come into this game with one win and one draw each, after facing France and drawing with Germany.
Hello everyone to VAVEL USA's coverage of the final match of the 2018 SheBelieves Cup. The match up will feature the hosts, the United States vs England live stream score, who currently top the table in this tournament. I'm your host, Kudzi Musarurwa, and will be with you throughout the entirety of this SheBelieves Cup clash.