 Christen Press will not be playing in the 2018 National Women's Soccer League season for the Houston Dash. The team was informed of the United States women's national team forward's decision on Friday afternoon. Press had not reported to the team at the start of training camp in February because she was participating in the 2018 SheBelieves Cup.
In January, on the same day as the 2018 NWSL College Draft, the Houston Dash acquired Press in the three-way trade that sent former-Dash player Carli Lloyd to Sky Blue FC. In turn, the Chicago Red Stars received superstar Westfield Matildas striker Sam Kerr. There was always some lingering doubt about whether Press would decide to play for the Dash in 2018, but the decision to disclose her decision so close to the beginning of the season is surprising.
Press had been with Chicago since joining the NWSL in 2014. She played 60 games for the Red Stars in her four seasons with the league, scoring 35 goals. She is one of the leading goal scorers in NWSL history, but she was replaced by the leading goal scorer in the league. Press never seemed thrilled with the move to Houston, and her absence from the team at the end of the week after most of the other USWNT players had returned from their national duty raised question marks about her future plans. Previously, Houston head coach Vera Pauw had been very complimentary of Press and seemed cautiously optimistic that she would eventually join the team.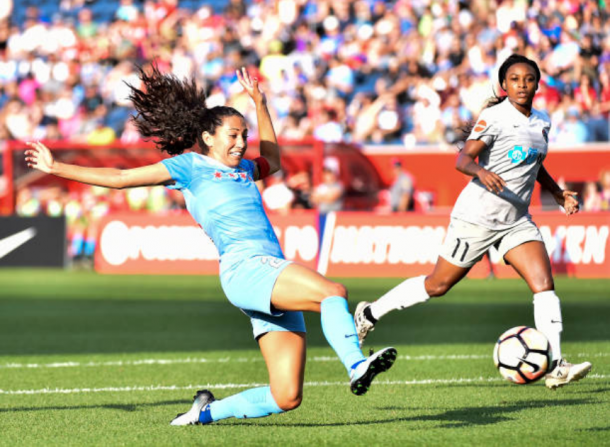 Press was part of the USWNT squad that won the SheBelieves Cup on Wednesday. The final match saw the United States beat England 1-0 in a match to determine the tournament champion. Press made one appearance in the three-game tournament. She came off the bench and played 14 minutes in a 1-1 draw with France, but that was her only appearance.
The current situation is not advantageous for the forward. Absent a trade, something that the Dash have reportedly been shopping, Press would be ineligible to move internationally until the summer FIFA transfer window opens up. Houston has certainly received offers for Press, but they have not been open to accepting below fair market value. The team was likely emboldened by the stand-off between the Washington Spirit and Mallory Pugh after the Spirit received her rights in the allocation system. Washington refused to trade the rights to Pugh for less than her true value, and the young phenom eventually joined the team. Press has been losing minutes on the USWNT recently, so her decision to sit out the 2018 NWSL season could be detrimental to her future in international soccer. Whether the Dash receive a trade offer they are willing to accept is yet to be seen.
This article may be updated as future information is made available.