 Welcome to the 2018 Portland Timbers season! Hopefully, at some point, the Portland Timbers will realize it's the 2018 Portland Timbers season since the start of this season has seen a whole lot of nothing so far.
Things started with a 2-1 defeat at the hands of the LA Galaxy on March 4, which in and of itself isn't the worst result in the world, but then the following week, the Timbers went out to Harrison to play the Red Bulls, and the wheels of new coach Gio Savarese's wagon fell off. Hard.
The Timbers lost that game 4-0, and more worryingly, never really looked like they were ready to mount a challenge. They struggled with the basics - completing passes looked almost totally beyond them - and the more sophisticated things, like "stop those three players from carving through your entire defense", were basically medical-school level science courses taken by a kid who struggled with Algebra 1 in the 10th grade.
This week, the Timbers see their Long Construction-Forced Road Trip continue with a trip down to Dallas Frisco to face FC Dallas, a normally strong team who had a disastrous 2017. They did, however, repeatedly dunk on the Sounders last week (albeit after the Sounders went down a man), so between the Timbers' current form and Dallas' one-game resurgence, that's enough to get the nerves crackling before Saturday for sure.
NEW FACES
The Timbers had a fairly big offseason, as these things go. It kicked off with Caleb Porter leaving, of course, followed by the appointment of Giovanni Savarese, long-time NY Cosmo, as manager, and then the dominos started to fall, roster-wise. Out went the likes of Ben Zemanski, Darren Mattocks, Gbenga Arokoyo, and, massively, Darlington Nagbe.
Nagbe's trade to Atlanta United - one of the biggest in MLS history - will fundamentally reshape the Timbers and force them to rethink, among other things, how they approach their buildup play. They did get a very large pile of allocation money (both TAM and GAM) for Nagbe, and they did spend some of it this winter, but I would also expect the Timbers to be fairly active in this summer's transfer market with the rest of that money.
Some of the new faces include midfielders Andy Polo and Cristhian Paredes, both most recent players in Liga MX, forward and Fanendo Adi challenger/second offensive options Samuel Armenteros from Serie A, and defender Julio Cascante from the ever-reliable Saprissa pipeline.
While we all know that new signings take a while to gel and cohere, especially with a new coach presumably instituting new ideas and a new system, I'm not sure any of us were prepared for the step backward the Timbers have taken thus far in 2018. It's only two games in, so there's no need to give up or call for heads to roll yet, but the play so far has been...well, let's just leave it at "bad".
As mentioned, against NYRB the team looked, not just flat, but completely bereft; bereft of ideas, bereft of will, and bereft of the ability to communicate and figure out what was going on, much less fix it. Savarese says that the two-week break between that game and Dallas was good to refocus, to "bring back the confidence and work a lot on what was not working". That's a long list, so a two-week gap between games was welcome from that perspective.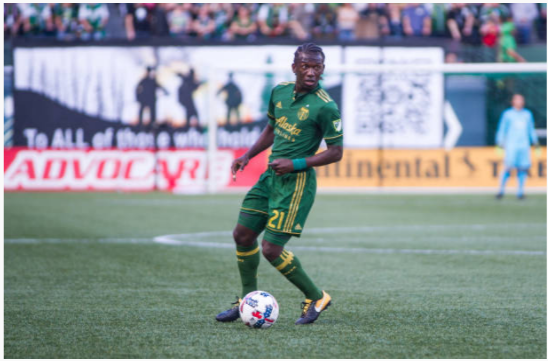 TEAM NEWS/PROJECTED LINEUPS
One of the most notable absences so far this year is that of Diego Chara, probably the most underrated midfielder in MLS. He broke a bone in his foot in the final game of last season, and while we all thought he'd be ready for game one, he has been absent, building up to full fitness so far this year. His effect on the Timbers cannot be understated - he is the glue that holds the midfield together, and when he's not there, the entire team struggles to make up for the work he normally does.
The good news is he traveled to Dallas with the team yesterday; what is unknown is how ready to play he will be. If he's even close to 90 minutes fit, I would expect him to start; while the Timbers' problems this year have been more than just "we don't have Chara" (Chara didn't miss a ton of passes, fail to mark, or ruin a defensive shape last week after all), having the club's talismanic midfield engine back will be huge for a team that needs a boost right now.
Other than Chara, the team will be missing Alvas Powell and Vytas through injury and David Guzman and Andy Polo through international call-ups. You may have noticed that Powell and Vytas are both defenders, which causes a problem at the back; Marco Farfan will probably get another start in defense, and Zarek Valentin will cover the other side. I have a sneaking suspicion Adi gets the day off, but that's not based on anything but a hunch.
For Dallas, Kellyn Acosta is out, but otherwise, they're a fit and healthy squad, and Mauro Diaz looks more like 2016 Diaz than 2017, which is scary - he set up two of Dallas' goals last weekend and is every bit as dangerous as an attacking player in the league.
Portland:
Gleeson; Farfan, Ridgewell, Mabiala, Valentin; Chara, Olum; Blanco, Valeri, Asprilla; Armenteros
Dallas:
Maurer; Cannon, Hedges, Ziegler, Nedyalkov; Gruezo, Hayes; Barrios, Diaz, Lamah; Urruti
Referee:
Mark Geiger
WHAT/WHERE/WHEN/HOW
Timbers v. FC Dallas
Toyota Stadium, Frisco TX
Saturday, March 24, 2018
12.30PM PT/2.30PM CT
PDX TV: Univision
DAL TV: UniMas
Streaming: MLS Live (blackouts apply, but free out-of-market).