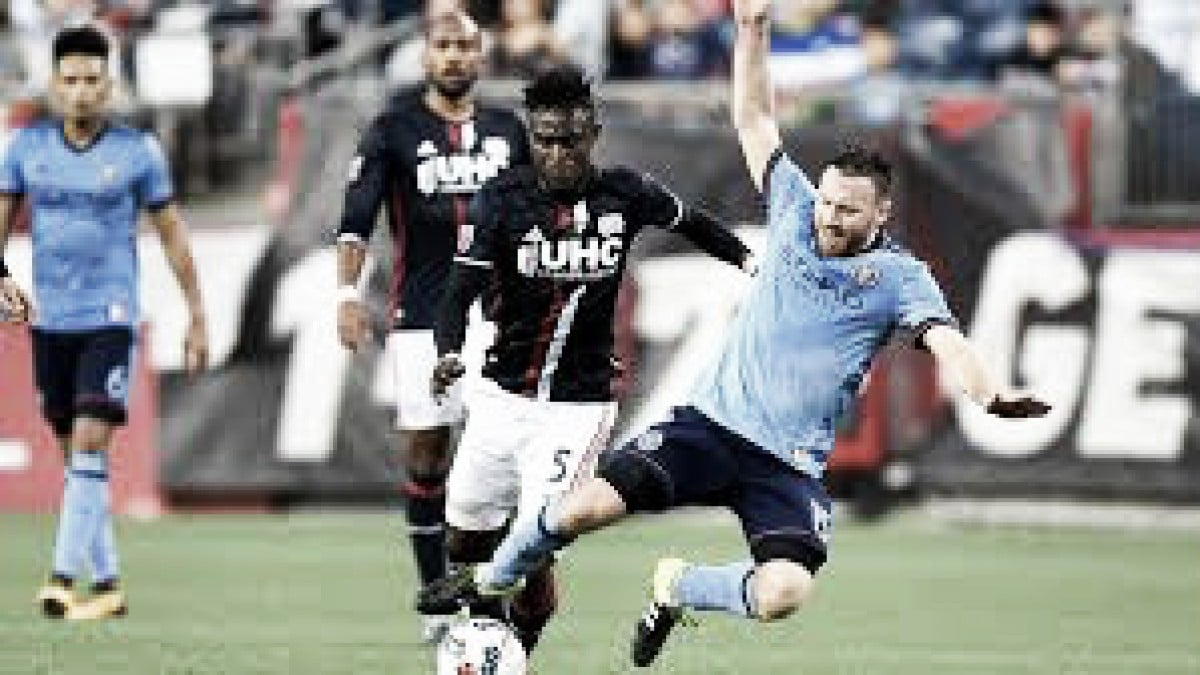 Thanks for staying with me here at VAVEL USA. This is Kudzi Musarurwa signing off!
New England Revolution 2 - 2 New York City FC
Full-time: There goes the final whistle! What a game! New England pushed hard but NYCFC came back each time.
90+3' YELLOW CARD: Abdul-Salaam gets a booking for dissent.
90' Agudelo goes for goal but it doesn't bother the goalkeeper.
89' SUBSTITUTION: Sebastian Ibeagha comes in for Ebenezer Ofori.
85' CHANCE! New England work the ball well and Agudelo almost gets his second of the day but his shot goes just wide of the far post.
83' Both teams are still going for it here. The next goal may be the final one in this game.
80' There's a clash of heads between Dielna and Medina which stops play.
78' Bunbury charges forward but his final effort is weak and Johnson picks up the ball easily.
77' SUBSTITUTION: Penilla is replaced by Brandon Bye.
New England Revolution 2 - 2 New York City FC
Some lovely interplay between Berget, Medina and Herrera allows the NYCFC No. 10 to slip Tajouri in. The Libyan forward makes no mistake from inside the box and gets his second of the day.
75' GOAL! NYCFC come right back and find another goal!
75' NYCFC try to play Berget through but Turner is alive to the danger and comes off his line quickly to get the ball.
72' Dielna comes in late again, this time on Morález. The Revs captain needs to be careful here.
71' Morález takes it but he hits it straight into the wall.
70' YELLOW CARD: Claude Dielna puts in a rash challenge at the top of his own box on Jesús Medina and now NYCFC have a great set piece opportunity.
68' CHANCE! The ball goes right up to the other end and Johnson has to make a good stop against Penilla to keep New England out.
68' Berget almost brings NYCFC back on level pegging but his glanced header can't beat Turner.
65' The Revs had been steadily building momentum so the goal is a just reward for the pressure they have been putting NYCFC under all game long.
New England Revolution 2 - 1 New York City FC
With must be one of his first few touches of the game, Juan Agudelo puts the Revs back in front! Penilla gets the ball out wide and out-paces Abdul-Salaam before swinging the ball in Agudelo rises highest and powers home the header from close range.
63' GOAL! Agudelo makes an instant impact!
61' The ball is chipped towards Bunbury but a deflection puts the ball right in Johnson's hands. Replays show he was offside so the goal would not have counted had he gotten a touch to it.
59' SUBSTITUTION: Rowe is replaced by Juan Agudelo.
59' New England apply some pressure to the NYCFC area but nothing comes of it.
57' Penilla tests Johnson at his near post but the goalkeeper is more than equal to the task.
54' Play breaks after a foul that leaves both team surrounding the referee. Jair Marrufo ignores them all and moves the play along.
New England 1 - 1 New York City FC
This time it's the visitors who break quickly on the transition and Tajouri is the beneficiary as the square ball from Saad Abdul-Salaam finds him unmarked in the box. The forward tucks the ball underneath Turner and puts the teams on level terms once again.
51' GOAL! NYCFC equalize!
48' The game flow is halted by a few fouls here and there.
46' We're back in the second half of this tie!
New England Revolution 1 - 0 New York City FC
Half-time: Well, NYCFC have always struggled in New England and the first half has proved to be no different. The Revs go into the break 1-0 up and deservedly so.
45' There's a scramble in the box after the free kick comes in but NYCFC can't make it tell and a free kick is awarded to the Revs.
43' YELLOW CARD: Scott Caldwell comes in late on Morález and earns himself a booking.
39' CHANCE! Another big opportunity goes begging for the Revs! Penilla pops up on the left hand side and pulls off a lovely curling effort from a tight angle. It cannons off the far post and NYCFC breathe easy after clearing the ball away.
38' New England win the ball back deep in NYCFC territory and Kelyn Rowe has a sight of goal but he can't keep his shot down.
36' CHANCE! Fagúndez really should've scored his second there. Penilla finally gets that final pass right and puts Fagúndez through on goal but somehow, the Uruguayan missed from about six yards out.
34' YELLOW CARD: Ismael Tajouri makes his first major contribution of the game. He picks up a card for diving after trying to win a penalty.
33' The break on the transition is really giving NYCFC problems. Fortunately for them, the Revs haven't been able to get that final pass or touch down.
29' New England try to launch another attack but a heavy touch by Penilla ends the attack and NYCFC win a free kick.
25' The space on the counter is there for New England but so far, the final pass is letting them down.
19' The Revs try to counter immediately but Fagúndez' through ball is just too short and the attack is halted by the NYCFC backline.
19' CHANCE! NYCFC come again and again Turner does well to parry a close range effort by Jo Inge Berget.
18' CHANCE! Herrera puts in a great strike on goal as he is falling and Matt Turner puts in a big save for his team.
16' New England take their corner short and Somi tries to curl the ball with his left foot but it goes high over the goal.
14' CHANCE! The Revs are all over NYCFC at the moment and almost score a second! Kelyn Rowe runs into the box unchallenged and gets his shot away but Johnson pulls off a great save to keep his team just one goal down!
13' Fagúndez plays in Cristian Penilla who tries to pick out Teal Bunbury but the striker is closely marked and his shot doesn't trouble Sean Johnson in goal.
New England Revolution 1 - 0 New York City FC
Yangel Herrera loses the ball in midfield and the Revolution take advantage of the turnover. Diego Fagúndez takes a touch before curling the ball into the far corner from just outside the penalty area. A fantastic individual effort.
11' GOAL! The Revs are in front!
6' The New England Revolution almost find a way through when Gabriel Somi bursts forward and gets to the byline but his pull back is cut out and New York City FC clear their lines.
1' The first whistle blows and we're off!
We also have a preview of today's game, so go ahead and take a look while we wait for kick off.
Starting XI for New York City FC (4-3-3): Johnson; Abdul-Salaam, Chanot, Callens, Sweat; Morález, Ofori, Herrera; Medina, Berget, Tajouri.
Starting XI for New England Revolution (4-4-1): Turner; Farrell, Anibaba, Dielna, Somi; Penilla, Caldwell, Zahibo, Rowe; Fagúndez; Bunbury.
Hello everyone to a chilly afternoon in Massachusettes! We're just under an hour away from kick off and we have your starting lineups right here.
New England Revolution 0 - 2 New York City FC
Prediction: Both the Revolution and NYCFC have started their seasons well enough, albeit the Revs have won one less game than the visitors. Even with their returning players and the players that NYCFC have unavailable due to injury or international duty, I can't see New England winning this game. NYCFC have shown how much depth they have in their roster and have the capability to win ugly if necessary.
The head coach for the Revolution is Brad Friedel while Patrick Vieira continues on as the head coach of NYCFC. The officiating crew for this match will be Jair Marrufo as the center official, Kyle Atkins and Cameron Blanchard as the assistant referees, Robert Sibiga as the fourth official and Christopher Penso will be in charge of the VAR.
Projected Lineup for New York City FC: Johnson; Tinnerholm, Chanot, Callens, Sweat; Ofori, Herrera; Medina, Moralez, Tajouri; Berget.
Projected Lineup for New England Revolution: Turner; Farrell, Delamea, Dielna, Somi; Caldwell, Zahibo; Rowe, Fagúndez, Penilla; Bunbury.
The match will be played at Gillette Stadium on March 24, 2018. The game will kick off at 1:30PM EST and will be broadcast on MLS Live.
New York City FC haven't shown any real weakness as of yet but they will have history to bear with when they head into New England. The away side has struggled to win in New England, even if on paper they have had the stronger team. They will want to rectify that statistic this weekend and keep their current great start going into Week 5 of the season.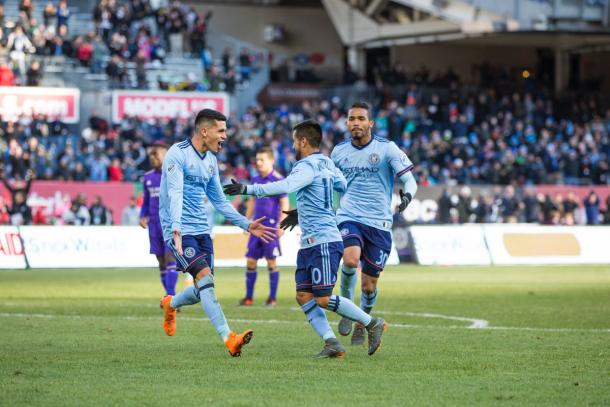 Three straight wins since the season started puts New York City right at the top of the MLS. This has been done partially without the services of talisman David Villa who is out injured at the moment. What that tells the rest of the MLS is that NYCFC have the roster to keep winning games and not have to rush Villa back before he has fully recovered from his injury. In his absence, Maxi Morález has been the creative force for NYCFC and although it's not his natural position, Ismael Tajouri has done a respectable job leading the line.
The Revolution will be well-rested coming into this game but you worry for how well they will be able to control this game without the services of Lee Nguyen, who continues his strife with the club as he seeks a move elsewhere. The 'Revs' were fortunate to pick up their win last weekend and you would expect NYCFC to have a sturdier defense that of the Rapids. The New England backline can be got at, and with a team as strong going forward as NYCFC, this will be the sternest test yet for New England.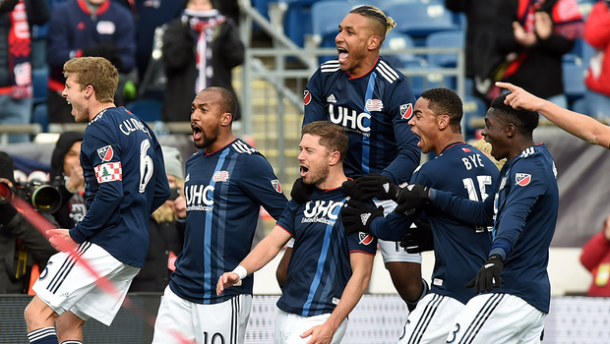 New England come into this game on a high. They managed to snatch an improbably win against the Colorado Rapids last weekend, leaving it late to get their first home win of the season. New England also have managed to generally come out on top when facing NYCFC at home. When both of those things come into play, the likes of Diego Fagúndez and Teal Bunbury will fancy their chances at home against any version of the away side.
The New England Revolution have won two out of the three home games they have played against New York City FC, even when their respective forms should have made NYCFC undisputed winners in those games. The home side will look to keep that trend going while NYCFC will want to pick up their fourth consecutive win so far this season.
Hello everyone to the another weekend of Major League Soccer action! I'm your host, Kudzi Musarurwa, for this Eastern conference clash between the New England Revolution and New York City FC. Stay with us at VAVEL USA for live updates on what should be a great game.