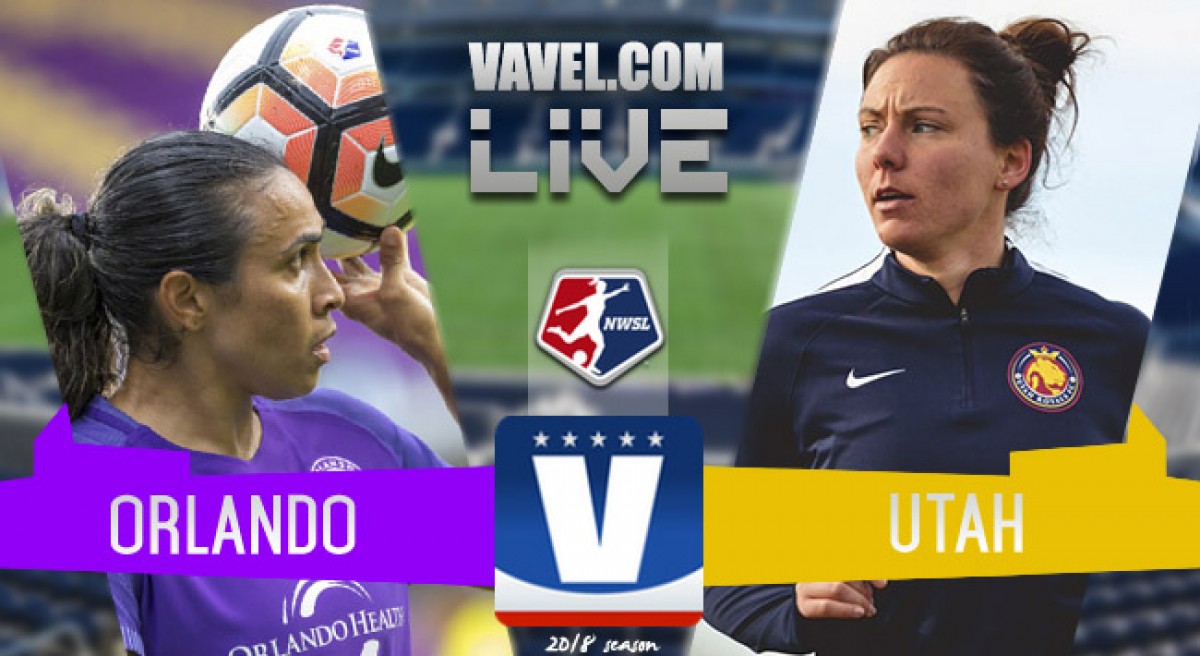 Thanks for joining me once again at VAVEL USA. This is Kudzi Musaruwa signing off for the weekend.
Orlando Pride 1 - 1 Utah Royals FC
Full-time: Orlando came on stronger in the second half but Utah held out for a good point away from home.
90+5' CHANCE! The corner isn't dealt with well by Orlando and Jónsdóttir goes for goal from outside the box but it goes just over.
90+5' O'Hara goes down in the box under Hill's challenge but gets nothing from the referee. Utah gets a corner instead.
90+3' Bowen chips the ball towards the far post but no one had made the run to meet it and Orlando regain posession.
90+3' YELLOW CARD: Krieger is the latest to go in the referee's book as she comes in hard on Sauerbrunn near midfield.
There will be six minutes of stoppage time in this one.
90' Utah seem content to keep things tight and come away with a draw from this game while Orlando want to try and win the ball back, and search for a winner.
85' The crowd clearly does not agree with the referee's call as she gives Utah a free kick in midfield.
81' Hill tries to take the ball away from Rebecca Moros but ends up conceding a free kick in the Utah penalty area. Hill then stays down with some kind of injury.
80' SUBSTITUTION: Ratcliffe's night is done and Sydney Miramontez comes in for her first minutes of the season.
79' Jónsdóttir goes down and stays down to receive some treatment. The injury came is she stripped the ball away from Leroux and got a solid kick to her calf for her great play.
76' Orlando are pushing for the winner here and have Utah penned in their own half.
73' SUBSTITUTION: Rachel Hill? replaces Toni Pressley.
71' Both sides a looking a little stretched but no one has created a clear cut chance yet.
68' Harvey picks the ball out of the sky with the back of her leg and gets some kudos from O'Hara. A slight bit of humour in a very tense match.
66' SUBSTITUTION: Mônica comes in for Poliana.
64' SUBSTITUTION: Taylor Lytle comes in for Matheson.
63' Utah push for a second and it takes Krieger stepping in to stop Stengel from getting the ball in the box.
62' SUBSTITUTION: Katie Stengel comes on for Thorsnes.
61' Utah try to break but their attack is halted when Zadorsky uses her arm to stop the ball.
58' YELLOW CARD: Brittany Ratcliffe is the next player in the book after going in hard on Ubogagu.
52' Bowen seems fine to continue and play resumes.
50' It looks like Katie Bowen is down with a head injury and the medical staff are called on to check her out.
49' CHANCE! Utah clear the initial delivery but the ball comes back from Shelina Zadorsky but Leroux can't get enough power on her header to beat Smith.
48' Leroux wins a free-kick off of Rachel Corsie in Utah's half of the field.
48' The free-kick isn't cleared well by Orlando and eventually a looped effort goes towards the goal but easy for Harris to get.
47' A blatant tug on Matheson eventually gets called by the referee. Danielle Chesky is not Laura Harvey's favourite person right now.
46' CHANCE! Ubogagu puts the ball into space for Leroux who chases it down but her final touch is too heavy and Smith gets to the ball first.
46' The second half is underway!
46' SUBSTITUTION: Morgan did not recover from her collision with Smith in the first half and she is replaced by Chioma Ubogagu.
Orlando Pride 1 - 1 Utah Royals FC
Half-time: Well, there will be plenty to talk about as both teams go into the break. Jónsdóttir put Utah ahead but Danielle Chesky?'s poor judgement gave Orlando a penalty which Marta duly converted. Still all to play for in the second half.
45+2' Play resumes again as both sides try to find an opening.
45' Smith and Morgan collide outside the Utah area and play is stopped while Morgan receives some medical attention.
43' O'Hara seemingly chips it towards goal but no one read her intentions and the ball rolls out for a goal kick.
42' Marta brings down O'Hara in a great spot for Utah. O'Hara and Jónsdóttir stand over the set piece.
41' Morgan thinks she's off but she's stopped by the offside flag.
37' Orlando plays it short and it's sent back in but Smith comes out and picks it out of the air.
36' Orlando push forward again but O'Hara is there to stop anything going past her from Marta. Another corner incoming for the home side.
28' Morgan finally gets some space but she uses her weaker foot and Smith gets down on the ball comfortably.
28' Even with that equalizer, Orlando aren't in full control of this game. Utah are still causing them problems down that right-hand side.
21' YELLOW CARD: Sauerbrunn gets a booking on top of that for her alleged handball.
That is a harsh, harsh call. Sauerbrunn did have an arm up but she wasn't facing the ball and the momentum of her tackle was what ended up bringing her arm up to that angle. Orlando got a very lucky break there.
Orlando Pride 1 - 1 Utah Royals FC
Smith guesses the right way but Marta makes no mistake.
21' GOAL! Orlando equalizes through Marta
20' Hang on a second here, it looks like the referee has awarded a penalty kick to Orlando!
19' CHANCE! Becky Sauerbrunn ?makes a fantastic block to stop Dani Weatherholt from grabbing the equalizer. Pickett picks out the midfielder and Sauerbrunn arrives just on time to block the shot.
18' Now Utah get forward and try to find a second but the effort goes well over the bar. That right-hand side for Utah is proving to be a great source of creativity for them.
16' CHANCE! Orlando take the ball forward and win a corner. The ball comes in low and Ali Krieger rips one off that goes just over the crossbar.
15' O'Hara gets the ball out wide, takes on Carson Pickett and shoots towards goal but it's easy for Ashlyn Harris to collect.
14' Kelley O'Hara tries to pick out Thorsnes with a long diagonal but it's just out of reach for the Norwegian.
13' Apart form the goal, no other real chances have been made. Neither team has been able to establish control of the tempo here either.
7' From I can see, Orlando are trying to press Utah and win the ball high. Utah, are looking to mark Alex Morgan, Sydney Leroux and Marta tightly and force the other Orlando players to be the game-winners here.
5' Orlando look to settle back into the game and try to find an equalizer. It has to be said, the marking for the goal wasn't great. Jónsdóttir run all the way from midfield unchecked and punished the hosts.
Orlando Pride 0 - 1 Utah Royals FC
Utah Royals FC work the ball well down the right-hand side and then Diana Matheson? plays in a great cross that finds Gunnhilder Jónsdóttir who directs it home from close range. What a start for the visitors!
3' GOAL! Utah silence the crowd immediately!
2' After two consecutive corners, Orlando fail to test Abby Smith ?in goal.
1' The Orlando Pride's quick start and high press earns them the game's first corner.
1' And we're off in Orlando!
Only a few minutes away now. Take this time to read our preview of tonight's game.
Starting XI for Utah Royals FC (4-3-3): Smith; O'Hara, Corsie, Sauerbrunn, Moros; Scott, Jónsdóttir, Bowen; Matheson, Ratcliffe, Thorsnes.
Starting XI for Orlando Pride (4-3-3): Harris; Poliana, Krieger, Zadorsky, Pickett; Weatherholt, Pressley, Nairn; Leroux, Morgan, Marta.
Welcome back everyone to the second of the NWSL matches today. Starting lineup will follow shortly.
Orlando Pride 2 - 2 Utah Royals FC
Prediction: As it's only the first game of the season, not much can be drawn about either team at the moment. However, both sides have great firepower and midfields that can unlock most teams in the NWSL. Orlando will be looking to start their season off right while Utah will look to cause the upset so I would not be surprised to see goals in this game.
The officiating crew for this match will be Danielle Chesky as the center official, Trent Vanhaitsma and Gjovalin Bori as the assistant referees, and Miguel Martes as the fourth official.
Projected Lineup for Utah Royals FC: Smith; Moros, Corsie, Sauerbrunn, O'Hara; Gorry, Scott, Laddish; Rodriguez, Bowen, Thorsnes.
Projected Lineup for Orlando Pride: Harris; Poliana, Krieger, Mônica, Pickett; Kennedy, van Egmond, Nairn; Leroux, Morgan, Marta.
The match will be played at the Orlando City Stadium on March 24, 2018. The game will kick off at 7:30PM EST and will be broadcast on Lifetime, NWSLSoccer.com and go90.
The weakness in Utah could be the fact that they are a new team and that they may still be adjusting to their new home, new city and new coach. Many of the players played together on the former FC Kansas City team but they will now have to adapt to how Laura Harvey wants them to play and then use those instructions in their first outing as a team. Thus, it may take them a little time to truly gel as a team and as different units on the field.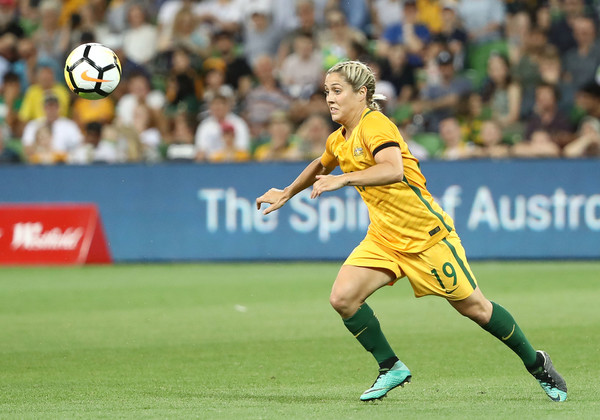 The Utah Royals are new to the league, being the latest expansion team, but their head coach and their overall team will be familiar to anyone who watches the NWSL. Thus, the overall style of the team should be similar to what we have seen during Laura Harvey's time at Seattle Reign FC. Their frontline is also full of potential match winners such as Amy Rodriguez has recovered from her season-ending injury, and both Katie Bowen and Elise Thorsnes have been brought in to bolster the attack. If they get the right service, these three can cause any team problems and they will be looking to do so this weekend against Orlando.
The one thing most Pride fans will be looking at is how well their defense has improved during the offseason. Orlando's inconsistency throughout the season and during the playoffs was their inability to close out games. Their defense, which features the likes of Ali Krieger, Ashlyn Harris in goal and now two Brazilians in Poliana and Mônica will want to go into the next match of the season with a clean sheet. Harris is one of the more capable goalkeepers in the NWSL and she will want to prove that she is still the best goalkeeper at the club, especially after head coach Tom Sermanni brought in Hayley Kopmeyer during the offseason. She, along with her backline will look to be locked in from the first whistle to the last, and hopefully keep out what could be a potent Utah team.
Orlando come into the season with their star attack bolstered by offseason trades. Alex Morgan and Marta will now be joined by Sydney Leroux in what could be a potentially incisive frontline. Morgan and Marta proved last season that they have developed a very good partnership and added goals to that chemistry, while Leroux comes into the new season looking to re-establish herself as one of the league and the United States Women's National Team most feared strikers. Morgan and Leroux should have no problems finding the connection they had throughout their national team years and if they combine early and quickly with Marta, the rest of the league will be in a for a difficult season every time they meet the Pride.
The Orlando Pride and Utah Royals FC will meet for the first time ever in the league but many familiar faces will be on both sides of the field and off it. The Pride will want to start their season convincingly by winning their opening home game while the Royals will be looking to establish themselves in the NWSL with an away win and the upset.
Welcome everyone to the opening weekend of the 2018 National Women's Soccer League season! I'm your host, Kudzi Musarurwa, for this first clash between the Orlando Pride and league newcomers, Utah Royals FC. Stay with us at VAVEL USA for live updates on what should be a great game.