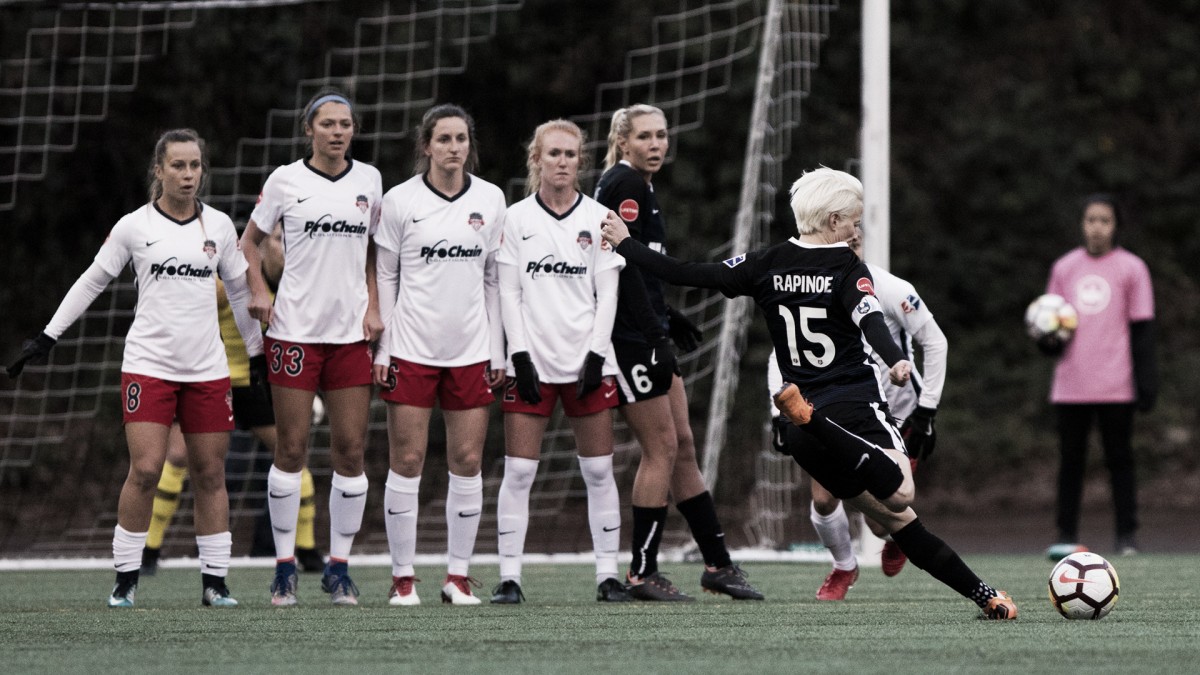 The final match of the first night of the newest NWSL season came to a close with the Seattle Reign coming out with a 2-1 victory against the Washington Spirit. Megan Rapinoe, Seattle's leading scorer from 2017, opened up scoring with English international Jodie Taylor adding another. Joanna Lohman got one back in the second half for the Spirit in her first game back from her ACL tear last season.
First Half dominance
Rapinoe opened up scoring early in the match. Spirit forward Ashley Hatch fouled midfielder Allie Long which gave the Reign a free kick a few yards off the top of the box, Rapinoe went for goal and curled the ball to the upper-ninety past the diving Spirit keeper Aubrey Bledsoe.
The Spirit had a chance to tie it up in the 10th minute when Washington defender Taylor Smith slipped a through ball to Hatch who tried her luck in the center of goal, but goalkeeper Michelle Betos, who returns from a season abroad, came up with the save.
Seattle kept up the attack and it paid off in the 35th minute when Rapinoe sent a through ball to Taylor who hit a left-footed shot to the center of goal and past Bledsoe. This was Taylor's fourth NWSL goal and first since she left the league in 2015.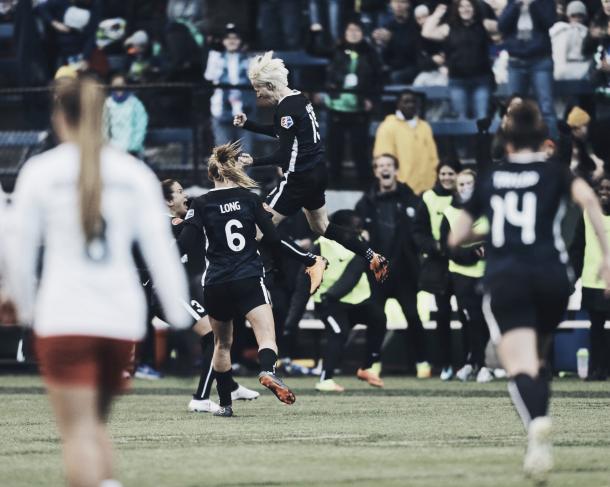 Second Half lacked rhythm
With the Reign up 2-0, the Spirit tried to mount a comeback. Both sides traded chances, but no team consistently held possession.
The Spirit pulled one back in the 68th minute to try an earn a point. After chaos in the box, the ball landed to the feet of Lohman who turned and sent the ball passed Betos to spoil the shutout. Lohman tore her ACL in the first game last April and missed the rest of the 2017 season.
The Spirit had a chance to tie the match in the 87th minute. After chaos in the box, Mal Pugh laid the ball off outside to Andi Sullivan who tried her luck outside the box. The well-struck shot forced a diving save from Betos to stop the comeback.
Rapinoe almost iced the game and added a second goal in the dying minutes of the game. After a ball from Long, Rapinoe sent a right-footed shot to the left of Bledsoe, but the keeper was able to get her hand on the ball to block the shot. The final whistle was blown shortly after giving Seattle all three points.
The Spirit will travel back east for their home-opener against the Orlando Pride in the Lifetime Game of the Week. Coverage for that game will begin at 3:30 p.m. ET on Lifetime. Seattle will be off in week 2 and return to action Sunday April 15 as they take on Sky Blue FC in New Jersey. Kick off will be 5:00 p.m. ET on go90.