 Hi there! Welcome to another season of Timbers match coverage. As my regular reader(s) know, I typically wrap up a match with a Good, Bad, Ugly sort of thing, highlighting things that need highlighting on both sides of the ledger, as it were. But this game calls for a little different approach, so I'll get back to the G/B/U format next week.
Coming into this game, the Timbers were basically the team of unanswered questions. Or, more accurately, the team that was answering obvious questions in a really bad way. Two bad losses in a row to start the season had people wondering when the team would shift out of first gear, as it were, and hoping that doing so wouldn't burn out the clutch.
Did I mention I know very little about cars?
Anyway, Saturday afternoon against FC Dallas, the Timbers started answering some questions. Some of those answers were good, others were sorta uncertain, but the nice thing was, the answers are starting to take shape. It's far too soon to give up on a season, even for the most hardened sports cynic, but three games of bad play and no points would have really been a bleak March, even for a team that's used to slow starts. So, let's answer some questions, shall we?
Are the Timbers' problems solved yet?
Why start with a small question when you can bite off more than you can chew in one sentence? I mean, there's a lot of answers to that question. Let's first define our terms: what "problems" are needing to be solved?
Okay, fine. Can the Timbers defend better than they did in the first two weeks?
The evidence here suggests a qualified "yes" is the answer to that question. The biggest change from last week, or at least the highest-profile one, was the not just omission but failure to travel of a healthy Liam Ridgewell. His performance in New York against the Red Bulls definitely warranted a week off from his starting job, but his failure to even make the squad is a pretty clear message from new coach Gio Savarese that competing for places does not mean playing one of the worst games of your career and expecting to start the next game.
In Ridgewell's absence, 22-year-old Bill Tuiloma earned his first start, and he played...fine. The entire defensive corps played fine, except for Lawrence Olum's momentary insistence that he was playing volleyball and subsequent yellow for a painfully obvious handball in the box, his second of the day, which earned him an early shower.
But other than that, the Timbers' defense was unremarkable yet reasonably solid, which after the first two weeks is a quantum leap forward. Diego Chará, the glue that keeps the midfield from falling apart, was back and fully recovered from his broken foot bone. While you never really see a lot of high-profile stuff or highlight plays from Chará, you see his incessant work in how effectively the other team can't do work. He was pretty gassed near the end, which is to be expected, but having Chará back is huge for the Timbers and it wasn't a minute too soon.
The first couple games of the year saw the Timbers play a very high press, with very bad results - this was not a team used to pressing that high, and it showed in being easily carved open.
On Saturday, they didn't completely revert to a deep-lying midfield, it was kind of a hybrid medium press, but it was enough to keep Dallas' speedy attack contained and to not hang the Timbers' back four out to dry.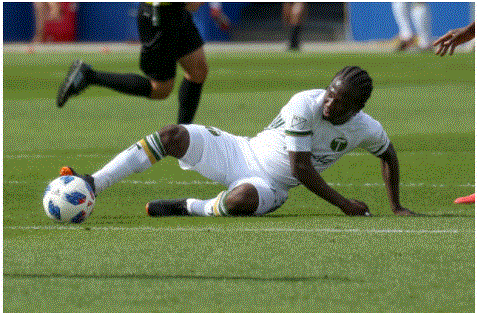 What about the attack?
This is a much trickier question to answer. While the Timbers were solid from back to mid, up front, they weren't really all that penetrative - both Fanendo Adi and Diego Valeri were fairly invisible, and apart from a few shots from distance, including the Seba Blanco stunner that leveled the match at 1, the Timbers never really put a lot of pressure on the Dallas back line or tested goalkeeper Jimmy Maurer at all.
Why is this? I don't 100% know, but I think we are starting to see what a Timbers attack without Darlington Nagbe looks like. He got a lot of unfair static from fans - mostly outside Portland, but also in Portland - for not having enough end product, as if goals were the only contribution an attacking midfielder should make. But Nagbe's worth was in his ability to dance around people, to get and keep the ball out of trouble, and to get the ball to the people who did supply the end product. He did (and does) that better than anyone in the league.
Without Nagbe, Valeri and Adi need to learn where their supply is coming from. It's not a thing that's irretrievably broken, but it does take time to build up a new understanding and new muscle memory with a new midfield supplier, and I think that's what's happening now.
Valeri expects the ball in certain places at certain times, and without his reliable partner, he's getting them at different places at different times. It's fixable, but the fact that the Timbers only have two goals on the season, and that both goals are from one player not named Valeri, is something that needs to be fixed soon.
What's the verdict on Gio?
Again with the big questions! It'd be the height of premature evaluation to render a "verdict" after 3/34ths of a season. Instead, after three games, I will say this:
- I see a coach who is unafraid to try different things when the original things aren't working.
- I see a coach who is still trying to find his ideal MLS style of play, regardless of personnel.
- I see a coach who has, at this point, no sacred cows or untouchable players, and who wants his players to earn things.
- I don't see a coach who is panicking or desperate to right the ship.
- Most crucially, I see a coach who sees what's wrong and works his team hard in order to fix those things.
I'm not going to compare Gio's style to Caleb Porter's because Gio's the coach now, not Porter. Overall, I like what I see from Gio so far, and mostly I like that he didn't like what he saw in New York. The Timbers were a different team in Dallas than they were in that game, and that's all to the good, and earning even a single point in a stadium where the home team has only lost three games in two seasons is nothing to be ashamed of.
There are two games left on the Timbers' giant season-opening road trip. Next up is the Chicago Fire, Saturday afternoon at 3 PM Pacific time. A solid Dallas result gives the Timbers a lot to build on as they look for their first win of the 2018 season.