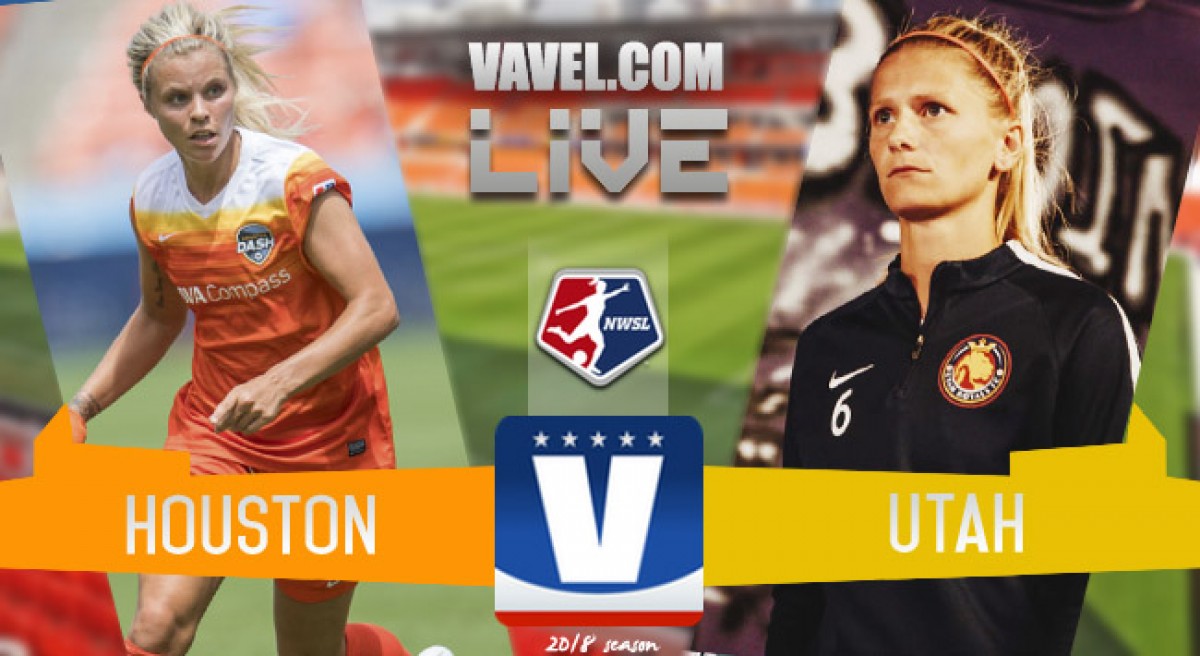 Thanks for following along! This has been Bianca Verar for VAVEL USA covering the Houston Dash vs Utah Royals FC.
FULL TIME: Houston Dash 0-0 Utah Royals FC
88' - Molthalo's shot goes over for Royals goal kick
87' - Royals earn corner
83' - Dash earn a corner
75' - Houston Substitution: Lindsey Agnew enters for Janine Van Wyk
71' - Utah coming quick but Campbell gets her fingers tips on it to re-direct and the rebound goes out for a goal kick
67' - Utah Substitution: Erika Tymrak enters for Brittany Ratcliffe
66' - Utah looking more lively with their attack. A shot is tipped over the bar by Campbell for a corner.
61' - Houston Substitution: Nichelle Prince enters for Veronica Latsko
59' - Utah Substitution: Lo'eau LaBonta enters for Katie Bowen
59' - Utah with a shot, but Campbell collects in her arms
53' - Ball bounces around in the box for Houston, but it's eventually cleared for a throw in
51' - Haley Hanson from distance, but it goes out for a goal kick
49' - Corner kick for the Houston Dash
46' - Second half has kicked off!
HALF TIME: Houston Dash 0-0 Utah Royals FC
45' - Dash with another chance! Motlhalo takes a big touch past her defender to be her down the line and crosses it, but Keever's shot is high
37' - Hard tackle from Desiree Scott on Kristie Mewis gives the Dash a free kick in their defensive half
33' - Utah Substitution: Brooke Elby in for Moros
30' - Play stopped with Becca Moros down
28' - Gunnhildur Jonsdottir tries her luck at a goal, but goalkeeper Jane Campbell is there it tip it over
27' - The Royals earn a free kick at the top of the D
21' - Dash close to a chance as Rachel Daly played a ball across the field for Kimberly Keever, but goalkeeper Abby Smith is there to collect
16' - Still scoreless at BBVA, both teams unable to find a rhythm or chance at goal
6' - Katie Stengel called offside. Both sides attempting to find a rhythm
1' - Kick off at BBVA!
Kickoff time has been delayed to 8:15 PM ET
Utah Starting XI: Smith; Corsie, Moros, Sauerbrunn, Miramontez; Bowen, Matheson, Scott, Jonsdottir; Stengel, Ratcliffe.
Houston Starting XI: Campbell; Daly, Brooks, Van Wyk, Mewis; Motlhalo, Hanson; Keever, Shim, Jordan; Latsko
Meanwhile, after five seasons with the Seattle Reign, Laura Harvey has taken the helm at brand new Utah Royals. She's determined to finally claim an NWSL title, and this just might be the year she's able to pull it off. With her personnel, playing style, and perhaps some more moves she's got hidden up her sleeve, the Royals are by no means the underdog this season.
This game will kick off the second weekend of NWSL play in 2018, and there is plenty of upside for both sides. Dash head coach Vera Pauw may be new to the NWSL, but her fresh perspective seems to be just what the club needed.
Their match up against the Orlando Pride is still impressive though, and they look forward to continuing to grow and improve with every match. They enter this weekend in hopes of stealing all three points on the road before the international FIFA Break which will send most internationals to their respective national teams for a friendly match or two.
Meanwhile, the Utah Royals have proven that just because they're the new kids on the block, they're just as ready to claim the NWSL title this season. They put on quite the show last weekend in Orlando, and if not for a questionable penalty on defender Becky Sauerbrunn, could very well have come away with their first-ever three points.
With a new coach and plenty of roster changes, five players made their debut in orange last weekend. One of these new debuts was Kimberly Keever, a rookie from the 2018 NWSL College Draft, who gave Houston the lead in the 38th minute with her first-ever NWSL career goal.
The season looks to be hopeful for the Houston Dash. In last weekend's season opener, it was refreshing to see a different side of the club, who have faced quite a struggle in roster balance over the past few seasons. Attackers Kristie Mewis and Rachel Daly have been moved into the outside back positions, and so far it seems like it's working well for the Dash. The two were able to track back to defend their respective flanks while also getting high and being an active part of the Dash attack.
Houston Dash vs Utah Royals FC Live Updates
The Houston Dash host their second consecutive NWSL game of the season at BBVA Compass Stadium. They kick off week two by hosting newcomers, the Utah Royals. Both teams will be looking for their first win of the season as each of them enter week two with draws from last week. The Dash split points with the Chicago Red Stars in the last minute of the match while the Royals took a point on the road against the Orlando Pride in what might have been the most exciting game from opening weekend. The teams have found themselves right beside each other in standings; Utah is in fourth place while Houston is in fifth.
Houston Dash vs Utah Royals FC Live Stream Commentary
Welcome to VAVEL USA's LIVE coverage of the 2018 National Women's Soccer League match between the Houston Dash and Utah Royals FC. My name is Bianca Verar and I'll be your host for this game. We will provide you with pre-game analysis, roster updates, and news as it happens here on VAVEL. This game will be broadcasted with the go90 app and NWSL website.