 The 2018 MLS season is in full swing and D.C. United is still trying to find its feet. Starting the season 0-2-2, United manager Ben Olsen has already begun stressing that the first few months of this season will be rocky, continuing the "Wait until we have our stadium" rhetoric put out by the club.
Hosting the winless United team is Sporting Kansas City, who sit on top of the Western Conference with 7 points. While this will likely not be the case much longer as they've played four games and most of the other teams in the West have played two or three games, SKC's 2-1-1 record shows they're in a competitive spot.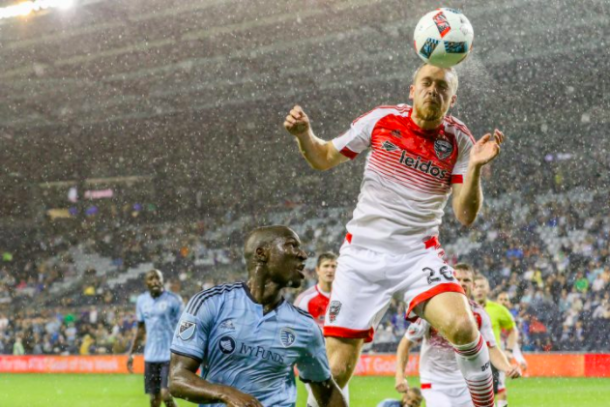 Dire D.C.
D.C. United came into the season with cautious hope. A new stadium, a new set of players and a chance to steady the ship had fans excited for the beginning of a new era in United's storied history. A shaky, winless start has quickly erased that hope, and the future doesn't look too bright. Olsen, however, remains confident that his team will get a break.
"We just have to get back to trusting our ability as a team," Olsen said. "The wins will come, and the breaks will come as well. I didn't think we had a lot of breaks today."
It's difficult to find positives in this United team, but something to note is they've scored in every match so far. On top of that, Yamil Asad just won the AT&T Goal of the Week for his 19-yard strike against Columbus, 18-year-old Chris Durkin got his first MLS start and looked good and United looked dangerous. Unfortunately, this has been the case since last year, and last year didn't see results come D.C.'s way.
Keys to win
SKC are the favorites to win this game. It's at Children's Mercy Park and SKC hasn't lost since opening weekend. Midfielder Felipe Gutierrez has four goals and forward Daniel Salloi has three assists. If these two can combine and create dangerous chances in a shaky United backline, SKC should cruise to another three points.
D.C. United has shown it can cause fits for teams. If a call goes D.C.'s way, the 3-1 loss to Columbus could've been different. The fact of the matter is, D.C. needs a win, and going to Kansas City and getting one is very difficult. For the black and red to pull it off, the defense and goalkeeper need to be strong. Through Asad and Luciano Acosta, the attack will create numerous chances, but giving up eight goals in three games is atrocious. A team like SKC will pounce on a poor defense and leave D.C. in the dust.
Match info
Date: March 31, 2018
Kickoff: 8:30 PM ET
Location: Children's Mercy Park (Kansas City, Kansas)
Watch: MLS Live
Referee: Baldomero Toledo (USA)