 It's far too early for the season to have the lowest point (unfortunately), but it can be said that so far, the crater's floor this season was in Harrison against the Red Bulls. Since that game, the Timbers have played two games, earned two points, and looked much more like a team that is capable of actually playing like the team that finished first in the West last season than they did in those first two games of the season.
Saturday night (Or I guess afternoon if you were in Portland), the Timbers earned their second of those aforementioned two points in Chicago against the Fire, and while a road point is always good, this road point was one of those points that felt like it should have been accompanied home by two more points, and not left on its own like a lonely stalk of wheat in the field after the thresher's gone through.
THE GOOD
The first 45. This isn't exactly a unique viewpoint, but the first 45 minutes the Timbers played on Saturday were probably their best 45 under Gio Savarese so far. The team was complete - it defended compactly and well, it moved the ball around effortlessly and effectively, and the attack was as effective as it has been at any time this season.
Sebastian Blanco. He got his third goal of the season and continued to be the main reason the Timbers are even the small offensive threat they are right now. Reigning league MVP Diego Valeri - a phrase I will never get tired of writing - got his first goal of the season, but Blanco's hard work to set up that goal, and immaculate pass to Valeri which enabled it, should not be ignored. While Valeri is still the focal point of most if not all things attack for the Timbers, Blanco is rapidly becoming an essential part of the attack as well.
Mental strength. I am not generally a fan of citing things like "grit", "hustle", or "heart", because for one they can't be quantified, and for two, they're impossible to actually discern from the other side of a TV screen - you can think you see a player playing hard, or dogging it, but, except in a few very extreme cases, you really can't, because you're not in the player's head and have no idea what they're thinking or how hard they're working. You can only see what is on the surface, and too often that surface impression gets paired with a pre-existing opinion of a player and bad analysis results.
But on Saturday, the Timbers, four games into a brutal five-game road trip and dealing with a new coach and several new players, put together their most impressive half of the season so far, and that tells me that they're starting to build an understanding and a focus that will serve them well as they go through the season, and which was almost entirely missing in both the Galaxy and Red Bull games.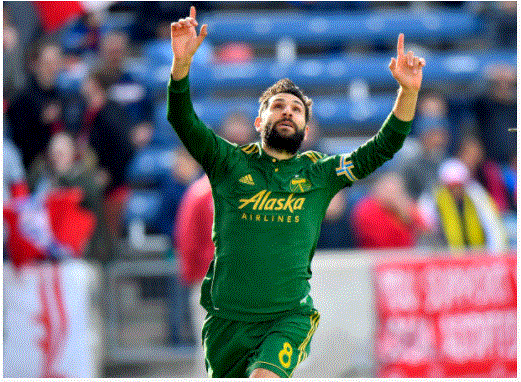 THE BAD
Mental strength. Oh hey, wait I just said that! But it's true here as well. While the Timbers did put together their most complete 45 minutes of the season on Saturday, both of the goals they gave up were the result of a decided lack of that same mental strength I lauded up above.
On the first goal, Larrys Mabiala, who is a center back whose job, geographically, is RIGHT THERE IN HIS JOB DESCRIPTION, decided that he'd rather play, I dunno, somewhere out to the right? Ish? So he wandered over to where Brandon Vincent was because maybe he thought the wind was less over there so it was a bit warmer or whatever. But that left a big gaping hole over in the center at the back - you know, where Mabiala's supposed to live - into which Nemanja Nikolić sauntered more or less untouched, after Bill Tuiloma moved generously out of his way, to slam home the Fire's first goal.
The second goal was even worse. Bastian Schweinsteiger got the ball in a vaguely threatening area, only to have no Timber defender even vaguely threaten him. Given all the time in the world, then, Schweinsteiger did what he does, and put an inch-perfect pass to the head of Vincent, who pounded the ball home with his head, past Jake Gleeson, who got a hand to the ball but couldn't stop it.
I know this is probably a dumb and/or reductionist thing to say, but if the Timbers can eliminate even one of those mental mistakes a game, they'll be a profoundly better team. But they didn't, and it cost them two points.
THE UGLY
Honestly, not that much; the uglies have been eliminated, for now at least, from the Timbers' early season list of maladies. I know how sports works, and I know it's not permanent, but it's nice to see the team at least mostly operating on the same frequency after a rough couple games.
Next week the Timbers conclude their epic early season road trip facing Orlando City, before returning home to open the home portion of the schedule against Minnesota United in two weeks.