 Canada women's national team head coach Kenneth Heiner-Møller has announced the 18-player roster for an upcoming friendly against France on April 9th in Rennes, France. The team includes nine National Women's Soccer League players. The match will occur while most European teams are partaking in the UEFA Women's World Cup qualifying group stage tournament, but France does not have to take part in the qualifying as the hosts of the 2019 Women's World Cup. France and Canada each participated in tournaments earlier in 2018. France came third out of four teams in the 2018 SheBelieves Cup, hosted by the United States, while Canada finished a disappointing fifth in the 2018 Algarve Cup, hosted by Portugal.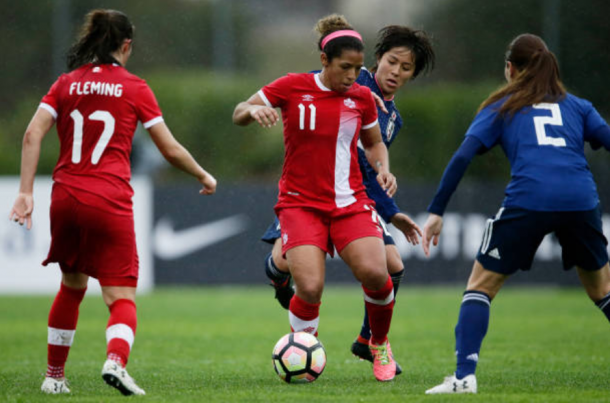 Canada recently moved to fourth in the FIFA Women's Rankings despite losing their opening match of the Algarve Cup to Sweden. The team rattled off wins against Russia, South Korea, and Japan to close out the tournament and finish fifth. The fourth-place ranking is tied for the highest ranking Canada has achieved. Canada will participate in the 2018 CONCACAF Women's Championship in October to attempt to qualify for the 2019 Women's World Cup.
The nine NWSL players called up for the match play on seven different teams, with only the Chicago Red Stars and Seattle Reign FC not represented. All nine of the players are allocated, meaning their NWSL salary is played by Canada Soccer Association, but three allocated players, forward Adriana Leon and goalkeepers Kailen Sheridan and Sabrina D'Angelo, were not called up to the limited roster. The NWSL is off this weekend for the FIFA window to allow players to travel with their respective national teams, so the players should be able to return before their team's next match. Canada continues to be a team made up of extremely young players, with four players under the age of 20.
Full Roster:
GK Stephanie Labbé (Unattached - Calgary Foothills FC)
GK Erin McLeod (FC Rosengård)
FB Lindsay Agnew (Houston Dash)
FB Allysha Chapman (North Carolina Courage)
FB Ashley Lawrence (Paris Saint-German)
CB Shelina Zadorsky (Orlando Pride)
CB Kadeisha Buchanan (Olympique Lyonnais)
M/CB Rebecca Quinn (Washington Spirit)
M Desiree Scott (Utah Royals FC)
M Sophie Schmidt (FFC Frankfurt)
M Jessie Fleming (UCLA)
M Diana Matheson (Utah Royals FC)
M Julia Grosso (Vancouver Whitecaps FC Girls Elite)
F Christine Sinclair (Portland Thorns FC)
F Deanne Rose (University of Florida Gators)
F Janine Beckie (Sky Blue FC)
F Nichelle Prince (Houston Dash)
F Jordyn Huitema (Vancouver Whitecaps FC Girls Elite)