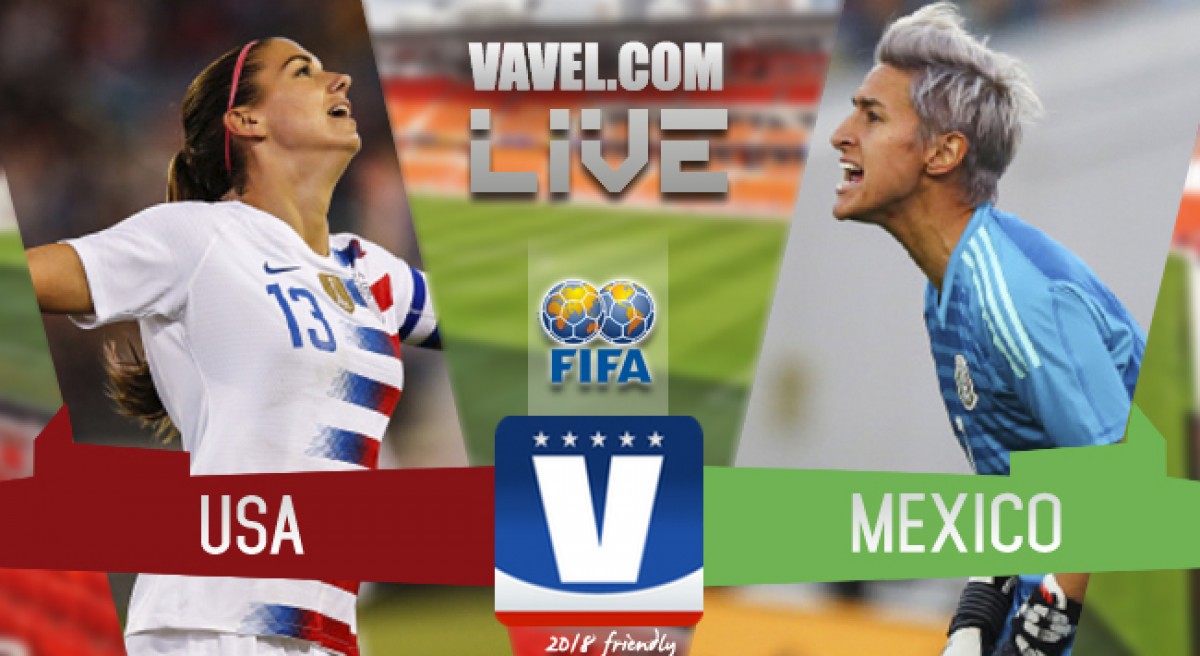 Thank you for joining VAVEL USA for the live coverage of USA vs Mexico. Join us for the next match! This is Bianca Verar, signing off!
FULL TIME: USA 6-2 Mexico
90+2' - Morgan tries to shoot from the top of the box, but Santiago is there with arms over her head to collect
90' - 2 minutes stoppage
90' - OH ALMOST! Long takes a shot from distance, but it goes off the crossbar
85' - Corner for the US
84' - Mexico gets a free kick deep in their attacking half
80' - Rapinoe one on one with the keeper, but Santiago dives down and collects
78' - MEXICO SUBSTITUTION: Vanessa Flores in for Ferral
78' - Rapinoe lays it off to Lloyd who shoots a rocket, but Santiago perries it away from a corner
77' - Chaos in front of Santiago, but US can't come out with a goal!
76' - Morgan almost gets a hat trick, but it's just wide of the post!
A few years ago, Huerta was playing for Mexico in this match up. Today, she plays for the USA.
75' - USA SUBSTITUTION: Sofia Huerta for Sonnett
74' - MEXICO SUBSTITUTION: Renae Cuellar in for Palacios
70' - MEXICO SUBSTITUION: Calderon out, Anisa Guajardo in
70' - USA 6-2 Mexico
68' - GOAL USA! Alex Morgan on the end of Rapinoe's corner!
68' - Long with the goal in front of her, but Santiago dives to give the US a corner
67' - SUBSTITUTION: Ashlyn Harris checks in for Campbell in goal
66' - Corner for Mexico
65' - USA 5-2 Mexico
64' - USA GOAL! Keeper is flying out and the rebound falls to Rapinoe, who hits it nicely into the goal!
62' - Ball played over the top for Palacios but Sauerbrunn comes sliding in to clear it away
60' - MEXICO SUBSTITUTION: Maria Sanchez in for Ocampo
59' - Robles tries from distance, but it's just wide
58' - USA SUBSTITUTION: Pugh and Davidson out, Tegan McGrady and Hailie Mace in
55' - Both teams are struggling to find a rhythm
50' - MEXICO SUBSTITUTION: Monica Flores in for Espinoza
50' - Mexico earns a corner
46' - MEXICO SUSTITUTION: Annia Mejia enters for Christina Murrillo
46' - Kickoff!
HALFTIME: USA 4-2 Mexico
45+3' Corner for the US
45+3' - Mexico on the attack as the half comes to an end
45' - 3 minutes of stoppage time
43' - GOAL USA! Sauebrunn's header makes it to Rapinoe, who takes her space and lots it to Morgan, who puts it away
43' - US earns corner
43' - Hanson getting in on the action. She played a ball for Long, but it's a little too much.
Hanson earns her first cap for the US!
40' - USA SUBSTITUTION: Haley Hanson checks in for Lindsey Horan
38' - Play stopped with Horan down
37' - Morgan almost earns herself a goal, but Santiago goes low to collect
37' - Corner for the US
36' - USA 3-2 Mexico
34' - USA GOAL! HISTORY MADE as Carli Lloyd heads in her 100th goal for the US!
31' - Rapinoe plays the ball through the backline for Pugh, but she's called offside
30' - Long fouls keeper for free kick for Mexico
30' - Corner for the US
29' - USA SUBSTITION: Allie Long in for Morgan Brian
28' - Free kick for Mexico bounces off of a forward, but Campbell collects
27' - Mexico wants the lead, but Campbell catches the shot out of the air
26' - USA 2-2 Mexico
25' - USA GOAL! Horan equalizes with a header!
25' - US hungry for an equalizer, earns corner
24' - GOAL MEXICO! Mexico take the lead off another corner! Headed in by Kiana Palacios!
23' - Another corner for Mexico
21' - Sonnett slides to keep the ball in play and after some build up, Horan plays the ball for Lloyd. Santiago is there to collect
20' - Mexico attack is lively and constantly on the US, Mexico earns another corner
18' - Morgan plays the ball long for Rapinoe, who traps it down and plays it back. Lloyd rushes forward, but Santiago beats her to the ball
17' - USA 1-1 Mexico
17' - MEXICO GOAL! They take advantage of the corner, curling it in past Campbell!
16' - Another corner for Mexico
15' - Mexico earns their first corner of the match
14' - Almost another goal! Rapinoe streaks down the field, but her shot goes right to Santiago
13' - Throw in off a corner almost results in a goal, but Mexico's defense is able to clear
13' - Corner for the US
12' - Bit of danger for the US and Mexico passes the ball around, but Davidson is able to clear for a throw in
8' - Horan walked off the field and play continues
7' - Play stopped because with Horan down
7' - Ball slotted between defenders to Pugh, but Santiago is quick to slid and collect
5' - Hard foul on Brian gives US a free kick on the halfway line
4' - Mexico with a dangerous cross but Campbell catches it in the air
3' - USA 1-0 Mexico
3' - GOAL USA! Mallory Pugh streaks down the field, stepping past the keeper and putting it away!
2' - SO CLOSE ALREADY! Lloyd hungry for her 100th goal for the USA, but her shot is blocked by the keeper and defenders under Santiago collects
1' - Kick off!
Lineups and anthem are done, we're ready for kick off!
Houston Dash midfielder Haley Hanson is listed as a sub for this match as well.
USWNT goalkeeper Jane Campbell earns the start in her NWSL home stadium. Mexico Goalkeeper Bianca Henninger is available as a sub.
Mexico Starting XI: Santiago; Robles, Sierra, Espinoz, Murillo; Ocampo, Mayor, Ferral, Niet; Palacios, Calderon.
USWNT Starting XI: Campbell; Sonnett, Sauerbrunn, Davidson, Dunn; Brian, Horan, Lloyd; Pugh, Morgan, Rapinoe.
There is plenty ahead for the US vs Mexico. Make sure you're still following along here on VAVEL USA for the latest updates and live commentary for the match.
A few players on both US and Mexico will experience a sort of "homecoming" in Houston. BBVA Compass Stadium, home of the Houston Dash, provides a home field to goalkeeper Jane Campbell and rookie midfielder Haley Hanson of the US and goalkeeper Bianca Henninger of Mexico. Henninger started in goal for Mexico last match, but Campbell and Hanson did not make appearances. Campbell was listed a substitution last game while Hanson did not suit up.
Morgan's performance on Thursday night gave fans nostalgia of the 2012 Alex Morgan. The forward has dipped up and down since then, many of her problems stemming from injuries every now and then over the past few years, but if last game was any indication, Alex Morgan is about to have a stellar 2018.
It will be interesting to see what head coach Jill Ellis puts on the field of the US today. She's been trying plenty of people in lots of different positions, and started the USWNT in a three back - once again - on Thursday. Ellis hasn't found her perfect mix of players for the upcoming qualifying tournament in October, and a lot of that has to do with injuries, but time is slowly running out for Ellis if she wants to get all the pieces to click before then.
The US may have shined in their performance on Thursday, but today is a whole new game. Mexico has been able to prove a tough opponent every now and then, most recently in 2016 when they only held the US to a 1-0 scoreline for the 2016 Olympic Qualifying. Their attack was even able to pull through on Thursday, when Sky Blue FC's Katie Johnson put one past an onrushing Alyssa Naeher to get one back for Mexico.
The USWNT's victory also included a goal from Mallory Pugh and midfielder Carli Lloyd's 99th goal. She very well could score her 100th goal for the red, white, and blue today at BBVA Compass Stadium, home of her former club the Houston Dash.
USA vs Mexico Live Updates
This is the second friendly the USA will play against Mexico this week. The first one occurred on Thursday night in Jacksonville, Florida. The USWNT dominated the game, taking a 4-1 victory over Mexico which include two goals by forward Alex Morgan. Morgan went on a five-minute spree, first earning a corner kick and slotting it away and then putting another goal away from an impossibly tight angle.
USA vs Mexico Live Stream Commentary
Welcome to VAVEL USA's LIVE coverage of the 2018 FIFA Friendly match between the US Women's National Team and Mexico. My name is Bianca Verar and I'll be your host for this game. We will provide you with pre-game analysis, roster updates, and news as it happens here on VAVEL. This game will be broadcasted on Fox.