 Bayern Munich looked messy and not in control early in their match against Augsburg, with sloppy finishes and lackluster movements on the ball resulting in an early goal in the 18th minute from their opponents.
Although the Bavarians had the majority of possession up until the goal they seemed wary about truly digging in and getting their hands dirty. This trepidation of course has everything to do with their upcoming Champions League match against Sevilla on Wednesday at home in the Allianz Arena. Currently leading 2-1 on aggregate, Bayern are surely eager to secure another win thus advancing them to the semi finals which eluded them the previous year.
Slow start for Bayern
A shaky start may have had something to do with a much altered starting lineup from Bayern as coach Jupp Heynckes will want to rest some of his big name players for Wednesdays clash. Noticeably absent stars included Lewandowski, Muller, Martinez and Hummels, among others.
Bayern, of course, never like being second to anyone, and after going 1-0 down they stepped it up and fell into a much more comfortable rhythm. After the first 30 minutes the game had completely flipped on its head with Bayern pressing hard, the title of Bundesliga Champions on the line. This altered attitude led to Bayern's first goal in the 32nd courtesy of a beautifully simple header from Tolisso who remained unchecked by the Augsburg defense.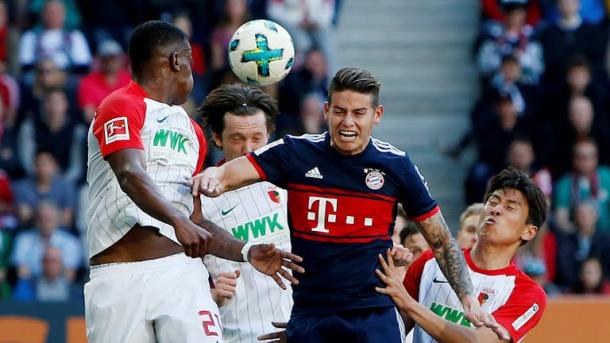 Bayern finishes strong
With the match tied a fire was clearly lit within the Bayern players and a slew of chances and high pressing led to their second goal only six minutes later from their star attacking midfielder, James Rodriguez.
In the second half, Bayern was all business, attacking again and again in their clinical style Augsburg never had a chance to catch up. The German giants managed to edge out their opponents once and for all when veteran Arjen Robben scored the third goal, ensuring his team would be lifting the Bundesilga trophy at the end of the season.
The game ended 4-1 after Wagner headed in a goal in the 87', reminding fans why he's such a valuable substitute when Lewandowski is on the bench.
Whether or not fans are tired of seeing Bayern Munich win the title season after season one thing remains undisputed; when the Bavarians put on a spectacular performance like they did today, everyone is satisfied.