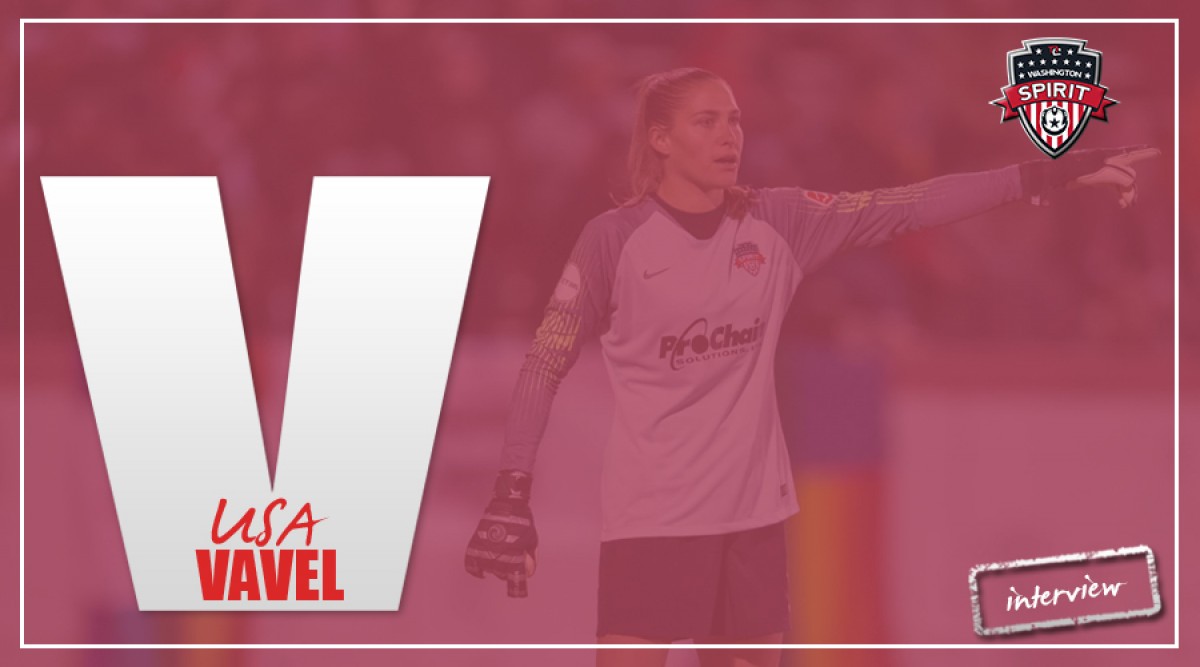 The road to becoming a starting goalkeeper in the National Women's Soccer League is a difficult one, and few players possess the talent and tenacity to earn one of those nine elusive positions. Aubrey Bledsoe spent the first four years of her career traveling the globe to achieve her dream of starting in the NWSL, and she finally opened the 2018 season as the starter for the Washington Spirit this year.
Here at VAVEL USA, we had the opportunity to speak with Aubrey about the long journey that took her to three foreign countries, three different continents, and three NWSL teams before she finally secured a starting role.
Traveling to Europe to find starting minutes
The journey started when Bledsoe opted to forego the 2014 NWSL College Draft to find quality starting minutes overseas in Norway.
"My thinking was, I wanted to go overseas before playing in the US just because as a keeper it's really hard to get minutes in the NWSL. So rather than be a backup in the league here I thought I would develop more going overseas and getting those game minutes right off the bat. So I didn't enter the draft, and I had an agent who found this team in Norway, so I was like, 'sure, let's do it!'"
Bledsoe played 11 games with IK Grand Bodø before returning to the United States. Upon her return, Bledsoe found out that she had been claimed through the discovery process by Sky Blue FC, so she joined the team and started one game during the 2015 season. During the offseason, she played four games with Fortuna Hjørring in Denmark. Fortuna Hjørring seemed like a place where goalkeepers went to prove themselves, as Michelle Betos, now the starting goalkeeper for Seattle Reign FC, played with the team the year before Bledsoe.
A different mindset while learning from one of the best
While she was away, Bledsoe was picked by the Orlando Pride in the 2015 NWSL Expansion Draft.
"When they chose me I had already known that Ashlyn Harris was on the team, so as much as you want to play and prove to be the starter, I knew it would be more of a backup role, and I was looking forward just to learning from her. Again, it's so hard to be a starter in this league. A lot about keeping is reading the game and adjusting to the speed of play, so whereas maybe I thought I was ready to play in the NWSL right out of college, there is a bit more adjustment than you would realize."
Bledsoe spent the next season learning from Harris and working to improve her game awareness so that when she did finally get that starting spot she would be ready. Her first long-term starting gig in the NWSL happened during the 2017 season when Harris went down with a quad injury and missed 12 weeks.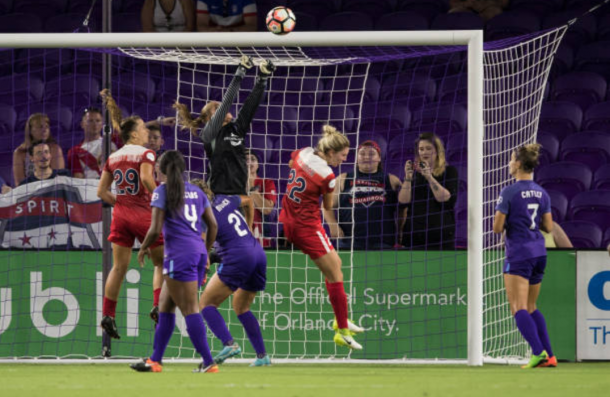 Speaking about that experience, Aubrey said "I thought I did fairly well. Obviously, I always wish I had done better. You wish you don't give up any goals, but that's just the game, you're going to get scored on, so for me, it was more looking at how I progressed game by game. Trying to add one thing from each game, adding that to my game as the season went on and I felt like I learned a lot. Mistakes I was making in the early games I wasn't making those mistakes anymore, and I developed a bit at making better decisions. I think I grew a lot as a goalkeeper."
Building her brand with time down under
Those starts were important for Bledsoe's career. Coaches around the league had an opportunity to see what she could do in a consistent starting role, and it changed the trajectory of her career. When the NWSL season ended, Bledsoe once again sought playing opportunities overseas. Just after Thanksgiving in 2017, Bledsoe found herself on a plane destined for Australia where she would join Sydney FC in the Westfield W-League.
"That was honestly pretty crazy. I've been wanting to play in the W-league for the past two years now, but it's hard to get over there. They only get four international players per team, some of them don't use those four spots, some will look for attacking players. So I reached out to all of the teams that I could, but I didn't get any interest. I was in Orlando training with Ashlyn and I was just planning on staying there for the offseason, and Sydney FC reached out to me. [Ante Juric] was originally going to bring me in much later in the season, around January, so I talked to him and he said he would keep in touch. Maybe something would work out later on, and their season started, they started 0-3, and so after every game, he was like 'hey, do you want to come a little earlier? We'd love to have you out here.'"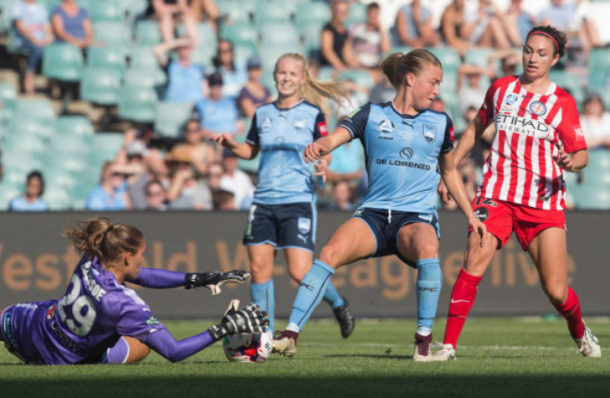 Sydney FC, with Bledsoe anchoring their defense, went undefeated during the remainder of the season; winning seven games and getting one draw. They made it all the way to the Grand Final, but they were bested by Melbourne City FC 2-0 in the final match. Bledsoe had nothing but wonderful things to say about the Sydney FC organization and players. She was welcomed quickly into the locker room. The younger players on the team looked up to her as a veteran, whereas she had felt like a rookie in the NWSL when she joined the Pride.
Finally achieving her goal with the Spirit
In January, during the W-League season, the Washington Spirit traded with the Orlando Pride and acquired the rights to Bledsoe for the 2018 season.
Aubrey reflected she had "mixed emotions for sure [about the trade]. Like I said, I really enjoyed Orlando. I loved it there. I made it my home. The staff, the organization is world class. They do everything right. You're treated professionally. I loved my goalkeeper coach, and I loved the training environment. Outside of soccer I was involved in some volunteering there and had some friends outside, so I was sad to leave in that respect, but I knew that I needed to. So while I didn't necessarily want to, I needed to for my career. It was bittersweet because I was leaving so much behind in Orlando, but at the same time, I was really excited and grateful for the opportunity that I would be having in DC and excited to start something there with the Spirit. They brought in so much youth with United States Women's National Team players and a lot of quality draft picks, so there is a lot of excitement here with the Spirit."
In the first match of the regular season, Bledsoe and the Spirit traveled to Seattle to face off against the Reign. The game was a difficult one for Bledsoe who gave up two early goals; one in the sixth minute off a free kick by Megan Rapinoe and one to Jodie Taylor in the 35th minute. In both of those goals, Bledsoe got a piece of the ball. She was clearly disappointed with the two concessions but said that her goal was to learn from those shots and make sure she saves them next time.
The next match of the season was the Spirit's home opener where the team earned a clean sheet, winning 2-0 over her former team.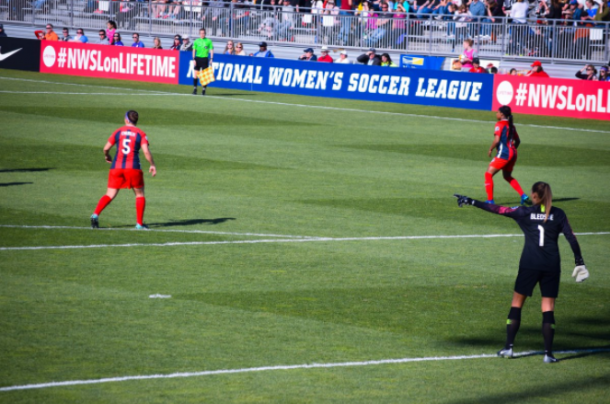 "It was really exciting to win our home opener. We drew a great crowd and we beat the Pride. We finally felt that our offense was clicking and our defense put in a solid game as well. Not only to get the win but to get the shutout, it's a great momentum builder for us going into the next game against North Carolina. "
A little extra tidbit
To end our conversation, I asked Aubrey to tell the fans something they didn't know about her.
"I'm kind of like an adrenaline junky. I've been skydiving, bungee jumping and hang gliding, all in the offseason of course. But I just love adventure and traveling. I guess you'd call those crazy things, but they're all really fun."