 Here is a breakdown of NWSL players during the international break. These players and squads are participating in qualifiers for the 2019 FIFA World Cup in France. Asia, Europe and South America Confederations are currently underway. Also, France hosted friendlies against Canada and Nigeria.
AFC 2018 Asian Cup
Australian Women's National Team, the Westfield Matildas, opened their 2018 Asian Cup against South Korea. The South Koreans frustrated the Matidas all game by keep all their players back on defense. Chicago Red Stars striker, Sam Kerr could not find any open space as she was shadowed by a South Korean defender all match. South Korea was able to hold Australia to a 0-0 draw. Three days later the Matildas took out their frustrations on Vietnam in a 8-0 blowout. Houston Dash forward Kyah Simon and Orlando Pride Midfielder Alanna Kennedy, had a goal and two assists each. Kennedy's assists came off of two Sam Kerr goals. Orlando Pride's Emily van Egmond and Portland Thorn's Hayley Raso each scored a goal in the win. Other NWSL players on the Australian National team that received minutes in the previous two matches are Lydia Williams (Seattle Reign FC), Steph Catley (Seattle Reign FC), Ellie Carpenter (Portland Thorns) and Katrina Gorry (Utah Royals FC).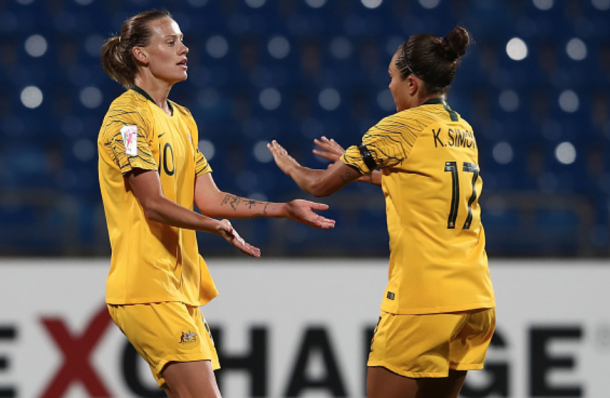 Seattle Reign FC Rumi Utsugi and Nahomi Kawasumi are listed on Japan's National team roster. Kawasumi appeared of the bench late in Japan's 4-0 win against Vietnam. Kawasumi would start the second match against Korea Republic in a 0-0 draw. She would be subbed off at the 86th minute. Utsugi is yet to see any minutes during the Asian Cup. After two matches, Japan is tied with Australia atop Group B with four points. Friday, Japan and Australia will meet to determine the winner of the group.
UEFA World Cup qualification
England Women's National team, the Lionesses, played two matches this qualifying fixture. Houston Dash defender Rachel Daly and Seattle Reign FC forward Jodie Taylor hosted Seattle Reign FC midfielder Jessica Fishlock and the Wales National team. Wales defence and goalkeeper held off England to a 0-0 draw. Fishlock wrote on Instagram, "We will take the point… it's an unbelievable point and shows just what this team and group is about." Taylor was held in check while Daly did not see the pitch. Four days later England travel to Bosnia and Herzegovina for their second match. Taylor and Daly would not get the start but were available for substitution. Again, the Lionesses had trouble finding the back of the net until the second half. Taylor would come into the match late to score on a penalty shot. Daly also subbed into the match late, playing the last 10 minutes of the match.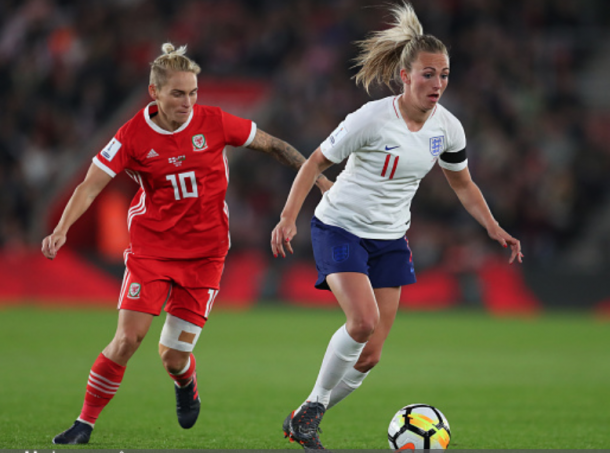 Gunnhildur Jónsdóttir, Utah Royals FC midfielder, played in two qualifying matches with Iceland. Iceland traveled to Slovenia in their first match where Jónsdóttir scored the first goal of the game. Iceland would win the match 2-0. Four days later she would score another goal against the Faroe Islands in a 5-0 victory.
Denise O'Sullivan started two matches for the Republic of Ireland. The North Carolina Courage midfielder would play all 180 minutes of both matches. O'Sullivan and Ireland edged Slovakia at home 2-1. Four days later, Republic of Ireland could not contain the reigning European Champion Netherlands, losing 2-0. This was Republic of Ireland's first defeat in the group. O'Sullivan talked to ei Sport after the match "We are disappointed with the loss but we keep on going [and] keep on fighting… we gave 100 percent against some of the best players in the world."
Elise Thorsnes and Norway defeated Northern Ireland 3-0 Tuesday. Thorsnes a Utah Royals FC forward, was subbed in the 85th minute in the win. Norway are currently in third place in their group, one point behind Republic of Ireland.
Utah Royals FC defender and Scotland captain Rachel Corsie played in all 180 minutes of two matches. Scotland were beaten 1-0 by Switzerland then traveled back home to defeat Poland 3-0. Scotland are currently in second place in Group 2, four points behind Switzerland with a game at hand.
CONMEBOL South America 2018 Copa America Femenina
Orlando Pride defenders Monica and Poliana and forward Marta were called to the Brazilian National team to try to win their third consecutive Copa America Femenina title. They join Portland Thorn midfielder Andressinha and North Carolina Courage Debinha. So far Brazil are undefeated in two matches and have 10 total goals. Debinha scored in each of the two matches and Andressinha has one goal of her own. Marta is goal-less so far but has been involved in most of the Brazilian tailies. Brazil will finish off group play this week against Venezuela and Bolivia.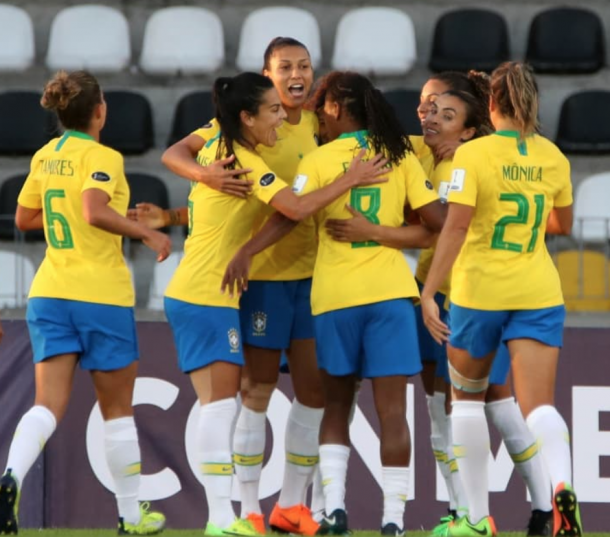 Estefania Banini and Argentina are looking to advance to the final stage of the tournament with Brazil. Banini has started all three matches so far. The Washington Spirit midfielder had a cracker of a free kick goal against Brazil, but was not enough losing 3-1. Banini scored again to defeat Ecuador 6-3. Argentina has two wins in three matches and find themselves tied with Brazil and Venezuela atop the Group B.
Yanara Aedo and Chile are the host of the Copa America Femenina tournament. The Washington Spirit forward had a late game tying goal in Chile's opening match against Paraguay. Aedo has played in every minute of all three matches. Chile are in good position in Group A to advance to the next round. Their final match will be against Peru on April 12.
France International Friendlies
Canada traveled to play France for an international friendly. France would win 1-0 on a penalty shot goal by Eugenie Le Sommer. Shelina Zadorsky (Orlando Pride), Allysha Chapman (North Carolina Courage), Diana Matheson (Utah Royals FC), Desiree Scott (Utah Royals FC), Christine Sinclair (Portland Thorns), Nichelle Prince (Houston Dash) and Janine Beckie (Sky Blue FC) were all in the starting lineup. Other NWSL players on the Canada Women's National team in France were defender Lindsay Agnew (Houston Dash) and Rebecca Quinn (Washington Spirit)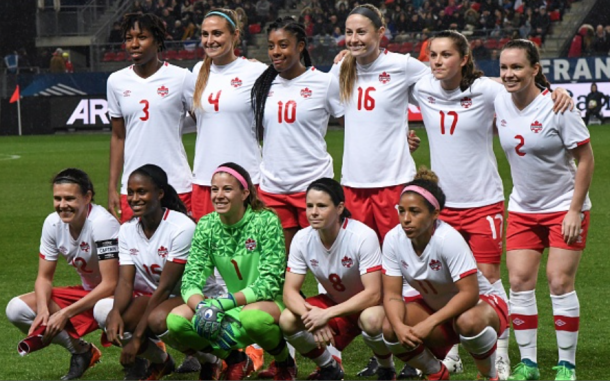 Nigeria also traveled to France for an international friendly. Washington Spirit forward Francisca Ordega was in the starting lineup. She collected a yellow card in the 50th minute and would be subbed out in the 73rd minute. France would go on to win the match 8-0.
Australia, Japan, Argentina, Brazil and Chile will continue their tournaments in the coming weeks. The Asian Cup will finish April 20 and South America will wrap up its tournament April 22.