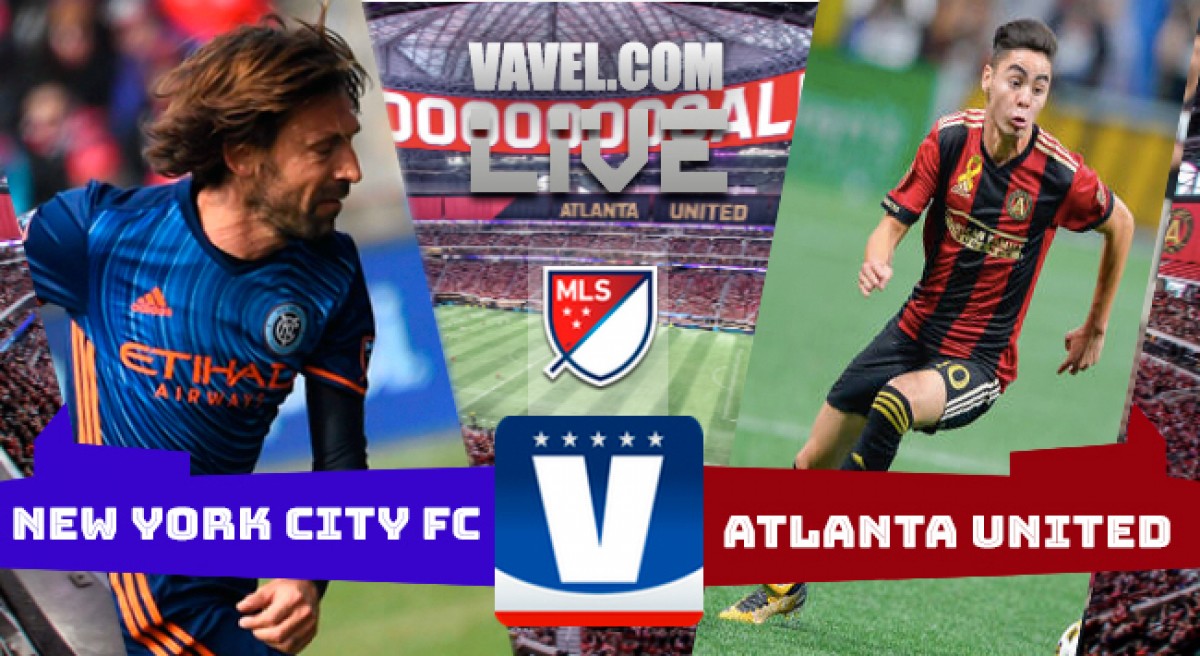 Thanks for joining me tonight on what has been a fun match to commentate on. This is Kudzi Musarurwa signing off.
Atlanta United FC 2 - 2 New York City FC
Full-time: And that's that! These two teams play each other out to a 2-2 scoreline and it's probably the right scoreline as both teams gave it all they had.
90+3' YELLOW CARD: Larentowicz picks up a booking for a late challenge on Morález.
90+3' CHANCE! What a play by Johnson! Gressel is out in space again and swings in a dangerous low cross that just evades Martínez and isn't picked up by another other Atlanta player.
90+2' NYCFC think they're on the break but play is called back for a foul on Barco.
There will be three minutes of stoppage time here. Plenty of time for either side to get the winner.
88' YELLOW CARD: Atlanta are really turning the screws here and win a dangerous free kick off of Villa. Villa also gets a card for that foul.
85' SUBSTITUTION: Ronald Matarrita comes in for Medina as NYCFC's third and final change.
85' Atlanta are finishing this game strong as they win another corner.
83' Atlanta win another corner after pressurizing NYCFC's backline. Johnson gets the corner kick away with a big punch.
81' Almirón weaves his way into the NYCFC box but his pass towards Martínez is wayward. The home side keep the ball though.
80' YELLOW CARD: Herrera gets spun and turned around by Almirón one too many times before the midfielder gets sick of it and fouls the Atlanta playmaker.
79' Gressel gets his cross all wrong as Martínez was onside and in space.
77' Barco is in acres of space and he brings the ball into the box. He tries to find a teammate but NYCFC have bodies back who block his pass.
75' Almirón's wayward shooting continues as he sends his effort way over the bar.
Atlanta United FC 2 - 2 New York City FC
Villa keeps the ball and lays it off for Ring who thumps it into the top corner. Great goal!
73' GOAL! Ring puts NYCFC back on level terms!
72' Villa is onside but Atlanta get enough bodies around him to stop him from finding his way to goal.
72' González Pirez is having a monster game for Atlanta as he makes another vitals top to prevent a cross from reaching Villa.
70' YELLOW CARD: McCann gets a card for kicking the ball away after Atlanta had won the free kick.
70' SUBSTITUTION: Ezequiel Barco makes his debut as he replaces Kratz.
68' Villa cuts inside and gets by a few players but again, his shot isn't on target.
67' Nagbe thinks he's won the free kick but instead it goes NYCFC's way. Atlanta get the ball back but are unable to get out of their own half at the moment.
66' The pressure is relieved momentarily as Wallace swings his cross right out of play.
65' Wallace is through on goal momentarily but González Pirez makes another great tackle in his own area to stop Wallace from getting hit shot off. Atlanta are being forced back here by the away side.
64' NYCFC come forward again and Villa gets another chance to try and squeeze his shot through a bunch of bodies but again, his shot goes wide of the goal.
63' A scary moment for Atlanta as Larentowicz gives the ball right to Villa at the top of his own penalty area but the Spaniard is unable to make him pay as he swings his shot well wide.
61' SUBSTITUTE: Rodney Wallace comes in for Berget.
60' CHANCE! Some sloppy play by Atlanta gives NYCFC the chance to pick out Villa in space but his shot goes right to Guzman. The goalkeeper spills the ball but he gets to his own rebound quickly.
59' Martínez is off to the races but he pulls up after the offside flag is raised.
Atlanta United FC 2 - 1 New York City FC
New York can 't seem to keep the ball up the field after Almirón set piece and the No. 10 gets the ball again before chipping the ball to McCann who nods it home from close range.
56' GOAL! McCann puts Atlanta ahead again!
55' YELLOW CARD: Morález picks up the next booking for consistent infringement.
54' Chanot fails to clear the ball and Almirón gets to the ball but his shot is right at Johnson. He might've been better served looking attrying to find Martínez who seemed to be open in the box.
53' The ball goes the other way and Morález bumps into González Pirez right in front of the Atlanta bench but nothing's called against the NYCFC man.
53' Atlanta get forward well but again NYCFC's backline holds strong.
51' Morález asks for a free kick as his run is stopped but the referee, Allen Chapman, waves off his protests.
48' Gressel puts in another fantastic cross after being found out on the right hand side in space. Maxime Chanot slides in to cut out the cross and sends it just over his own crossbar.
46' Villa gets the second half started.
Atlanta United FC 1 - 1 New York City FC
Half-time: It's all square after a pulsating first half. Atlanta took the lead twice but NYCFC hung in there to equalize and the VAR system took Atlanta's second lead away.
45+2' Nothing comes of it and Johnson sets NYCFC off again.
45+2' Callens has to slide to half Gressel's cross from finding an Atlanta player in the box. Corner kick upcoming for Atlanta.
45+1' Tinnerholm tries to find Morález but his pass trickles straight out for a goal kick.
45' Almirón takes a poorly advised shot with Atlanta forward in numbers. The effort doesn't bother Johnson in goal at all.
Atlanta United FC 1 - 1 New York City FC
42' Well, well, well. The goal has been called back after an offside call by the VAR. Martínez was in Johnson's way when Nagbe took his shot and the goal has been scratched off. It's all square again.
Atlanta United FC 2 - 1 New York City FC
Atlanta attack brilliantly and Gressel cuts the ball back to Nagbe at the top of the box who tucks it away into the far corner. What a way to open his account in Atlanta!
41' GOAL! What a strike by Darlington Nagbe!
Atlanta United FC 1 - 1 New York City FC
Guzan guesses the right way but Villa's strike goes right by the goalkeeper's hand.
38' GOAL! NYCFC are back in this game!
37' PENALTY! Berget is brought down by Parkhurst after some lovely one touch play by NYCFC found the forward in space.
36' Atlanta restart quickly and Garza puts in a fantatsic cross from the byline that none of teammates get a touch on.
35' SUBSTITUTION: David Villa comes in for Tajouri-Shradi.
35' Ismael Tajouri-Shradi has gone down again. He had pulled up earlier with what looked like a hamstring issue and his day is done.
34' Julian Gressel ?is found in space out wide but his ball into the box isn't good enough otherwise Martínez would have had a tap in.
32' YELLOW CARD: Ring completely takes out Almirón as the Paraguayan was on his way to goal.
Atlanta United FC 1 - 0 New York City FC
Medina was one-on-one with Michael Parkhurst who stood tall and won the ball back. Atlanta moved the ball up field quickly and Greg Garza was the first person to the rebound off of Almirón to give the home side the lead.
29' GOAL! Atlanta take the lead!
27' CHANCE! Jeff Larentowicz takes the free kick and it takes a wicked deflection that goes just over the crossbar! The resulting corner leads to nothing for the home side.
26' Atlanta work the ball from right to left and Almirón wins a free kick right at the top of the box off of Yangel Herrera.
22' Berget gets onto the corner at the far post and he nods it back for Alexander Callens to go for goal but it's wide.
21' NYCFC work the ball and Jesús Medina has a go from distance but again Guzan reads the ball well and pushes it out for a corner kick.
20' Atalnta break again with Nagbe and Almirón goes on his own but his shot is just wide from a narrow angle.
18' González Pirez puts in a great tackle to stop Berget from getting a shot on goal after Atlanta were caught out in transition.
17' Maxime Chanot uses his speed to get to the long pass first and kick it away from the advancing Martínez.
15' Atlanta win a free kick which is sent in by Kevin Kratz but NYCFC are equal to it and clear the ball with no issues.
14' From that corner, Atlanta are off on the break but Alex Ring holds off Almirón and clears the danger.
13' Berget cuts inside, fooling González Pirez, and goes for goal from a long way out. Guzan tips the ball over and the corner is punched away by the goalkeeper.
11' Leandro González Pirez wins the ball back high up the pitch but Martínez is offside so his shot isn't counted.
10' Both sides are finding space in transition but the final pass, so far, has let them down.
8' Atlanta steal the ball off a wayward pass by Ben Sweat and put some passes together. Before Darlington Nagbe can find a teammate in the box, the ball ricochets off the midfielder and out for a goal kick.
5' Both teams are pressing high and looking to force each other into errors. It almost pays off for Jo Inge Berget? but the chipped pass is just too long and Brad Guzman? gathers easily.
3' New York City FC win an early free kick in midfield to keep possession.
1' Miguel Almirón almost puts Josef Martínez through but Sean Johnson is alive to the danger and gets to the ball before the Venezuelan.
1' Atlanta get us underway!
While we wait for kick-off, take a look at our preview of tonight's game.
Notes on both starting lineups: Atlanta welcome back Greg Garza and into the starting lineup while David Villa only makes the substitute bench for NYCFC.
Starting XI for New York City FC (4-3-3): Johnson; Tinnerholm, Chanot, Callens, Sweat; Morález, Ring, Herrera; Medina, Berget, Tajouri-Shradi.
Starting XI for Atlanta United FC (3-1-4-2): Guzan; González Pirez, Parkhurst, McCann; Larentowicz; Gressel, Nagbe, Kratz, Garza; Almirón, Martínez.
Hello everyone and welcome to our LIVE coverage of the match between Atlanta United FC and New York City FC. Starting lineups are as follows:
Atlanta United FC 2 - 2 New York City FC
Prediction: Both teams have explosive. creative attacks so it may come down to a question of which defense can withstand the pressure best. Atlanta's defense has been the less firm of the two backlines in question but at the Mercedes-Benz Stadium, not many would bet against the hosts.
The officiating crew for this match will be Allen Chapman as the center official, Jeremy Hanson and Cameron Blanchard as the assistant referees, and Sorin Stoica as the fourth official. Kevin Terry Jr. will be in charge of the VAR system.
Projected lineup for New York City FC: Johnson; Tinnerholm, Callens, Chanot, Sweat; Ring, Herrera; Medina, Morález, Wallace; Villa.
Projected lineup for Atlanta United FC: Guzan; González Pírez, Parkhurst, McCann; Ambrose, Larentowicz, Nagbe, Gressel; Almirón; Villalba, Martínez.
The match will be played at the Mercedes-Benz Stadium on April 15, 2018. The game will kick off at 6:00PM EST and will be broadcast on FS1 and TSN2.
So far, Patrick Vieira?'s side has not shown too many weaknesses and goalkeeper Sean Johnson has been in fine form. However, their ability to cope with pace will be severely tested against Atlanta and it will be interesting to see how well their midfield and backline cope with Atlanta's play going forward, especially in transition.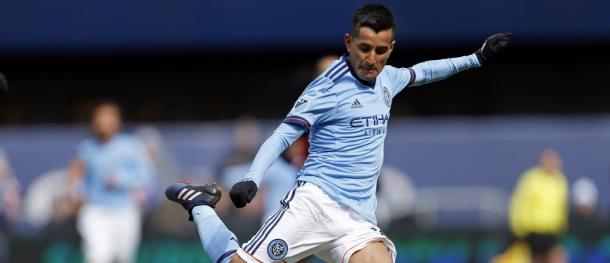 After some low scoring games on their way to the top of the MLS, NYCFC found their groove against Real Salt Lake last time out. Ismael Tajouri-Shradi and Maxi Morález have filled the void left by David Villa while the talisman was out of the side due to injury. The Spaniard is back this weekend and will look to start of his season right with a few goals against Atlanta if possible. NYCFC have not lost away from home in a long time and they will look to keep that streak going this weekend.
?Where Atlanta have shown the most vulnerability is in their backline. Greg Garza continues to be sidelines with a right shoulder injury and Leandro González Pirez has been prone to calamitous mistakes in dangerous positions. If Atlanta want to win this game, they cannot afford to give NYCFC gifts like that in their part of the field as the away side has the players capable of capitalizing from those mistakes in a heart beat.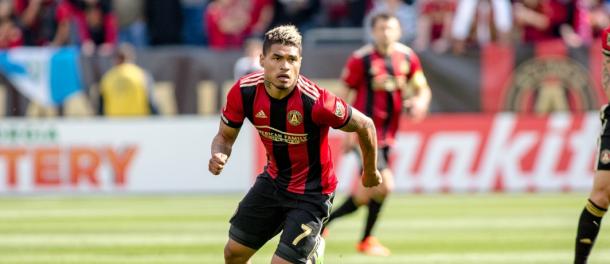 Atlanta come into this game full of confidence and know that a win over NYCFC would put them in first place in the East. Four straight wins after an opening day shocker against the Houston Dynamo demonstrates just how well Atlanta are playing at the moment. Gerardo 'Tito' Martino? has changed the formation of the team this season so both Héctor Villalba and Josef Martínez can be on the field at the same time and it's paid off. With Miguel Almirón given a free role just behind the strikers, Martínez have continued on where they had left off last season. The Venezuelan is currently leading the league with five goals and will look to add to that total this weekend.
Two of the most impressive sides in the MLS met this weekend and will look to stamp their authority in the Eastern conference early on by picking up all three points on Sunday night. The two previous meetings between Atlanta United FC and New York City FC ?ended in 3-1 scorelines, with the home team being victorious on each occasion.
Welcome back everyone to another weekend in Major League Soccer. This is your host for the duration of the match, Kudzi Musarurwa, in the first clash of the season between Atlanta United FC and New York City FC. Stay with us at VAVEL USA for live updates on what should be a great game.