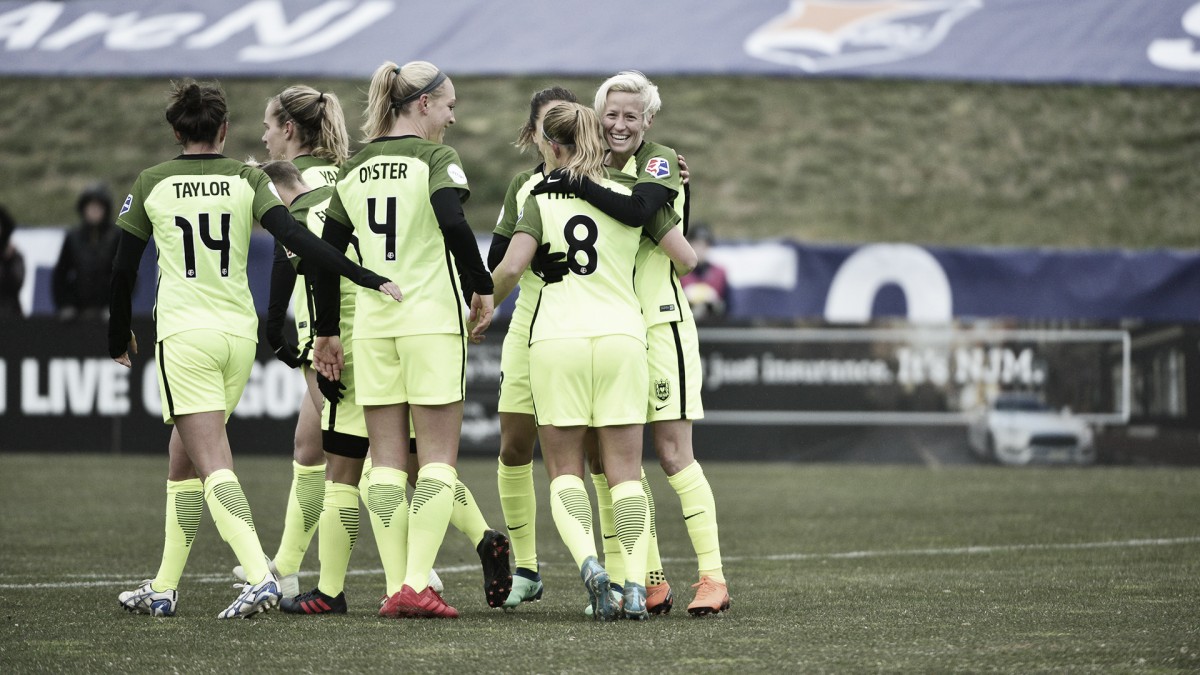 Seattle Reign FC came through a tough away game in New Jersey to get the win over Sky Blue FC in the National Women's Soccer League. The win did come with some unfortunate news as goal scorer Megan Rapinoe left the game in the second half with what looked like a hamstring issue.
Rapinoe's penalty gives Seattle the lead at the half
Seattle started the stronger of the two sides in the first half and their early pressure told when they found the opening goal in the sixth minute. Erica Skroski handballed in the penalty area and Rapinoe stepped up to knock the penalty past goalkeeper Kailen Sheridan. Seattle should have had a second penalty when again, Skroski handballed in her own area to knock a cross away but referee Marco Vega missed the incident and kept the play moving.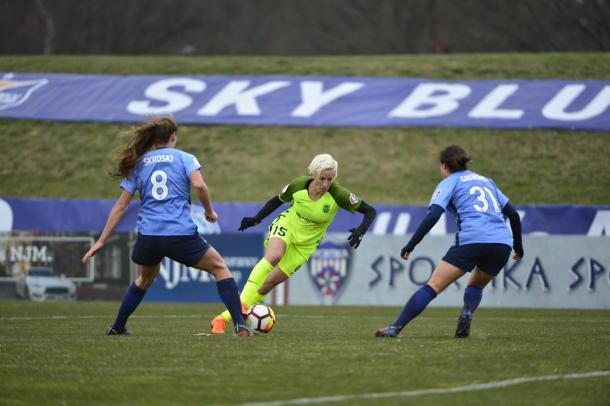 Seattle continued to pepper the Sky Blue goal but their finishing just wasn't accurate enough to trouble Sheridan on each occasion. On the other end, Sky Blue tried to find their way through to goal but on the rare occasion they did find space for a shot, Seattle goalkeeper Michelle Betos was outstanding and more than earned her clean sheet today.
Neither team add to the scoreline in the second half
Sky Blue started off the second half as the better side and pressed to find the equalizer. Shea Groom came closest in the 79th minute when she produced a fine save by Betos to prevent her effort from going into the top corner of Seattle's goal. Apart from that opportunity, Sky Blue were unable to keep their shots on target and really push Seattle into making errors in their own defensive half.
Seattle's play lost momentum when Rapinoe was substituted out of the game in the 64th minute but Jodie Taylor should have made the last few minutes of the match comfortable for the Reign when she stepped up to take the second penalty of the game in the 85th minute. Skroski was again the culprit but her goalkeeper guessed the right way and stopped both Taylor's penalty and Kiersten Dallstream's effort off the rebound. In the end, Seattle came away from the east coast with a solid away win in difficult conditions and now sit in second, having played a game less that the league leaders. Sky Blue remain at the bottom of the league and still searching for their first win of the season.