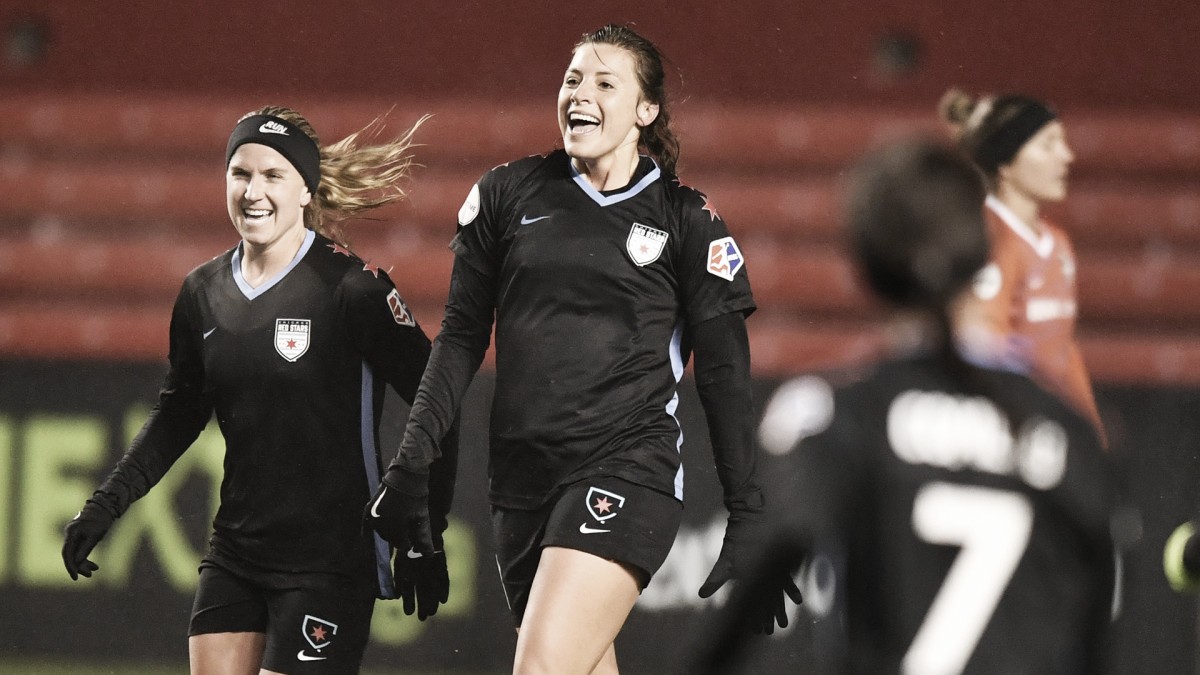 Two early goals helped lead the Chicago Red Stars to a victory and three points at home over the Houston Dash 3-0 in a midweek battle in frigid temperatures. Red Stars midfielder Lauren Kaskie scored her first goal of the season and the first of her NWSL and forward Sofia Huerta added her first goal of the season.
While Houston led in shots 10-9, the Dash recorded no shots on goal giving Chicago goalkeeper Alyssa Naeher a relatively easy night. The Red Stars' forward had most of the control, leading the Dash in possession 60% to 40%.
Early Scoring was all that was needed
Scoring opened up early with a Dash own goal. Chicago defender Sarah Gorden dribbled up the left flank and crossed the ball into the box where Houston defender Kristie Mewis inadvertently sent the ball into the back of her own net. The seventh minute goal put the Red Stars up 1-0.
Chicago would add to their lead four minutes later in the 11thminute. Huerta was denied a goal by Dash keeper Jane Campbell, but the rebound found Kaskie who sent it past Campbell to make it 2-0 in less than 12 minutes.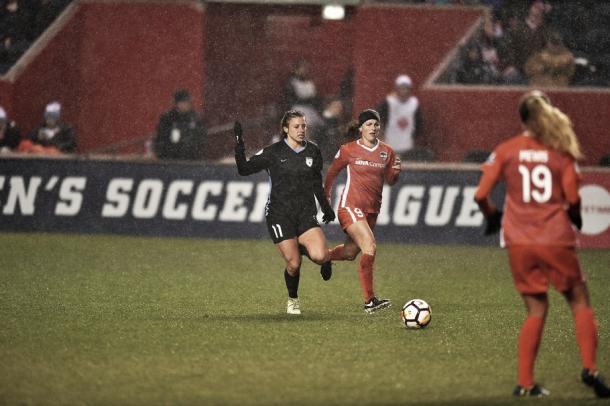 Huerta adds insult to injury
Campbell kept the score 2-0 in the 73rd minute after Huerta took a shot from outside the box destined for the right upper corner, but the young keeper made the diving save. However, a minute later Huerta would win the battle.
Huerta would switch the point of attack to the right flank where Arin Gilliland passed the ball to midfielder Danielle Colaprico who sent a perfectly weighted ball into the box where Huerta sent the header just out of reach of Campbell giving the Red Stars their third goal and their second-straight win.
Chippy Game
The match wasn't clean by any means. While the poor weather conditions led to some sloppy play, both sides saw two players receiving yellow cards for rough fouls. Gilliland was shown a yellow in the ninth minute for a foul on Mana Shim and Chicago defender Sam Johnson was also cautioned at the end of the game for a foul on Veronica Latsko.
The Dash were also cautioned after Kimberly Keever had a tough challenge against Taylor Comeau towards the end of the first half and Amber Brooks received a yellow card caution for arguing with the ref.
Chicago will look for their third-straight win as they stay at home to face Sky Blue FC Saturday April 21 at 7:00 p.m. CT on go90. Houston will look to bounce back and earn their first win as they continue their road trip to take on the Orlando Pride Sunday April 22 at 5:00 p.m. ET.