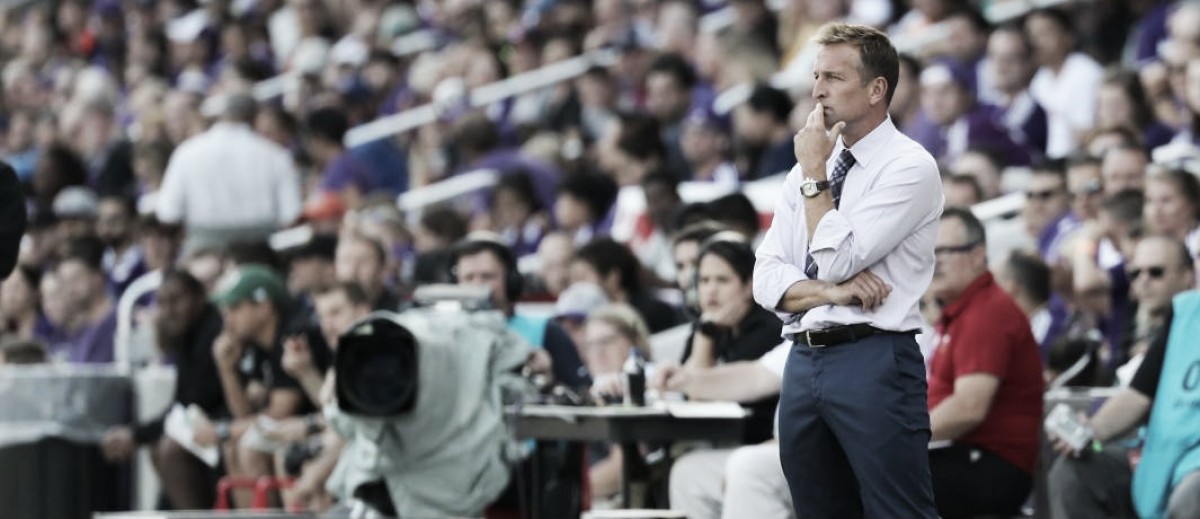 Orlando City takes down Real Salt Lake on yet another come from behind win in central Florida. That win furthers Orlando's points from losing positions to 13 for the season (1st in the league) and stretches the Lions win streak to six for the first time in the clubs MLS history. Real Salt Lake, on the other hand, continues to be winless while on the road in this campaign, conceding 13 goals while only scoring three over the course of five games.
Lineups:
Orlando: Bendik; Johnson, Sane, Schuler, El-Munir; Higuita, Yotun (81st minute, Rosell); Mueller (71st minute, Pinho), Kljestan, Meram (88th minute, Allen); Dwyer
Real Salt Lake: Rimando; Lennon, Glad, Besler, Ruiz (82nd minute, Saucedo); Kreilach, Rusnak, Beckerman; Savarino, Baird (79th minute, Silva), Plata
First Half:
The opening ten minutes of this match was dominated by Orlando City who created a flurry of chances but could not find that finishing touch. Real Salt Lake applied a high press and sat back and tried to hit Orlando on the counter-attacking hard against the backline of Lamine Sane and Chris Schuler. In the twelfth minute that counter would break Orlando's backline as Corey Baird got in behind Sane and lifted his shot over the onrushing Joe Bendik to give RSL the 1-0 lead. Baird had another opportunity on the counter and beat Bendik but could not beat the goal post.
Orlando continued to create a number of chances through their width and overlapping fullback pairing of Will Johnson and Mohammed El-Munir but despite holding 63% of possession the Lions could not find the equalizer.
Second Half:
Real Salt Lake came out of the gates in the second half firing on all cylinders and again hit the post on an effort from Albert Rusnak. But 15 minutes into the second half Sacha Kljestan and Dom Dwyer had other ideas. Kljestan found himself in a lane down the middle and tried to lay off a ball to Dwyer but it got deflected. Kljestan then recovered it on the left side of the box where he placed a perfect cross to find Dwyer for the equalizer.
RSL nearly struck back right after Orlando's equalizer as Baird yet again found himself in behind off of a Joao Plata ball over the top but Bendik came up with a massive kick save to keep the scores level.
The next Orlando attack ended in a corner for Yoshi Yotun to take. Yotun's inswinger found the towering head of Sane to give Orlando the lead within three minutes of finding the equalizer.
The match calmed down for the next 14 minutes until Dwyer again found himself in space down the left wing. His shot from inside the box could only be parried away by Nick Rimando finding Yotun to seal the three points for Orlando.