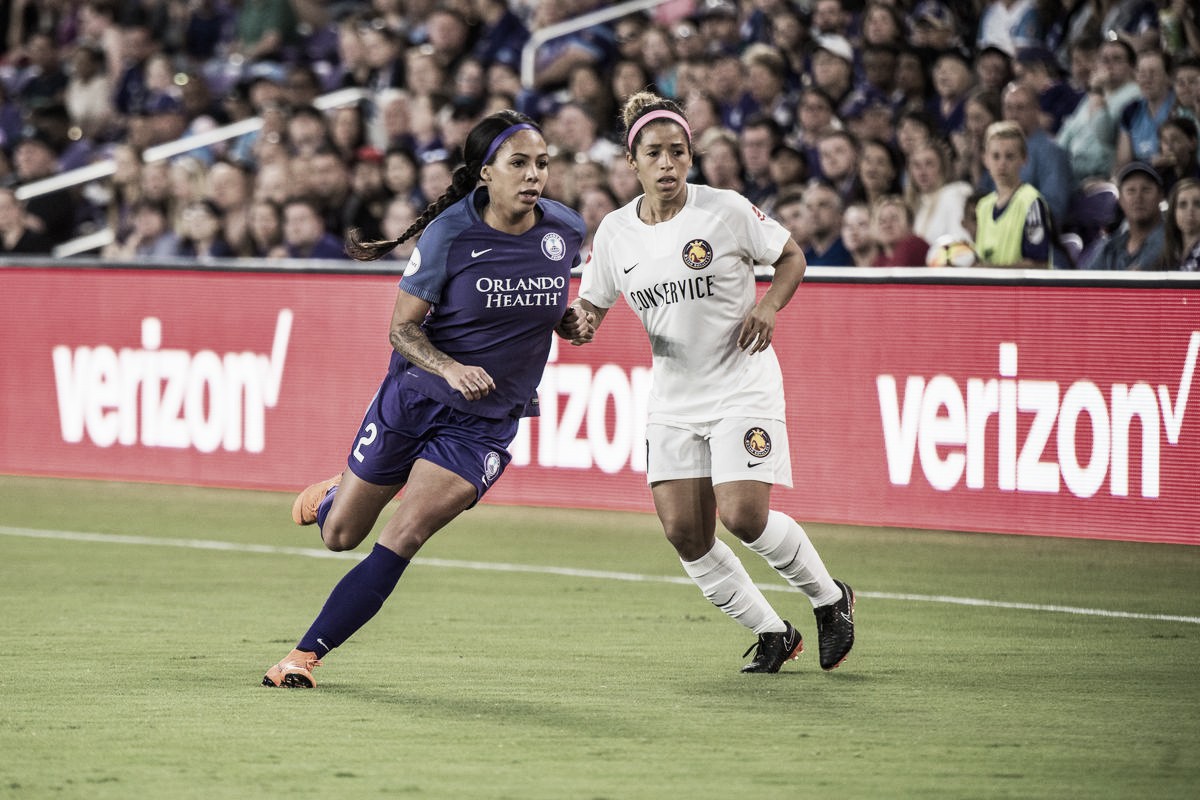 Utah Royals FC 0 - 0 Orlando Pride
Full-time: Utah could have won it right at the death but the finishing touch has just not been there for the home side. It ends all square here at the Rio Tinto Stadium.
90+2' CHANCE! Jónsdóttir‌ swivels and shoots around the six yard box but she goes over the crossbar! Utah have definitely had the best chances of the game.
90+1' SUBSTITUTION: Erika Tymrak comes in for O'Hara who goes down with an injury. Judging from her reaction, it might be a hamstring issue.
90' CHANCE! Utah could have won the game right there and then. Ratcliffe gets free and sends a shot on goal that Harris parries right to Stengel. Her shot is deflected out for a corner.
86' YELLOW CARD: Gorry gets the first booking of the game as she brings down Morgan who was looking to break away. It was a smart foul by Gorry as Utah would have been outnumbered at the back had Morgan managed to slip by her attentions.
85' SUBSTITUTION: Christine Nairn comes in for Marta.
85' Orlando almost get punished for messing around with the ball at the back as Harris' pass to Mônica is picked off by O'Hara. Harris gets to the ball before Stengel can.
84' SUBSTITUTION: Brittany Ratcliffe comes in for Matheson.
82' O'Hara swings the ball towards Stengel and she gets her head to it but it rolls harmlessly wide of goal.
81' Marta goes down clutching her face but replays show that she handled Moros' clearance. She's fortunate that the referee did not see that.
80' CHANCE! Another big chance goes by for Utah. Stengel, O'Hara and Matheson combine well before Matheson slips Stengel through on goal. Katie Stengel's first touch lets her down and she can't get by Harris with her second touch, The Orlando backline recover and strip the ball away from the Utah forward.
75' SUBSTITUTION: Utah make their first change as Katie Stengel comes in for Rodriguez.
74' Orlando mount another attack after Weatherholt wins the ball off of Desiree Scott. The ball goes out to the right where Hill sends in a cross that Kennedy takes down but can't control.
73' Leroux hurdles two tackles before passing towards Marta who breaks quickly. The Brazilian then tries to find Morgan who had made a run into the area but her cross is just out of reach.
72' Hill is clean through on goal after Morgan wins her header but she fires weakly towards goal and doesn't trouble Smith.
70' SUBSTITUTION: Rachel Hill replaces Emily Van Egmond.
It wasn't an easy chance for Rodriguez but she was close to goal and had she been a little more sharper, she would have finished that chance.
69' CHANCE! Rodriguez comes close to putting Utah ahead! Matheson gets free and puts in a first time cross that finds Rodriguez unmarked at the far post. Rodriguez goes for goal on the volley and sends it just wide of the far corner from close range.
66' Ali Kreiger gets forward and tries to find Morgan at the far post but Corsie gets a touch and deflects the ball out for a corner. The corner comes in but play is stopped as Van Egmond is judged to have fouled someone in the box.
65' Both defenses are winning the battle out there. The attackers have not had much in the way of chances,
61' Utah win another corner that they play short again. As with previous set pieces, Orlando defends well and pushes up the field.
60' Utah keep possession and O'Hara finds a little bit of space at the top of the box. She goes for goal but ends up skying her shot.
58' O'Hara plays a long ball through that Rodriguez chases down and gets to. The Utah striker then tries to pick out both O'Hara and Matheson who had made their way into the area but her cross is cut out by Kennedy.
54' Smith misplaces her clearance and it goes straight to Emily Van Egmond. The Orlando midfielder goes for goal from a long way out but Smith has recovered quickly enough to gather the ball.
53' SUBSTITUTION: That was Ubogagu's last contribution to the game as she's replaced by Alex Morgan.
53' Orlando break and Ubogagu goes for goal from a tight angle. The shot doesn't trouble Smith at all.
51' Elby does well to win a corner kick off of Weatherholt after chasing down a long pass. Orlando struggle to clear the set piece and Utah retain possession.
47' Jónsdóttir gets to Becky Sauerbrunn?'s long ball and nods it towards Rodriguez but Ashlyn Harris had read the play and gets to the ball first.
46' Leroux gets on the end of Kennedy's cross and her header gets deflected off of Rebecca Moros.. Smith comes out and gets to the ball quickly before anyone else can.
46' The second half has began as Orlando gain possession of the ball.
Utah Royals FC 0 - 0 Orlando Pride
Half-time: The whistle goes and that's the end of the first half. Neither team has really created opportunities in front of goal and both goalkeepers had a relatively easy first 45 minutes.
43' Play stops momentarily as Jónsdóttir is brought down behind the play by Alanna Kennedy. No too much in it, Kennedy and Jónsdóttir just bumped into each other.
36' CHANCE! Corsie comes in strong at the far post and meets Gorry's corner but she heads over the goal. That was a good opportunity for Utah.
35' Elby bombs forward and is found by her teammates. She elects to cut back instead of trying to find Rodriguez in the area and her shot is blocked. O'Hara follows it up and wins a corner kick for Utah.
32' Marta intercepts Rachel Corsie?'s pass and the Utah defender is forced into taking the Brazilian before Orlando can counter. She gets a stern warning from the referee.
31' Orlando try to create something but Smith reacts quickly and gathers the ball before any further damage can happen.
30' 30 minutes in and neither team has made the goalkeeper work. So far, it's been a midfield battle.
25' Matheson gets sandwiched between Mônica and Dani Weatherholt and wins another free kick for her team. Again, Orlando deal with the threat easily.
22' Orlando break quickly as Marta picks out Sydney Leroux out wide. The US international cuts onto her right foot and goes for goal but it's wide.
18' Orlando play the corner short as they try to work something here but eventually, the ball goes out for an Utah goal kick.
13' Both teams are trying to press each other high, hoping that the other team will make a mistake that they can capitalize on.
11' Matheson wins a corner kick off of Ubogagu as Utah look to find an early goal.
10' Diana Matheson ?tries to play Rodriguez through but Shelina Zardorsky reads the pass well and stops Rodriguez from getting to the ball.
9' This time Orlando gets the free kick but it comes to nothing.
7' Chioma Ubogagu steals the ball off of Brooke Elby and races down the flank before trying to find Marta with her low cross. Unfortunately for Orlando, it goes right into the hands of Abby Smith.
5' Katrina Gorry picks out Gunnhildur Jónsdóttir with the set piece but the forward is unable to keep her effort on target.
4' Utah have won some early free-kicks here and will look to capitalize on this one.
1' The referee blows the first whistle and we're off!
While we wait for kick-off to arrive, in under an hour's time, take a look at our preview of tonight's game.
Our officiating team for this evening is as follows: Michael Radchuk will be the center official, John Krill and Chris Elliott are the assistant referees, and Kali Smith is the fourth official.
Alex Morgan has recovered form her injury but it seems like Tom Sermanni has elected to keep Morgan on the bench and potentially bring her on later in the game to test what could be a tired Utah backline.
Starting XI for Orlando Pride (4-3-3): Harris; Kreiger, Mônica, Zadorsky, Pickett; Van Egmond, Kennedy, Weatherholt; Leroux, Marta, Ubogagu.
Laura Harvey names an unchanged starting eleven that led Utah to their first win in franchise history this on Saturday night. She will be hoping that they continue on forming the great chemistry they showed last weekend.
Starting XI for Utah (4-2-3-1): Smith; Elby, Corsie, Sauerbrunn, Moros; Scott, Jónsdóttir; Matheson, Gorry, O'Hara; Rodriguez.
Good evening everyone who's decided to join us over here at VAVEL USA for tonight's game. The Utah Royals square off against the Orlando Pride for the second time this season and we should be in for a good match.
Utah Royals FC 1 - 1 Orlando Pride
Prediction: Alex Morgan should be back in contention to start after her injury layoff last week which should make things more difficult for a Utah side that played a game over the weekend. However, Laura Harvey seems to know how to match up well to Orlando and will set up her team to counter Orlando's pace upfront.
The head coach for the Utah Royals is Laura Harvey while Tom Sermanni manages the Orlando Pride.
Projected lineup for Orlando: Harris; Krieger, Zadorsky, Mônica, Pickett; Weatherholt, Kennedy, Van Egmond; Leroux, Morgan, Marta.
Projected lineup for Utah: Smith; Elby; Corsie, Sauerbunn, Moros; Scott, Jónsdóttir; Matheson, Gorry, O'Hara; Rodriguez.
The match will be played at Rio Tinto Stadium on May 9, 2018. The game will kick off at 9:00PM EST and will be broadcast on go90 and NWSLSoccer.com.
Although they kept a clean sheet last time out, Orlando's weakness is their backline. They are prone to lapses in concentration and they also do not possess a lot of pace. If Utah manages to catch them out like they did on opening day, Ashlyn Harris in goal will have a long evening ahead of her, especially considering how quickly Amy Rodriguez is integrating into the team. Leading Orlando's defense is Ali Krieger and she will need to show all of her veteran experience to keep Rodriguez, O'Hara, Diana Matheson or Katrina Gorry quiet all evening.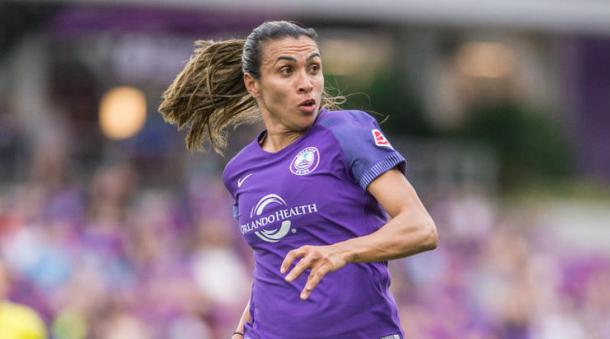 Orlando come into this game having won their previous match as well, albeit almost a week ago. The Pride put in a great performance away from home to pick up all three points against the Chicago Red Stars and will look to build on that by adding another three points on Wednesday night. As always, Orlando are at their most dangerous when Marta, Alex Morgan or Sydney Leroux? get on the ball. Marta has started the season better than the latter two but given the chance, both Morgan and Leroux will punish any team in the world. Their pace and creativity will be something to keep an eye on against a Utah backline that just played a game over the weekend.
As previously mentioned, the Utah backline has a solid foundation considering that Becky Sauerbrunn and Rachel Corsie hold down the fort in the middle of that defense. However, the Royals do not have pace in their backline and are susceptible to be caught out on the break. Goalkeeper Abby Smith loves to play on the front foot and will quickly come out to close down space should her backline be caught in transition but she is still learning the game and has been prone to gifting the ball to the opposition while she tries to clear the ball away. Against Orlando, the five players in defense for Utah will need to keep their wits about them and not play their line too far up the field in case they get exploited by the pace Orlando has in abundance.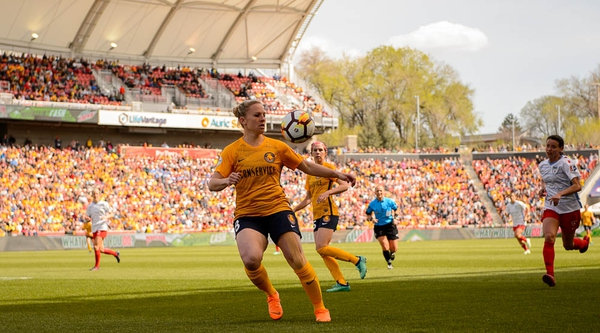 The Royals picked up their first win of the season last weekend against the Washington Spirit and will look to build on that. The backline for Utah is strong, one of the strongest in the league but what has helped them start to find some form this season is the return of Amy Rodriguez and the change of position for Kelley O'Hara. Rodriguez has given Utah pace up top and a quality forward who can not only hold up play and score goals, but also pick a pass for her teammates like she did for Utah's opener this past weekend. O'Hara's change form left back to left winger/left forward has also given some much needed energy in the Royal's offense. Her speed, positional play and work rate were on full display against the Spirit and she showed off her finishing touch with a great finish that helped Utah towards their first three points of the season.
The first match of the season for both clubs came against each on opening day of the NWSL. That match up ended in a controversial 1-1 draw as the Utah Royals were unfairly penalized for a handball in the box that the Orlando Pride duly converted. Both sides could not find the winner but the home side in particular, will not have forgotten how the outcome of that game changed due to one bad decision from the referee.
Hello everyone and welcome to another week in the National Women's Soccer League. This is Kudzi Musarurwa, your host for this match between Utah Royals FC and Orlando Pride at Rio Tinto Stadium. Stay with us at VAVEL USA for live updates on what should be a great game.