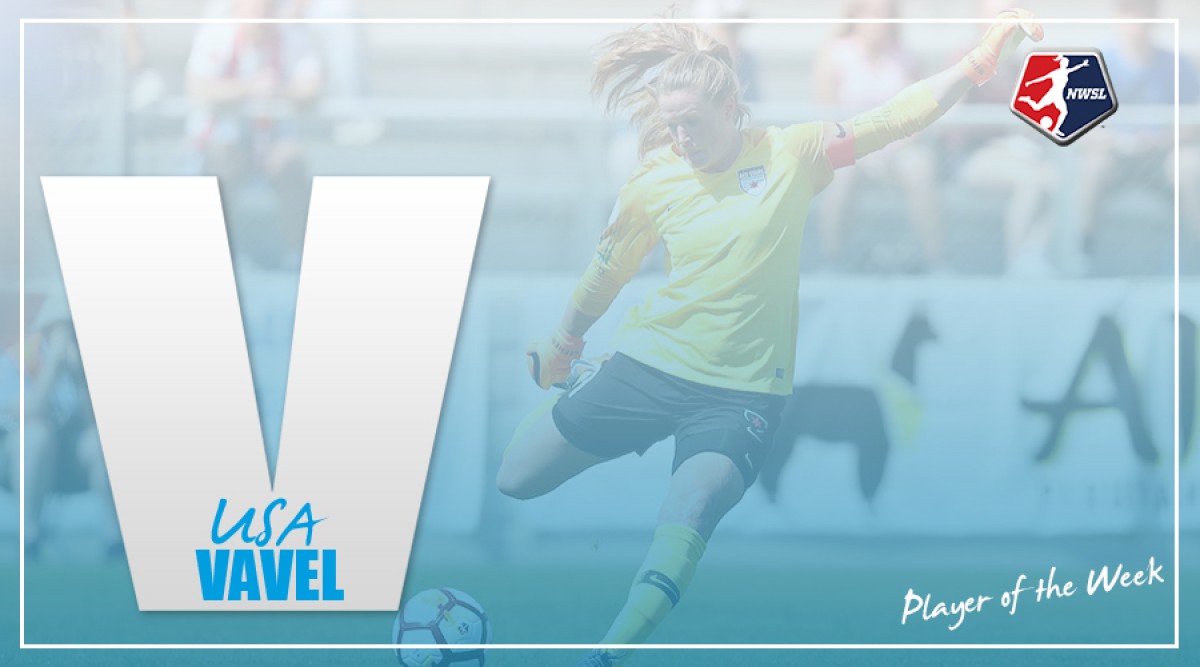 Alyssa Naeher won the Player of the Week award from the NWSL Media Association in Week 6. Naeher made 12 saves in the Chicago Red Stars' road draw against the North Carolina Courage, and was just ten minutes away from helping her team secure an elusive road win. She is the first non-field-player to win the award in 2018. Naeher also won Save of the Week for her myriad of saves from the 1-1 draw.
Naeher is the first player to earn the Player of the Week award without her team winning the match. Chicago managed to earn a draw on the road against the top team in the league in a game where they needed to earn points. Naeher was on fire this game. The Courage found their way to 42 shots (according to Opta) and 12 corners, and they managed to put 15 shots on goal, but Naeher's 12 saves kept the home team off of the scoreboard until the last minutes of the match. Naeher's first save of the game came nine minutes into the match, and she faced about one shot on goal every eight minutes for the duration of the match. After denying the Courage for almost 40 minutes, the North Carolina defense made a mistake when defender Abby Dahlkemper failed to step with her back line, and Chicago forward Sam Kerr scored on the first shot on goal of the match for Chicago. Suddenly, the Red Stars were ahead.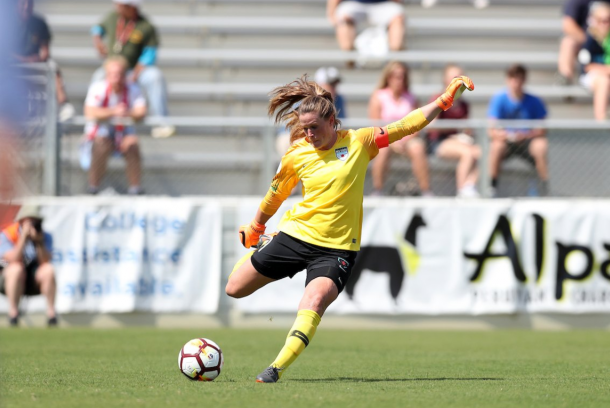 The second half continued the trend. The Courage pelted the Chicago goal with shots, but Naeher was up to the task on each attempt. As the saves piled up, it started to feel like Chicago would steal three points on the road thanks to Naeher's persistence. Alas, on the final Courage shot of the match, the ball fell to former Player of the Week McCall Zerboni in the box, and she took the shot out of the air and finally beat Naeher. Sam Kerr tried to avenge the goal and get Chicago back on top, but she was denied by Courage goalkeeper Sabrina D'Angelo.
Alyssa Naeher, the United States women's nation team starting goalkeeper, has had a less than stellar start to the 2018 season. After a disappointing offseason that had USWNT critics calling for her head, Naeher and the Red Stars opened the season with a 1-1 draw against the lowly Houston Dash and a 2-3 home loss against the Portland Thorns FC. After picking up a pair of clean sheet wins, the Red Stars have earned three draws and one loss over their most recent four games. With more games played than any other team in the league, the Red Stars are hanging on to a playoff spot, but the rest of the league will have a chance to catch up with their games in hand.
Past NWSL Players of the Week
Week 1 - Megan Rapinoe
Week 2 - Mallory Pugh
Week 3 - McCall Zerboni
Week 4 - Sofia Huerta
Week 5 - McCall Zerboni