 One of the things I love most about soccer is that the results of any individual game are not always strongly correlated to the quality of play. Soccer is one of those sports where you can play well and still lose to a last second fluke, you can play horribly and win on that same fluke, or you can play a perfectly reasonable game and get slaughtered by a team having an exceptionally good day.
Most sports don't offer that; if you're a good basketball team, 99% of the time you're going to steamroll your opponent, for instance. But soccer is so dependent on individual moments of brilliance and so much more biased against its end product than any other sport that, if one or more of those moments happen, the rest of the game can be rendered moot pretty much instantaneously.
That's exactly what happened in San Jose on Saturday night. Portland Timbers FC and the San Jose Earthquakes spent 87 minutes of the game trading ineffective punches like boxers featured in the 4PM fight on a four fight card. Neither team really wanted to win, neither team really created a lot of offense, and apart from two solid Fanendo Adi chances that went begging, neither team really had a lot of interest in threatening the other team's goal. Which is odd, since that's kind of the point of the game.
But then, in the 87th minute, Samuel Armenteros was taken down in a spot that, for most mortals, wouldn't really threaten the goal all that much. But, the Timbers employ the services of Reigning League MVP Diego Valeri, who set up for his free kick, took advantage of some really good work by Armenteros to clear a hole in the wall (seriously, that's the unsung hero here), and blasted home a fantastic free kick to give the Timbers a 1-0 lead, which, surprisingly for the Timbers, they would hold to earn their first win at Avaya Stadium and their first win in San Jose since 2014.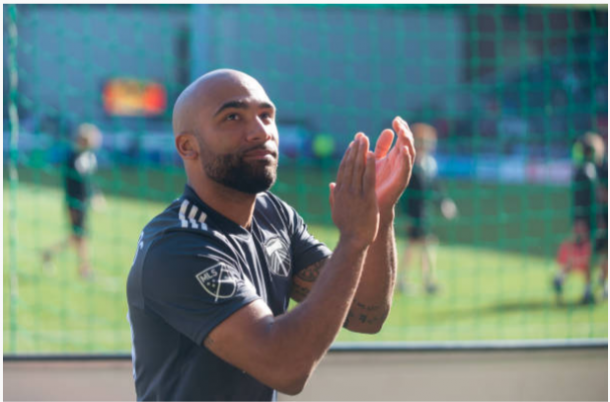 Seriously: watch that replay again. Particularly the third angle, where you see how much work Armenteros did to clear space for Valeri's ball. Not to take away anything from the free kick, which in itself was spectacular, but without the pivot/turn/bodying-up that Armenteros does - to two guys! - that free kick probably hits Armenteros or an Earthquake and I'm writing about being grateful for a point, and for ultimately not losing.
Identity Revealed
One of the big questions about the managerial tenure of Gio Savarese was "what kind of team will the Timbers be now?" Under Caleb Porter, the Timbers liked to attack and loved to hold on to the ball, which when it worked, worked fantastically, but when it was figured out was also easy to shut down.
Under Savarese, though, the Timbers are developing a couple different reputations, if that's the right word. For one, they're proving to be pretty adaptible to their opponent - they take what they're given and work with it, like against New York City FC where they ceded possession and repeatedly hit the Western Side Of Manchester on the break, before setting up in a more traditional defensive-minded set on Saturday night.
Which brings me to their other reputation. The Timbers, thanks to defensive efforts like against NYCFC, FC Dallas in March, and San Jose on Saturday, are turning into a defensive specialist-type team, which I don't really think any of us saw coming. They seem content to sit back and absorb pressure and read the room, as it were, before barrelling ahead with their attack, which is an incredibly valuable way to play the game, even if it's not always pretty.
It doesn't always work, as early-season failures at Orlando City SC and the New York Red Bulls showed all too well. But looking back on that now, I do wonder if those were growing pains and if what we're seeing in the last few games is what happens when a team can fully implement a build from the defense strategy. In the last three games, which have resulted in three wins, the Timbers seem fully invested in this plan, and are becoming more fully conversant in how to carry it out game by game.
It will be very interesting to see how adaptable this strategy is as the season goes on, but I love the fact that the Timbers, at this point, are not wedded to a single setup or style of play, and can morph who they are and how they do things depending on who is lining up opposite them.
In Major League Soccer, that's a very valuable skill to have, and as long as the offense fires a bit better than it did on Saturday (SPOILER ALERT: it will), the April Timbers are probably much more fully representative of who the post-Caleb Porter Timbers are than were the March Timbers, who were still figuring things out.
If this is who they are, I'm a big fan.