 Soccer is called the Beautiful Game (among other things). It's generally called that as a way of acknowledging that the fluid nature of soccer can lend itself to some breathtakingly beautiful things - Diego Maradona's first goal in the Hand of God game (not the HOG goal, his other one, which is 1000x better), Ryan Giggs' mazy run in the 1999 FA Cup semifinal...pick your own favorite moment. There's a billion of them, and they're why soccer can be the most beautiful, aesthetically amazing sport you can watch.
Then there's games like Sunday. There was a lot conspiring against this game from the start, chiefly:
- Heat. It was 85-ish degrees at kickoff, but Providence Park has a sub-street-level field that is made of artificial turf, and combining those two factors means that the turf was probably pushing or exceeding 100 degrees at kickoff. It was punishingly miserable just standing there watching in the unshaded sun, and I can't even imagine what it is like playing in those conditions - at every stoppage in play, several players were watering down their feet because the turf was so hot.
- Injuries. The Sounders, in particular, are really beaten up right now, especially on the offensive side of the ball, which means they were always going to be set up in a more defensive footing, and defend they did - to call it "parking the bus" would be oversimplifying, but at any given time there were eight or nine Sounders behind the ball.
UGLY CAN BE BEAUTIFUL
While unattractive to the eye, and while nobody from either side will point to this game as a great advertisement for MLS or for soccer, it was certainly an effective strategy; the Sounders spent the entire game denying the Timbers anything resembling a coherent attack. Seattle did a really good job of clogging up the middle and daring the Timbers to work the wings and attack that way, which I'm not sure the Timbers are quite strong enough to do at this point in their evolution under Gio Savarese.
If you can't build up an attack via the wings, then, you lump balls in from said wings, and to Portland's credit, they didn't really do that either; they just kept trying to ram their attack down the Sounders' throat, to very limited effect for the most part. The Sounders were totally happy to just soak up whatever pressure the Timbers mustered up, and to occasionally push forward into the Timbers' end, with no end product to show for it.
Then, in the 85th minute, about 10 minutes after Fanendo Adi was replaced by Samuel Armenteros, Armenteros slid a lovely, perfectly timed ball through a tiring Seattle defense, right into the path of Sebastian Blanco, who made no mistake with the shot, chipping it over Sebastian Frei for the only goal of the game. In a game with little to write home about, that was a perfect signoff.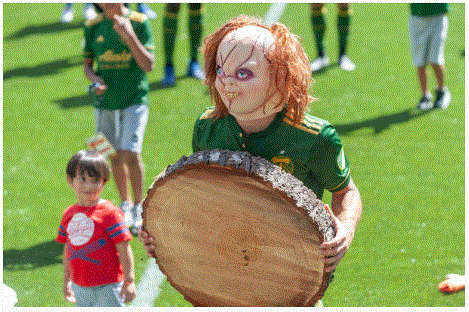 Please never do this again, Sebastian
Image: Diego Diaz/Icon Sportswire via Getty Images
QUICK HITS
- This year's low-key breakout star might just be Larrys Mabiala. He's one of those guys who probably isn't going to set the league on fire, but will make very few mistakes, and has grown in confidence and in his ability to mesh with his team in every game. Every team needs guys like that as much as they need superstars, and Mabiala is having himself a season so far.
- I've mentioned before that the Timbers seem to be evolving into a defense-first unit, at least in the last few games. It's hard to tell anything from this game, thanks to the heat and the effective Seattle defending, but it did seem like the Timbers made the opposite decision on Sunday - they definitely tried to push forward a lot more than in the previous few games. The lack of success is more down to the defending than an incompetence of the attack, so if the Timbers can ratchet up that attack and keep their defense at its already pretty good level, it could unlock something pretty great.
- I am a big fan of VAR, and I want it to be both more widely used and more widely accepted. I do, however, want it to be better executed - particularly in its in-game explanation of the decisions reached by using it. In the stadium, following a review, we are given no indication of what the ruling is - I mean, you can tell by watching the referee and by what happens next, but it's not immediately obvious, and that needs to be better.