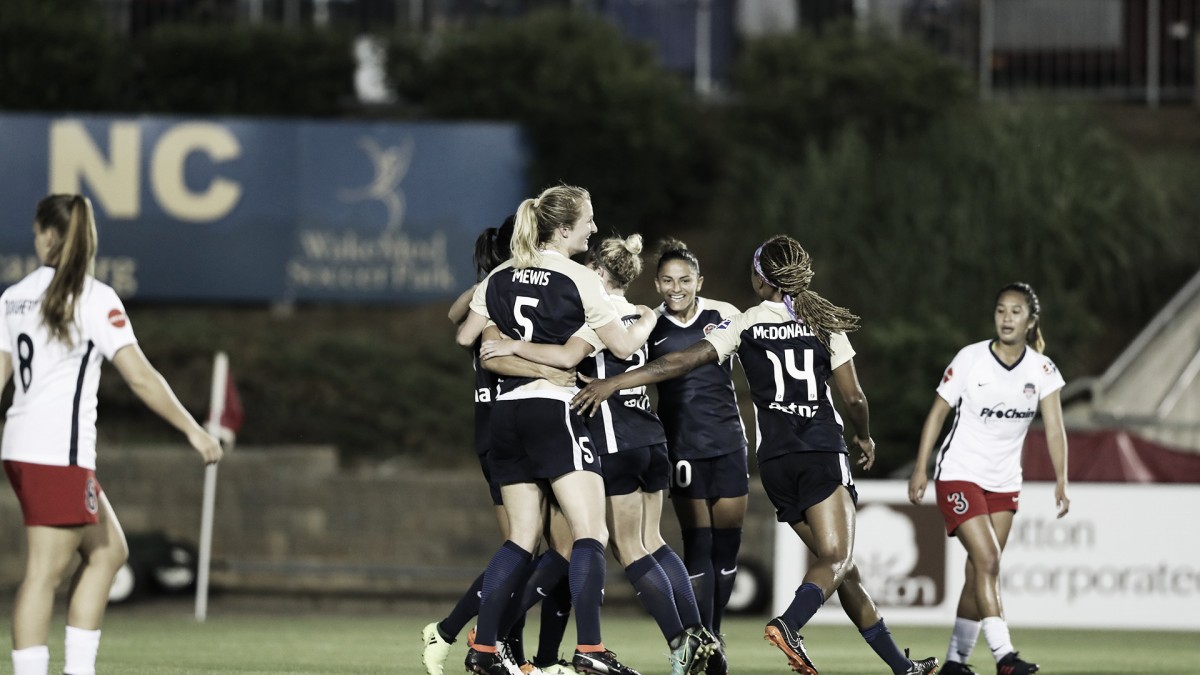 The North Carolina Courage continued their unbeaten season with a 1-0 win over the Washington Spirit in Cary, NC. The match was scoreless until the 63rd minute when the Courage scored off of an Abby Erceg header. The Courage remain in first place with 20 points and a 6-0-2 record while the Spirit remain in eighth place with five points and a 1-4-2 record.
Washington hold their own
The previous meeting between the two saw the Courage win 4-2, but the Spirit's defense was more settled in this one. North Carolina had an early opportunity to score, but Washington goalkeeper Aubrey Bledsoe came up big making her first of five saves in the third minute. Midfielder Sam Mewis worked the ball through the midfield then sent a through ball to Crystal Dunn who took a few touches in the box and took the shot, but Bledsoe made the save on the ground with her feet.
A similar string of events led to another Bledsoe save in the 30th minute. Dunn took a shot from further out, but Bledsoe made a fingertip-save after diving to the left and sending the ball out for a corner. While the Courage led the shot count 10-4 in the first 45 minutes, the match was still scoreless at halftime.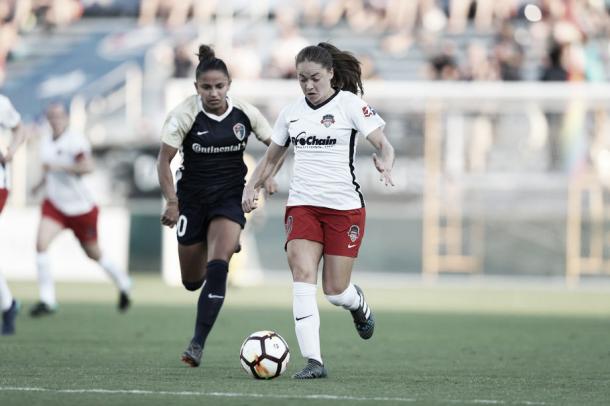 Courage offense and defense reign supreme
Starting goalkeeper Sabrina D'Angelo was listed as questionable on the injury report so Katelyn Rowland made her second start of the season in goal, earning her first clean sheet. Rowland had three saves, two of which came in the first half. In the first second of the 37th minute, Spirit midfielder Estafania Banini curled the ball to the lower corner, but Rowland made the diving stop to deny the Argentinian-international.
Rowland's most impressive save came in the early minutes of the second half. After Mewis fouled Washington forward Ashley Hatch, Andi Sullivan sent the free kick over the top to Tori Huster who volleyed it towards goal, but Rowland made the point blank save. Mal Pugh almost had a goal on the rebound, but Rowland again made a diving stop to send the ball out for a corner.
Erceg's goal in the 63rd minute came off of their own free kick. Merritt Mathias was fouled and Jaelene Hinkle stepped up to take the free kick. Hinkle sent the ball to Erceg's head who headed it down and past Bledsoe for her first goal of the season.
Washington will return home to host the Portland Thorns Saturday May 19 with kickokk scheduled for 7:00 p.m. ET. North Carolina will travel to New Jersey to take on Sky Blue FC Saturday with kickoff also scheduled for 7:00 p.m. ET. Both games will be streamed live on go90.