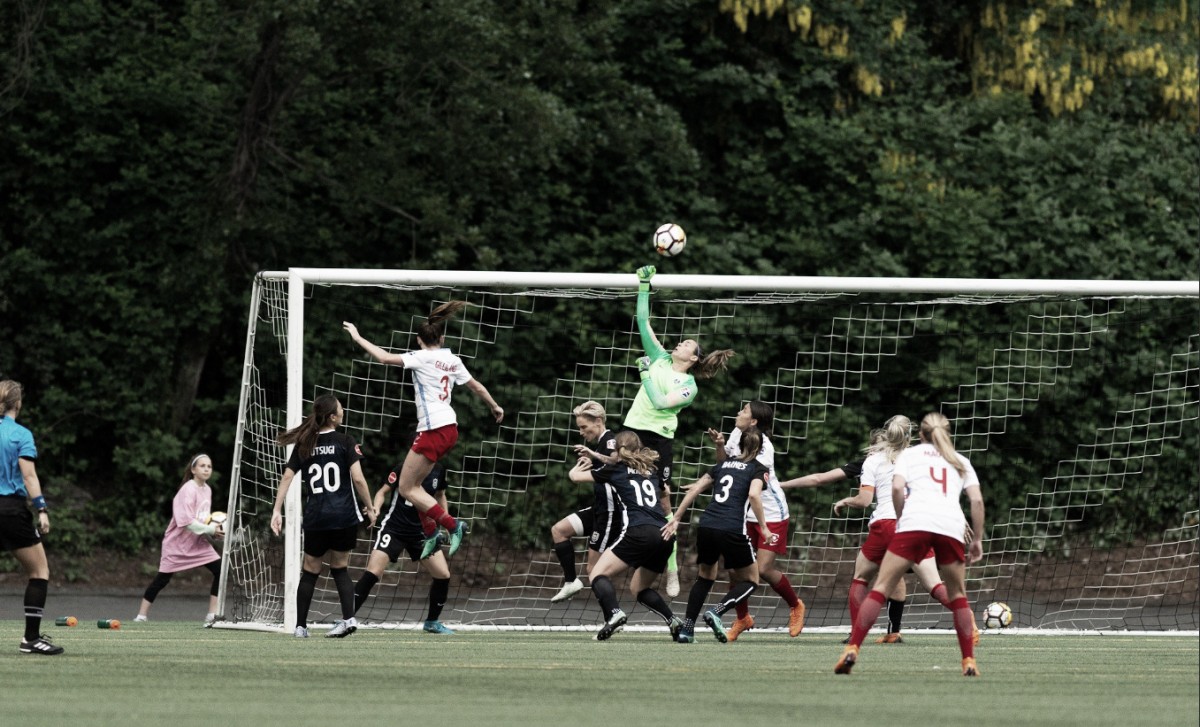 The Chicago Red Stars (2W-6D-2L) earned a point as the Seattle Reign FC (4W-2D-1L) were unable to find the back of the net at home after scoring seven goals in their previous two matches. Chicago goalkeeper Alyssa Naeher and Seattle keeper Lydia Williams each registered four saves as they deftly protected their respective nets. The story of the game was the physicality and the weakness of the officiating, especially in the second half. At one point Chicago defender Sarah Gordon was hit so hard in the face after she had already played the ball that blood was pouring from her mouth and nose, but no foul was called. She later returned to the game after getting medical attention.
Physicality throughout the match
From the start, this was destined to be a chippy match, and the aggression really cut down on either team's ability to generate serious scoring opportunities for large chunks of the game. The two teams traded possession and opportunities early in the match with both sides earning corners and free kicks at an astounding pace. Despite the opportunities, it was clear that the regular stoppages combined with the weather were cutting down on the cohesion of the match. The head ref tried to get a hold on the game when Chicago midfielder Nikki Stanton was given a yellow in the 26th minute, but it didn't seem to work. Chicago had a solid opportunity on a corner late in the first half, but Williams was able to make the save.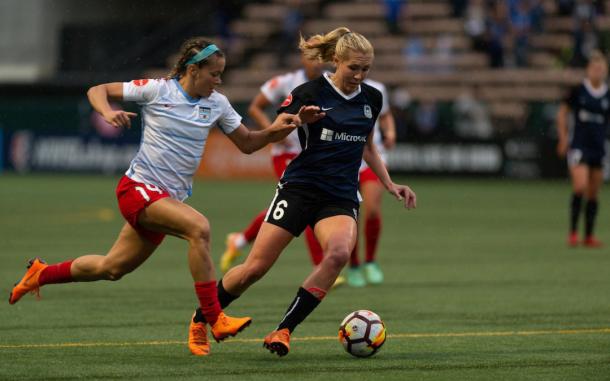 The second half took the aggressive play from the first half and ramped it up. After awarding Chicago defender Katie Naughton a yellow for a bad tackle in the 47th minute, it felt like the game got out of hand. Both sides bullied the player on the ball, and the end result was that neither team had sufficient room to score. Chicago forward Sam Kerr and Seattle forward Megan Rapinoe each had their chances, but there were times when it felt like the players were just trying to survive. Late in the match, Kerr got in behind Seattle defender Kristen McNabb who slide at Kerr's legs and earned herself a caution. While both teams had a few half chances, it never felt like there was consistent offensive pressure from either side in the second half.
Looking ahead for the squads
The Reign will travel to face the Houston Dash on Wednesday night this week. Both teams played this weekend, so there will be no rest advantage for either side.
Chicago will host the Orlando Pride on Saturday afternoon in the LifeTime Game of the Week. Orlando has to play against North Carolina on Wednesday, so Chicago will have home field and rest advantages in a game they will be desperate to win.