 With the Tournament of Nations just around the corner, the National team players must abandon their respective teams in order to attend training camp. Despite the loss of their top players, the teams will still manage to keep a full roster with the help of their Reserve teams. So far, National Teams have called up players for all the teams except for the Houston Dash and the Portland Thorns. The Thorns are on a by week, so no replacements were necessary. For Sky Blue, Duke alumni Imani Dorsey will step in for Carli Lloyd (USA) and Savannah McCaskill (USA). For Orlando Pride, goalie Sarah Shimer and midfielder Abby Elinsky will replace Alex Morgan (USA) and Ashlyn Harris (USA). For the North Carolina Courage, midfielder Sarah Teegarden, forward Frannie Crouse, and defenders Morgan Reid and Ryan Williams will replace Abby Dahlkemper (USA), Crystal Dunn (USA), Merritt Mathias (USA), Samantha Mewis (USA), McCall Zerboni (USA), and Denise O'Sullivan (Ireland). Courage defender Yuri Kawamura also might make an appearance in the game tomorrow since she has recovered from a knee injury and was recently removed from the deactivated list.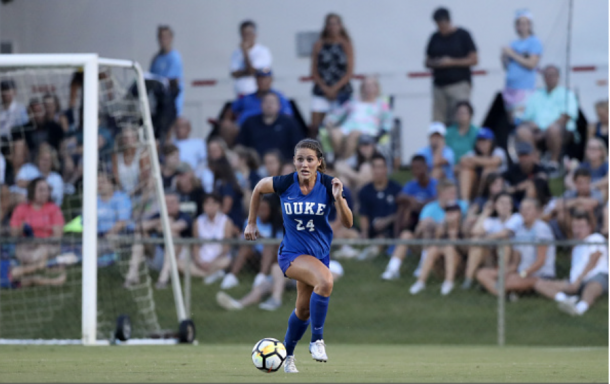 For the Utah Royals, goalie Emma Jane Proctor will stand in for goalie Abby Smith (USA). For the Seattle Reign, UNC alumni Adelaide Glade will replace goalie Lydia Williams (AUS). For the Chicago Red Stars, midfielder Erin Yenney will stand in for Sam Kerr (AUS) and for the Washington Spirit, defender/forward Schuyler Debree will replace Francisca Ordega (Nigeria).
The National team replacement offers an opportunity for reserve players to play with a professional team and hopefully impress the coaching staff. Although the players will most likely return to the reserve team, they could be offered a spot on the professional team in the future if a regular player leaves or becomes injured. For this reason, the stakes are high for replacement players to play well and make a good impression.