Well that was a doozy.... Thank you all for joining me tonight. Your final score, Columbus 2(9) - 2(10) Chicago. Good night!
Ketterer....SAVED! Chicago advance 10-9 on PK's!
Sanchez....Goal.
Opoku....GOAL! 9-9!
Campbell....Goal.
Abu....GOAL! 8-8!
Ramos....Goal.
Sosa....GOAL! 7-7!
Corrales....Goal.
Crognale....GOAL! 6-6!
Lillard.... Goal.
Martinez....GOAL! 5-5!
Bronico.... Goal.
Jahn... GOAL! 4-4!
Schweinsteiger.... Goal.
Abubakar...GOAL! 3-3!
Campos....Goal! 3-2!
Argudo....GOAL! 2-2!
McCarty.....Goal! 2-1!
Jimenez.....saved by Sanchez!
Katai.....Goal! 1-1
Valenzuela.....GOAL!
Nikolic hits the bar!
Chicago kicks first. Penalties took in front of Nordecke.
And we go to penalties..... This is tiring.
114' GOAL! Adam Jahn notches the equalizer!
112' Aleksander Katai is shown yellow.
109' Nikolic grabs his second! Chicago get their first lead of the game!
108' Nikolic gets a foot on a deflected ball but it hits the post and out for a corner kick.
106' Crognale is issued a yellow card for Crew SC.
END OF FIRST HALF STOPPAGE: Score still tied 1-1. Another 15 minutes coming up after the break.
93' Valenzuela replaces Maloney. Final Crew SC sub.
The first half of extra time is underway!
END OF REGULATION: Tied 1-1, teams will play two 15-minute halves. If still tied, penalty kicks.
90' Yellow card caution to Dax McCarty.
Four minutes of stoppage time.
4,992 is tonight's attendance.
86' Ketterer with a huge save!
84' Jimenez with a good shot on goal but it's high over the bar.
81' Yellow Card caution to Rafael Ramos.
80' Chicago corner.
79' Chicago sub: Aleksander Katai replaces Daniel Johnson.
78' Crew SC sub: Lalas Abubakar replaces Gaston Sauro.
71' Yellow card caution to Abu for Crew SC.
70' Corner kick Crew SC.
65' Crew SC sub: Eddie Opoku replaces Niko Hansen.
65' Chicago sub: McCarty replaces Solignac. Schweinsteiger replaces Tchani.
64' Sosa for Columbus is shown a yellow card.
Columbus had a few good corner kick attempts but couldn't convert.
52' Jimenez sends a cross that goes through traffic and out to Maloney. Maloney sends in a cross back to Jimenez who rips a one time shot out for a goal kick.
Second half underway. Score 1-1.
HT: Tied up here at MAPFRE Stadium 1-1. Martinez and Nikolic the goalscoreres.
45' Nikolic scores to tie the game 1-1!
38' Score still 1-0.
32' Solignac with a shot on goal, but Ketterer comes up big with a kick save to keep the game 1-0!
24' Hansen takes down Ramos. Chicago free kick coming up.
22' Free kick Chicago. Columbus playing a little conservative, but breaking out when necessary.
16' Hansen receives a pass from Sosa and has a shot but it's saved by Sanchez.
11' Throw in Chicago.
10' GOAL! Martinez finds space and slots home the ball for Crew SC's first goal of the game!
7' Corner kick Columbus. Second of the night.
3' Martinez has a good shot on goal from the elbow but Sanchez knocks it out for a corner.
KICKOFF!
6:31 PM EST: About 28 minute until kickoff. What are some predictions for the game tonight?
6:11 PM EST: Teams should be heading out to the field for warmups shortly.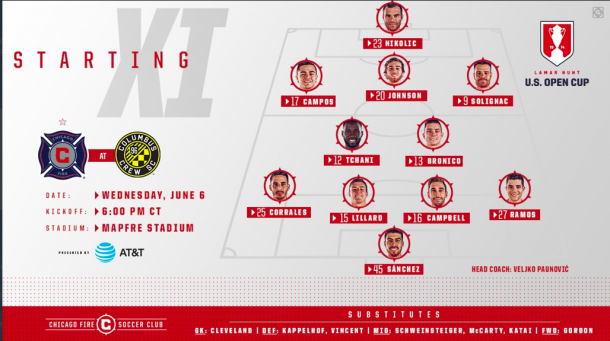 Chicago Fire Starting Lineup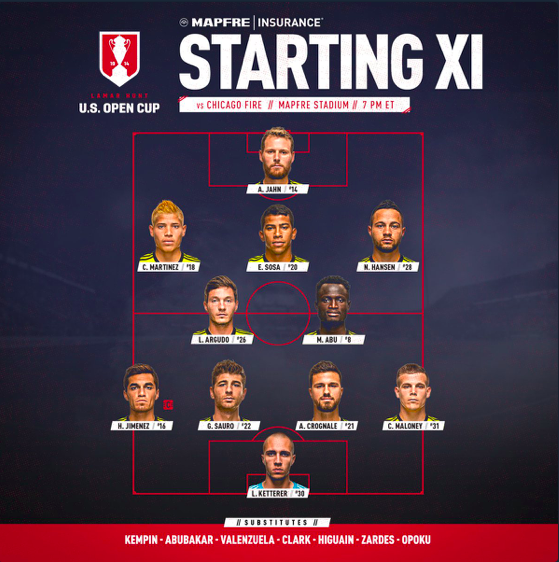 Columbus Crew SC Starting Lineup
5:48 PM EST: The problem that I'm having is this... It's 66 degrees Fahrenheit, but no clouds in the area. I'm facing West in the press box, so I'm getting blasted with the sun.
5:15 PM EST: Hello everyone! I am here at MAPFRE Stadium for the Lamar Hunt U.S. Open Cup match between Columbus and Chicago! Stay tuned for starting lineups.
With Columbus and Chicago both missing key players, one team will emerge victoriously. Will Columbus finally make it to the knockout rounds? Or will Chicago be on the verge of winning their fifth title? This type of tournament will see new faces, but when you're playing against your rival, you want to throw as much power on the pitch as possible. Chicago has a history of advancing in the tournament while Columbus has little. Chicago will most likely emerge out of this matchup with a 3-1 win, but you can never count a team out no matter who they're missing.
Columbus has only one title to their name, and that came back in 2002. Chicago, as mentioned before, won the tournament four times in 1998, 2000, 2003, 2006.
The two most successful clubs from this tournament both have five titles added to their name. The Bethlehem Steel and Maccabi Los Angeles.
97 teams participate in the tournament.
In addition, the winner of the tournament books their place in the ScotiaBank CONCACAF Champions League where they will fight for their spot in the FIFA Club World Cup.
The champion of the tournament wins a total of $300k in prize money while the runner-up wins $100k. The furthest advancing team from each division receives a total of $25k from the tournament.
The Lamar Hunt U.S. Open Cup is more known as the U.S. Open Cup (USOC). This year marks the 108th edition of the tournament. MLS teams have dominated as of late, with Sporting Kansas City being the reigning champions.
Here are the projected lineups for both teams.
The match will be played at MAPFRE Stadium in Columbus, Ohio. Kickoff is at 7 pm EST.
The Fire will be without goalkeeper Patrick McLain after he picked up an injury.
Chicago is hoping to adjust to a congested match schedule, with their game against the Quakes this past Saturday, the Open Cup match tonight, and their match this Saturday at home. Not only that, but they are working to get some big names back into their regular starting lineup. Players such as Luis Solignac, Jon Bakero, Elliott Collier, and Dax McCarty.
Crew SC is the most frequent opponent for Chicago in the tournament over the last few years, with the fixture today marking the seventh in the teams' all-time tournament series.
"We believe that the Open Cup is a very challenging and a very difficult competition, but at the same time, it's also very motivating. I think in the past our club was very successful and we want to repeat obviously the sooner the better."
Paunovi? owns a 3-1-2 record in the U.S. Open Cup after the penalty kick shootout against Cincy.
"We have a very important competition starting now for the club and for every one of us," head coach Veljko Paunovi? said in a statement.
Chicago is a four-time champion of the oldest competition in the United States, and are looking to hoist their fifth trophy in club history.
For Chicago, the Fire is coming off a 2-1 victory against the San Jose Earthquakes. The same situation applies to them, as they are looking to start players who don't get normal playing time.
Columbus currently sits in third place in the Eastern Conference.
We can expect to see most reserves get playing time, such as Luis Argudo, Logan Ketterer, Adam Jahn, and much more.
The Black and Gold are also missing two key players in their squad. Both Wil Trapp and Zack Steffen are on international duty with the USMNT.
Goals from Gyasi Zardes, Alex Crognale, and Federico Higuain helped prevail the Columbus comeback to gain a point, and win the Trillium Cup.
Columbus is currently one of the hottest teams in the league. They are coming into this matchup from a wild 3-3 draw against Trillium Cup rivals Toronto FC.
Last year, Columbus was eliminated by new expansion side FC Cincinnati by a 1-0 scoreline. Chicago would then go on to face Cincy and lose in penalty kicks.
Both teams have already split their regular season meetings. The most recent coming from Columbus after the Crew dismantled the Fire 3-0 at home.
This matchup is one of four all-MLS matchups scheduled for the Fourth Round.
The first encounter between these two teams in the tournament came back in 1998 when Chicago defeated Columbus in the Final 2-1 in extra time.
The last time these two teams met in the U.S. Open Cup, Chicago took the game by a score of 2-1. David Accam scored the brace in that game.
Hello and welcome to the fourth round of the Lamar Hunt U.S. Open Cup match between the Chicago Fire and Columbus Crew SC! My name is Tyler Fisher, and I will be your host for tonight's rivalry matchup! This should call for a good game so stay tuned for all the action!