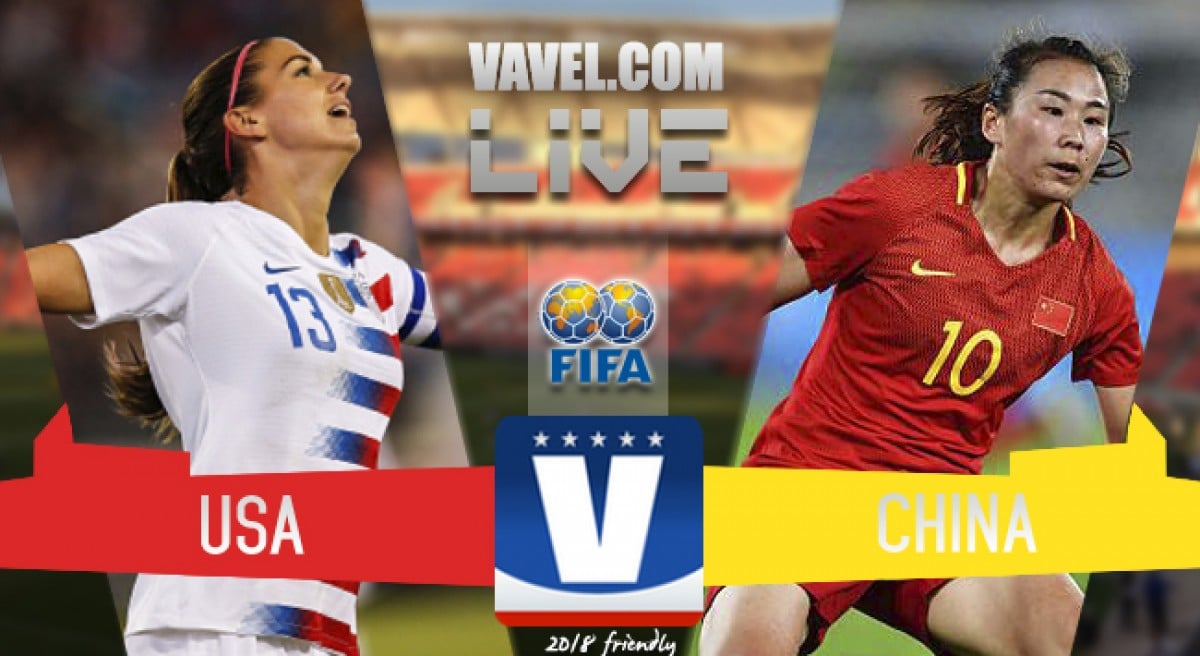 FT: USA have some work to do offensively. Thank you for following along! This is Felix Hernandez for VAVEL USA, hoping you enjoyed the match. USWNT 1 China PR 0. So long everybody!
Fulltime: USA win the first match of two. The next match against China PR will take place in Cleveland, Ohio on Tuesday night.
90+4': Referee blows the final whistle ending the match! USA wins! USWNT 1 - China PR 0
90+3': Davidson's corner finds Lloyd but is beaten on a great save by Shimeng
Three minutes injury time added
90': Rodriguez tries a cross to Press but China kick it away for a USA corner.
89': China Substitution: Yuyi comes on for Ying.
87': China PR comes on with a dangerous cross. Dunn is there to disrupt a China shot.
85': China PR Substitutions: Tingting comes on for Shuang. Peng comes on for Jiahui
81': With this appearance, Christen Press is currently sitting at 99 Caps for the US National Team.
79': Press takes a shot from the right side of the box but an easy save for the China goalkeeper.
76': USA Substitution: Rodriguez comes on for Morgan
74': Press takes on a player inside the box. Earns a corner. Corner finds Lloyd but her header is over the bar. USA earns another corner on the other side.
​72: China Haiyan is issued a yellow card for that foul on Morgan.
71': Morgan is fouled hard at midfield. Morgan stays down for treatment. She is back on her feet
67': China PR Substitution: Jinjin come on for Guixin
65': USA Substitutions: Lloyd comes on for Rapinoe. Press on for Dahlkemper. Long on for Ertz.
64': Hard foul by Huerta in the defensive half. China's free kick goes out for a goal kick
59': Another USA chance! Huerta creating a chance after she nutmegged a China defender. Huerta's cross finds Rapinoe in the box but her shot goes over the bar.
USWNT 1 - China PR 0
57': GOOOOOOLL USA! Rapinoe whips the free kick into the box and finds Alex Morgan's head!
56': Dunn steals the ball and is fouled in the offensive half. About 25 yards out.
55': China earns a corner kick off Sauerbrunn's clear. China choose to take it short but nothing comes of it.
52': USA having trouble getting any rhythm going
45': The whistle sounds and the second half is underway
China Substitutions: Li come in for Shanshan and Danyang comes in for Shanshan
USA Substitutions: Huerta come in for McCaskill and Mewis come in for Horan
Halftime: USA 0 China PR 0
45+1': The halftime whistle sounds. End of the first half.
45': Rapinoe's corner kick finds Morgan in the box but her header is high and wide.
45': Rapinoe with some great moves on the China defense. Her cross cleared by China earns another corner.
43': Another corner for the USA. Dunn creating a chance but unable to find the back of the net.
40': Good pressure from the USA in the last few minutes but are unable to finish. China defense holding them off.
39': Another corner for the USA. Rapinoe tries to find McCaskill but just out of reach.
35': USA comes back down, Dunn on the right side this time crosses and McCaskill can't get off a clean shot
34': Big Save Naeher! China find a way through the USA defense. Wei fakes out a couple US defenders but Naeher makes the save.
33': Horan tires another shot and earns another corner for the USA all off a China giveaway. Corner is cleared.
30': Dunn slides a ball to Morgan inside the box. Morgan deflects it just wide of the right post.
26': Horan with a shot that is blocked, earns a corner for the USA. Nothing comes of it.
23': Hard foul on Ertz in the center of the pitch. Ertz was down for a moment but back on her feet.
22': China takes a shot from distance but Naeher is there to collect
20': USA chance! Dunn steps up and brings the ball down the right side. Her cross is intercepted by China goalkeeper Shimeng.
18': Zerboni tries to strip the ball away from China's defense but is whistled for the foul.
14': Zerboni commits a foul in the offensive half.
12': China's free kick bounces harmlessly to Naeher.
12': Horan commits the first foul of the match in the defensive half.
9': China puts the first shot on net in the match. Naeher easily grabs it and throws the ball clear.
2': China PR concedes the first corner kick of the match.
1': Kickoff - We are underway!
The National Anthems are finished and we are moments away from kickoff!
The two teams are now headed out onto the pitch for the National Anthems.
China PR players to keep an eye on Shuang, Ying and Shanshan.
We are exactly one year away from the 2019 Women's World Cup in France. China PR have already qualified. The USWNT look to qualify in October.
Both teams look to be lined up in a 4-3-3 format.
The staring XI for China PR Steal Roses: Shimeng; Shanshan, Haiyan (C), Yuping, Wei, Jiahui, Guixin, Rui, Shuang, Ying, Shanshan
The starting XI for the USWNT: Naeher; Dunn, Davidson, Dahlkemper, Sauerbrunn, Ertz, Zerboni, Horan, Rapinoe, McCaskill, Morgan (C)
US players available off the bench: Samantha Mewis, Morgan Brian, Amy Rodriguez, Carli Lloyd, Sofia Huerta, Allie Long, Abby Smith, Christen Press and Merritt Mathias.
US players not dressed for tonights match: Casey Murphy, Tobin Heath, Ashlyn Harris and Rose Lavelle
Looks like the USWNT has arrived at Rio Tinto Stadium. The match can be seen on FS1.
We are less than a hour away from kickoff as we wait for starting lineups, US Soccer is celebrating Pride Month with rainbow numbers on the back of their jerseys.
Casey Short, Kelley O'Hara, Emily Sonnett and Mallory Pugh are not available for this selection due to injury.
Be sure to check back as new information come in such as injuries, roster updates and starting lineups on game day. Then join me Thursday for live game scores and commentary.
China PR have the second most games played against the USWNT at 56 matches. They also have nine wins against the USA which is second to Norway with 19. The US has dominated the series, only allowing China to score more than two goals in a game once. While the US have scored two or more goals in 30 of their 56 meetings.
North Carolina Courage have the most players on the US roster with five: Crystal Dunn, McCall Zerboni, Samantha Mewis, Abby Dahlkemper and Merritt Mathias.
Merritt Mathias, Casey Murphy and Abby Smith are looking for their first cap for the USWNT.
Portland Thorns FC defender Margaret Purce was looking for her first cap with the National Team but she picked up an injury to her right ankle. Purce sprained her ankle during training on Tuesday.
Christen Press makes her return to the roster at 98 caps for the National Team. If she were to receive any playing in each of the two matches she would become the 37th women in Women's National Team history to reach 100 caps. The striker has been playing in Sweden for Kopparbergs/Göteborg FC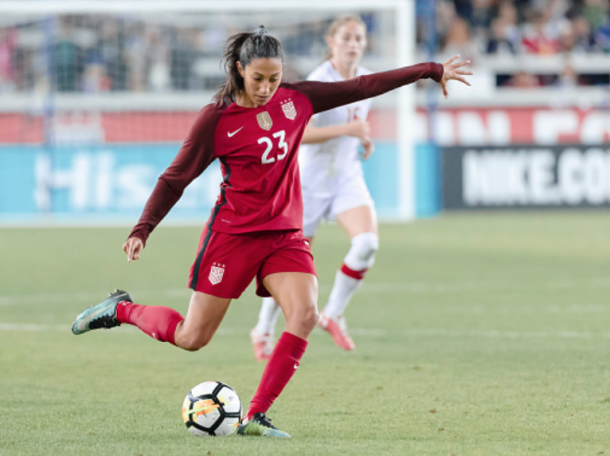 Head coach Jill Ellis welcomed back some familiar faces back to the National Team roster due to injuries. Tobin Heath, Samantha Mewis, Julie Ertz, Amy Rodriguez and late addition Rose Lavelle will make their return to the roster. Other players that received a call ups that are not regularly on the roster but have played well this season are McCall Zerboni and Merritt Mathias. Also rookie goalkeeper Casey Murphy who has played well for Montpellier HSC in France has received a call up to the roster.
Last time USWNT played double header friendlies was against Mexico in April. USA won both matches by a combined score of 10-3. The second friendly was a historic match for Carli Lloyd as she became the sixth player in USWNT history to score 100 goals in her career.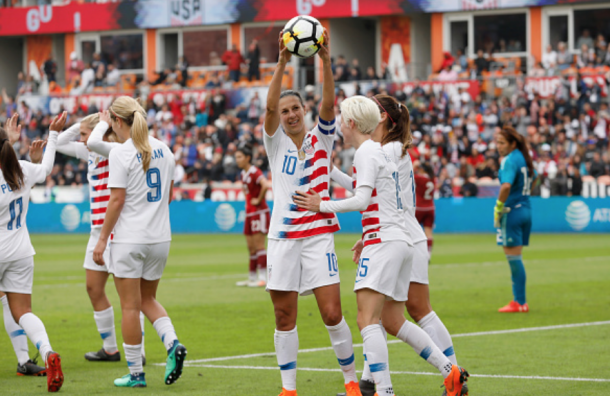 China PR have already qualified for the 2019 Women's World Cup, finishing third in the 2018 AFC Women's Asian Cup. This is the first match for China PR after winning the Asian Cup third place match against Thailand by a final score of 3-1.
The USWNT are preparing for the 2018 Tournament of Nations that will start in late July. After the Tournament of Nations, the US will enter the 2018 CONCACAF Women's Championship which will serve as the 2019 Women's World Cup qualifier.
Jill Ellis is the head coach for the USWNT. Jia Xiuquan is the head coach for China PR.
This is the first of two matches the USA and China PR will be playing.. The second match will be in Cleveland, Ohio on Tuesday, June 12.
USWNT will host China PR at Rio Tinto Stadium in Sandy, Utah. The USWNT has a perfect record of 4-0-0 at Rio Tinto.
Hello and welcome to VAVEL USA's Live coverage of this International Friendly between the United States Women's National Team and China PR. My name is Felix Hernandez and I will be your host. From now until kickoff on Thursday, June 7 at 9 P.M. EST, we will be keeping you updated on the latest news and notes. Be sure to come back at kickoff for LIVE updates.