News broke yesterday that Portland Thorns FC defender Margaret Purce had been ruled out of the upcoming United States Women's National Team friendlies. Purce was set to feature against China PR but will now return to Portland to recover from a right ankle sprain she picked up in training.
Purce was set to possibly feature against China
Due to injuries to other more established defenders, Purce may have had the opportunity to play against China at some point over the next week. Purce was seen as a replacement for the likes of Casey Short (Chicago Red Stars) and Kelley O'Hara (Utah Royals FC), both of whom are recovering from injury. Unfortunately for the Thorns player, she will now miss out on the two matches against China due to her injury.
Purce had been called up by head coach Jill Ellis due to her performances for the Thorns. The 22-year old had started every game for the Thorns so far this season in the National Women's Soccer League and was set to potentially receive her first cap in this round of friendlies after failing to do so when she was called up for the 2017 Tournament of Nations roster.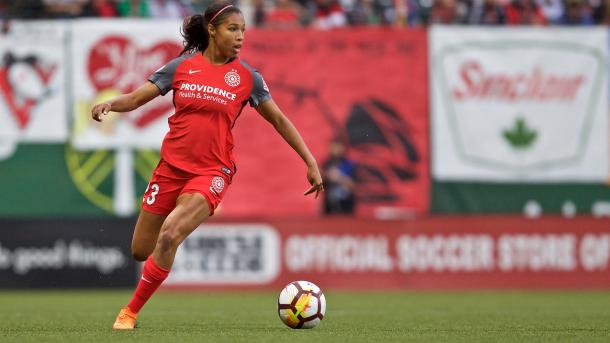 Lack of depth at fullback even more exposed now
Purce, as previously noted, was filling in for veteran fullbacks who are currently not available due to injury. Now with her omission, the USWNT roster is down to 24 players and as Ellis has elected not to call up a replacement for Purce, the roster only has one recognized fullback. Merritt Mathias plays at right back for the North Carolina Courage and will more than likely start for both matches against China.
At a pinch, Chicago's Sofia Huerta and the Courage's Crystal Dunn have and can fill in at the fullback position but neither of them has ever played on the left-hand side as a full back. Jill Ellis may elect to change formations and thus accommodate the players she currently has available or we may see more than just Dunn and Huerta having to fill in in a more unlikely role.