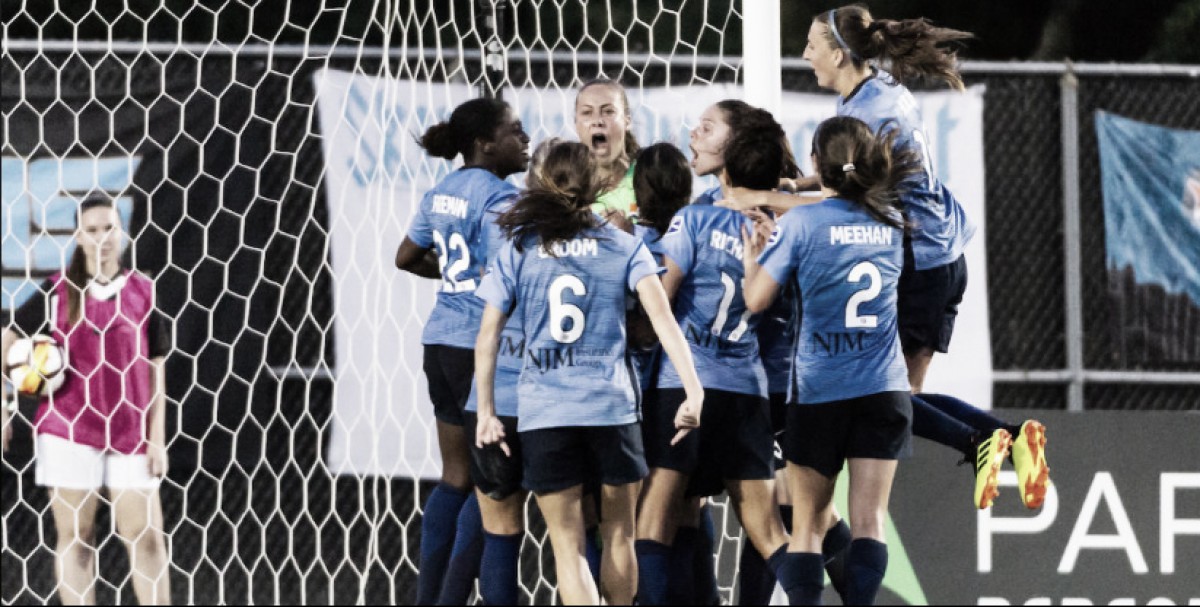 Sky Blue FC (0W-2D-8L) has goalkeeper Kailen Sheridan to thank for doubling their point total on the season after she blocked a penalty kick taken by rookie midfielder Andi Sullivan. The Washington Spirit (2W-3D-7L) struggled to generate any pressure with their offensive talent severely depleted.
International duty and injuries shaped the match
It's impossible to overstate the impact of the FIFA break and injuries on this match. Sky Blue was missing six players to international duty, including midfielder Carli Lloyd and striker Savannah McCaskill who are training with the United States Women's National Team, and had two players, midfielder Raquel Rodriguez and forward Jen Hoy, unable to play due to injury.
The Spirit were without four players on international duty, including Nigerian forward Francisca Ordega who leads the team with three goals on the season. Midfielder Rose Lavelle, who had been injured to start the season, was called into camp for the USWNT late after she played against Chicago on June 2nd. Injuries took a far greater part of the Spirit lineup. Before the game, it was announced that forward Mallory Pugh would be out for 8-10 weeks with a knee injury, and forwards Ashley Hatch and Mallory Eubanks were also unable to participate in the game. Attacking midfielder Havana Solaun also picked up a knock and was out for the match.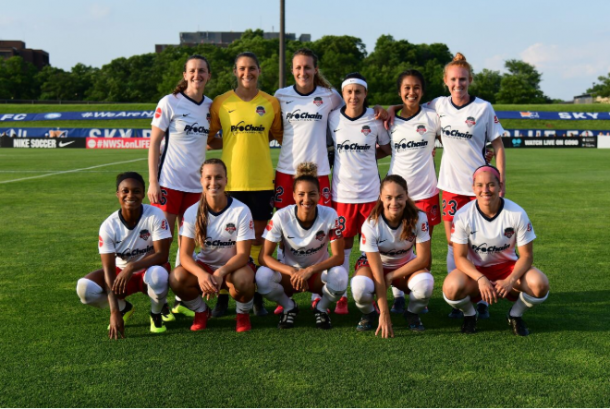 Frustration and sloppiness throughout
With so many unknowns on both rosters coming into the match, Sky Blue FC certainly felt like they had the upper hand and a significant chance to earn their first win of 2018. The first half came and went pretty calmly, with neither team really putting together a strong run of offensive possession. There were a few moments when Washington midfielder Estefania Banini looked dangerous or where Sky Blue FC would make a good run into space, but the teams were caught offside frequently and the touches would not lead to any goals.
The second half was a much more aggressive affair with more direct opportunities on goal. Sky Blue looked like they were on a mission, generating repeated offensive chances despite Washington holding more of the possession. In particular, forward Shea Groom and midfielder Madison Tiernan seemed to get into an offensive rhythm and challenge Spirit goalkeeper Aubrey Bledsoe. As the half drew on, the game got chippier.
Despite her positive contributions on offense, Tiernan nearly gave the game away in the 78th minute when she fouled Banini in the penalty area and allowed Sullivan to step up to the spot. In a diving effort that would earn her team a result, Sheridan guessed correctly, diving low to her left and blocking the shot out of bounds. The tension lifted for Sky Blue as the field players rushed to congratulate Sheridan after the save.
The game would end with a 0-0 scoreline. Washington held the better of the possession, 55-45, but they were outshot by Sky Blue 20-11. Both teams struggled to keep possession, with Washington earning a 71% passing accuracy while Sky Blue managed to complete just 67% of their passes. This was the first game of the season where Sky Blue has not allowed their opponent to score.